There is a new patch update ESXi 7.0 U3a that has been released by VMware. This patch fixes a PSOD issue that had been reported after the release of the original U3. The release notes can be found here.
Update:
As you may be aware, we have identified critical issues following the vSphere 7.0 U3 GA release, leading to two express patches. After further review, additional resolution complexities have come to light which we have been working around the clock to resolve, test and validate. To protect you from further impact and reduce the potential for further complexity until we have a properly vetted path forward, the decision has been made to put a hold on the full ESXi 7.0 U3 release (incl. ESXi U3, U3a and U3b) and vCenter Server U3b, removing it for download at this time. vCenter Server 7.0 U3 GA and U3a will remain available as a viable upgrade path and ESXi host backwards compatibility remains unchanged.
So if you held up and did not update to U3 just yet, this might be the time to do that.
However, another note concerning upgrades. A couple of backup vendors (Veeam, Nakivo afaik) have just recently announced their official support for ESXi 7.0 U3 so you might just hold a bit more so they can confirm the U3a support as well?
The 7.0 U3 release had some changes to VMFS and UNMAP:
In ESXi 7.0.3 release VMFS added a change to have uniform UNMAP granularities across VMFS & SE Sparse snapshot. As a part of this change maximum UNMAP granularity reported by VMFS was adjusted to 2GB. A TRIM/UNMAP request of 2GB issued from Guest OS can in rare situations result in a VMFS metadata transaction requiring lock acquisition of a large number of resource clusters (greater then 50 resources) which is not handled correctly in resulting in an ESXi PSOD. VMFS metadata transaction requiring lock actions on greater then 50 resource clusters is not common and can happen on aged datastores. This concern only impacts Thin Provisioned VMDKs, Thick, and Eager Zero Thick VMDKs are not impacted.
The issue has been resolved.
To download the patch for a standalone ESXi host, just head to the VMware Patch Portal and download the latest one. Select ESXi (Embedded and Installable) and version 7.0, then hit the search button.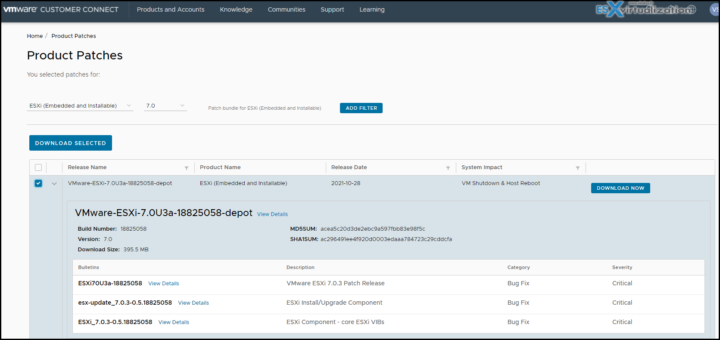 You'll download your VMware-ESXi-7.0U3a-18825058-depot.zip file locally and do the patch the usual manual way…. We have detailed the process of updating ESXi to the latest release (U3) recently here – Update VMware ESXi to 7.0 U3 via command line
If you're running vCenter server, you can use your vSphere Lifecycle manager to update your host(s).
Just shut down your VMs, select and put your host into maintenance mode, (if not placed in cluster), and go to Updates. Then click Check compliance, select the Critical host patches (Predefined) and click the Remediate button link.
The host will be updated.
If you have a cluster, then the update via vSphere lifecycle manager is simpler as the hosts within the cluster are patched one after another, and your VMs are vMotionned before the patching process off the host. The host is also put into maintenance mode, all this automatically, one after another.
Yes, but….. If you have your vCSA VM running on one of those hosts, you won't be able to patch the same host. You'll have to do one vMotion of your VCSA manually and then only patch the host. But that's ok.
VMware vSphere Direct download/buy links:
More posts from ESX Virtualization:
Stay tuned through RSS, and social media channels (Twitter, FB, YouTube)