With Flash storage around gaining popularity, it might be interesting to see not only if the performance is what's should be but also the health of disks whether the're magnetic or Flash drives. I was looking on checking somehow the S.M.A.R.T values. There are two ways to check it on VMware ESXi, and it can be done through SSH (possibly also through PowerCLI, but I'm not an expert).
So let's see what we'll find by looking through the SSH. First, connect via SSH to your ESXi box and enter this command:
esxcli storage core device list
This shows the list of the hard drives and Flash devices attached to this box (including volumes attached via iSCSI, so make sure to look for local disk. Then you can append the hardware id of the particular drive at the end like this:
esxcli storage core device smart get -d naa.5e83a975f4156eb1
As an output you'll see this: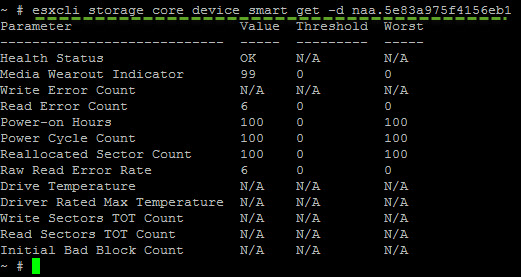 You can obtain the same results for all disks in once by invoking a script which lays in this folder which is a part of the VMware support:
The path is this:
/usr/lib/vmware/vm-support/bin
and here is the output…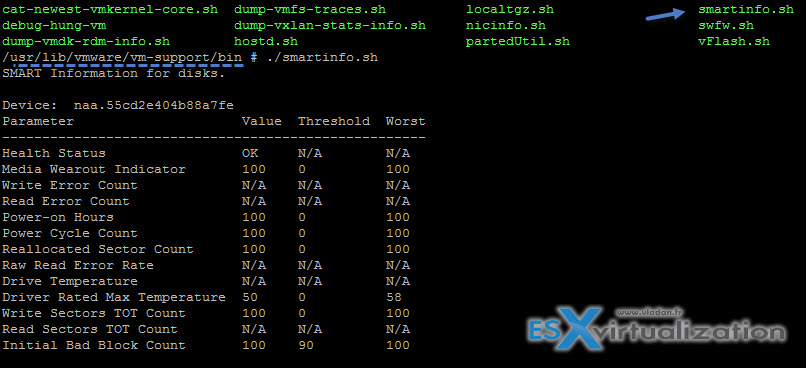 If you're on physical box, laptop or workstation, you might also check out this utility called HD Sentinel which I reviewed a while back. It's an utility which can tell you BEFORE you'll start experiencing problems with your SSD or HDD.
The smartinfo.sh script does not surface any of the S.M.A.R.T info into the GUI (Windows or web based clients), but it's (for now) only an informative utility for checking the state of the SSDs. I'd guess that we might see some more informations here as the storage vendors could integrate the known values of certified flash devices which would show (through the UI) for example how many days (hours) can particular devices run without risk or even more detailed informations. For example how many reserved space is left on the SSD as some manufacturers uses the unused space to keep it as a reservation when the SSD starts to deteriorate.