VMware EXPLORE this year is "replacing" VMworld this year. You have a unique opportunity to get early bird pricing to register for VMware EXPLORE and attend the in-person this year. The fact that this year we have an in-person event after a couple of years of online events only makes me excited. An opportunity to meet old and new friends or partners, get certified, or just learn and chat with real people about the latest technology.
VMware EXPLORE is new, but most likely we shall expect a similar experience as during VMworld. Sessions, demos, and see the vision of the future from a VMware perspective. Also to see some cool stuff, new tools and services, meet new friends, have some party after the show. I think there is a lot to miss if you thinking of not going….
Schedule builder is now open. Check schedule builder and create your schedule. Stay organized to maximize the benefits.
If you're thinking that there is only the name that changed, you might be wrong. VMware EXPLORE will be the about same, but not exactly the same. A bit different. I think that VMware took some time to come up with a hybrid version of VMworld and the best to make a different event with similar content is to change the name first. Then, the content and the organization. And I think that it's just happening. If you have a look at the FAQ……
Quote:
There will also be more non-VMware-led content and speakers—fresh, distinct voices and points of view—gathered in one place like never before. You'll hear from community leaders, executives, VMware customers, and VMware partners in keynotes, breakout sessions, small group sessions, gamified sessions, hands-on labs and more.
What made VMworld so exciting in the past?
For a European, the VMworld Europe was always closer to me. But VMworld US was always the biggest show so far. For me, the most exciting was to meet in person the people that create the software, people that "know their stuff".
You might think that you're an expert, but not in every domain. Today technology goes way too fast to know every part of it. There is always something that you don't know so you need to catch up, learn and explore…
By meeting friends, vExperts, and other IT peers, you exchange your ideas, your experience from your work, from your company. So you will realize that somewhere else, they might do things in different ways than you do at your own company. You can ask what's better or not, cheaper or more expensive, time-saving or not. You see, the exchange of information you can have during those shows is just priceless.
If you're closer to the US or living in the US, VMware EXPLORE will be at the Moscone center, US | SAN FRANCISCO AUGUST 29 – SEPTEMBER 1, 2022.
Certification during the show?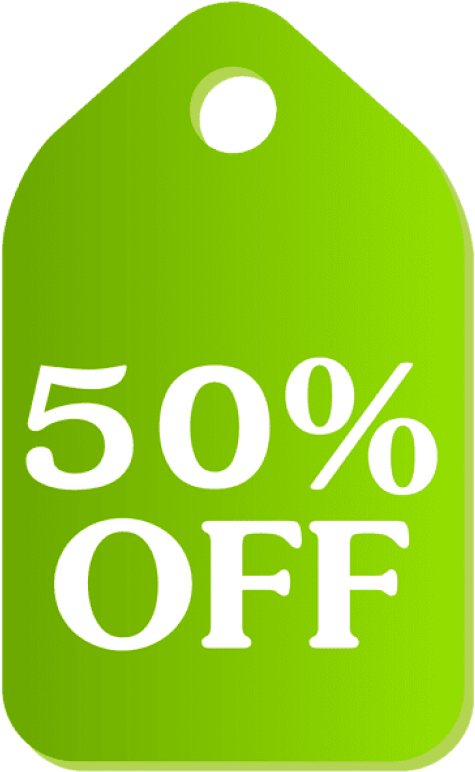 Yes, I did, twice. Usually, there is a 50% discount on certification exams that are taken during VMworld (VMware EXPLORE now). I don't think it will be any different so expect discounts to be announced. I'm going to follow this closely and update this post with details.
I took one VCP and one VCAP exam during VMworld Barcelona. Not during a single event but it was during 2 separate events (one year it was VCP and the second a VCAP). The fact, that you can save half the price from the exam it's good, but when planning, the best is to schedule your exam for the first day of the event! Like this, you have the time to do everything else once you pass the exam (or fail, it depends).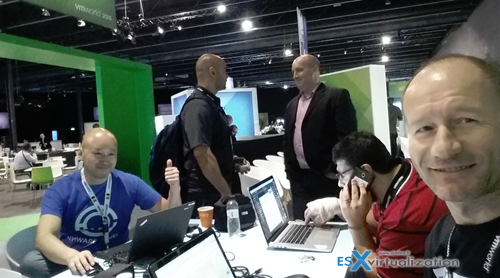 So yes, in my opinion, it's a very good opportunity and motivation to take a VCP exam during VMware EXPLORE. Check our VCP-DCV 7 Study Page and download the free study guide (from our partner.
Quote from the FAQ:
Your full event pass purchase also allows you to add on VMware Certified Professional (VCP) and VMware Certified Advanced Professional (VCAP) certification exam vouchers during registration at a 50% discount (exams must be taken onsite during VMware Explore US).
Opportunities and cool demos
In my career in IT as a virtualization admin, I learned a lot at the beginning and for a while. During VMworld, you have a chance to see product demos not only of VMware products, but also products that are directly interacting with VMware environments. All VMware ecosystem partners usually have demos of their software products so instead of trying the trials on your own, you can see the latest demo and ask questions directly!
There are also VMware labs and competitions, hackathon etc, so if you want to take some latest cool labs in a guided environment or take part of a competition during the show, it's a great way to participate.
I remember a very cool demo I saw from VMware when their cloud volumes product went out and the speed you could "install" your applications. The demo I saw truly inspired me.
Meet personalities and other vExperts
During the event, you can meet people that you normally won't be able to meet. You can meet other vExperts, Twitter friends or other bloggers (if you're a blogger). There is a special area where all the bloggers usually hang out.
An old pic from Copenhagen ….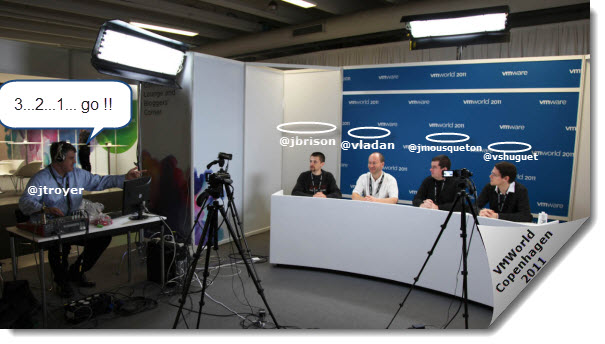 In the past I can remember shaking hands with Kit Colbert, Pat Gelsinger or John Troyer -:). Here with Anton Gostev (Veeam).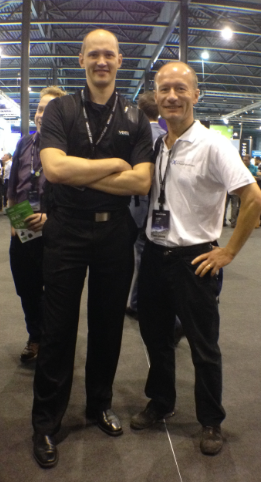 Share your experience with vBrownbag Tech Talks
Alastair Cook and the vBrownBag crew will be present during VMware EXPLORE, as during past years. If you don't know vBrown bag and Alastair, you are missing out! You can either just go and check sessions from other vExperts and IT peers during the show or you can even register yourself as a presenter and share your journey.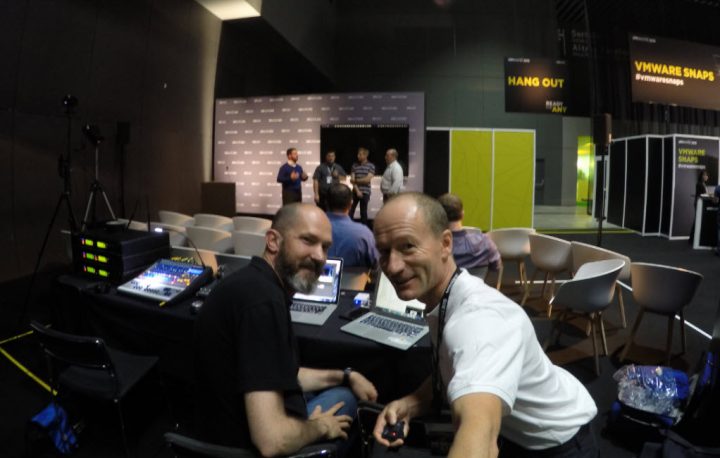 Wrap Up
VMware EXPLORE is definitely the place to be. We live in an amazing era with multi-cloud management, new tools and finally an opportunity to meet real people. I don' know how you, but those couple of years of the pandemic were not fun.
An online event is better than no event, but in any case, it cannot replace an in-person event! This is the first opportunity after a couple of years to get together, meet old and new friends and join the show.
U.S dates are August 29 – September 1, 2022, Early-bird pricing ends June 13,
There will be over 900+ Sessions & 1,000+ Speakers a the show. A huge event indeed.
Access to the VMware Explore 2022 US Content Catalog will be available June 28, 2022.
Early bird pricing and register for VMware EXPLORE here.
More posts from ESX Virtualization:
Stay tuned through RSS, and social media channels (Twitter, FB, YouTube)