A new community project book (Spanish) might be interesting to download for our Spanish readers. The book has been written by 14 Spanish speaking authors and bloggers. They collaborated together, each for a particular chapter. The book's name is VMware for vExperts and it's Spanish VMware Book.
VMware by vExperts is an eBook created by VMware specialists, with several vExpert awards. You will find step-by-step guides and detailed explanations of each product related to VMware.
The book is absolutely free and no registration is required. You'll find different VMware chapters about different technologies.
The foreword of the book is written by Duncan Epping from VMware.
VMware Book by vExperts – Spanish VMware Book
As being said, a free download. With more than 600 pages in Spanish. Thanks to Sponsors that are added each week to the project we also contribute to two solidarity projects.
The authors
Jorge de la Cruz (@jorgedlcruz) https://www.jorgedelacruz.es
Miguel Angel Alonso (@MueluelAAlonso) https://www.josemariagonzalez.es/
Xavier Genestos (@sysadmit) https://www.sysadmit.com/
Ricard Ibañez (@ricardibanez) www.cenabit.com
Gorka Izquierdo (@vGorkon) https://aprendiendoavirtualizar.com/
Ariel Sanchez (@arielsanchezmor) http://blogs.arielsanchezmora.com
Miquel Mariano (@miquelMariano) miquelMariano.github.io
Xavier Caballé (@screenshootsit) https://www.pantallazos.es/
Raul Unzué (@elblogdenegu) https://www.maquinasvirtuales.eu/
Patricio Cerda (@ patote83) http://www.patriciocerda.com/
Hector Herrero (@nheobug) http://www.bujarra.com/
Leandro Ariel Leonhardt (@leonhardtla) https://www.blogvmware.com/
Daniel Romero (@drsromero) https://www.dbigcloud.com/
Federico Cinalli (@FCinalliP) https://federicocinalli.com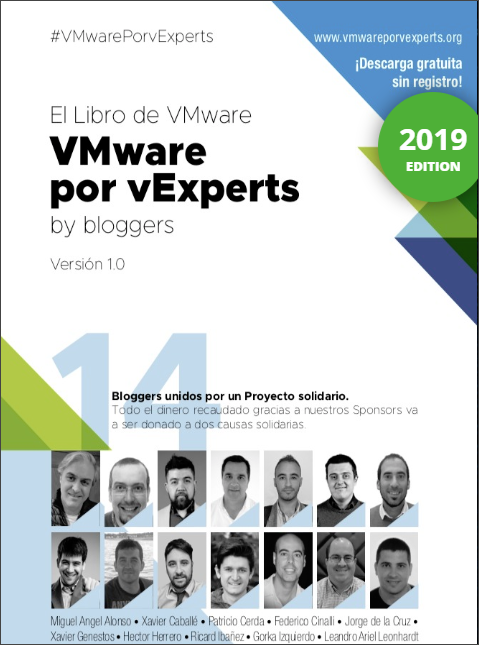 The book has been sponsored by many IT sponsors and vendors and all the money collected goes to charity.
The content
Each chapter is between 15 and 30 pages. And the content covers VMware vSphere and Software Defined Datacenter.
Contents of the VMware book by vExperts:
1 – Introduction (Xavi Genestós)
2 – vCenter, ESXi and Virtual Machines (Gorka Izquierdo)
3 – Installation and Configuration (Xavi Caballé)
4 – Networking (Miguel Angel Alonso)
5 – Storage (Leandro Ariel Leonhardt)
6 – vSAN (Federico Cinalli)
7 – High Availability (Leandro Ariel Leonhardt)
8 – Backup and Replicas (Patricio Cerda)
9 – Monitoring (Jorge de la Cruz)
10 – NSX (Miguel Angel Alonso)
11 – VDI's with Horizon View (Ricard Ibañez)
12 – Citrix in vSphere (Hector Herrero)
13 – vRealize Orchestrator (Federico Cinalli)
14 – PowerCLI (Miquel Mariano)
15 – vRealize Automation (Federico Cinalli)
16 – Ansible (Miquel Mariano)
17 – VMware Code (Daniel Romero)
18 – Containers in vSphere (Raul Unzué)
19 – VMware Cloud en AWS (Jorge de la Cruz)
20 – Good design practices (Ariel Sanchez)
21 – Tips for teams that manage VMware (Ariel Sanchez)
Quote from Duncan's foreword:
I believe that the book demonstrates how the world of IT has changed in the past 10 years, but also what will be on your list of projects to complete in the upcoming years. Some of you may have already seen the light and have adopted software defined networking or storage, some of you may have dipped their toes in the cloud native ocena, reality is that most of you reading this book are still on your journey towards the software-define data center.
You can promote the content as potential sponsors can donate to charity through the official website of the book. There are a twitter account @vmwarevexperts and the website www.vmwareporvexperts.org using the hashtag #VMwarePorvExperts.
Banani Project (a children's hospital in the Dogon Country) and the CEAFA Alzheimer's organization.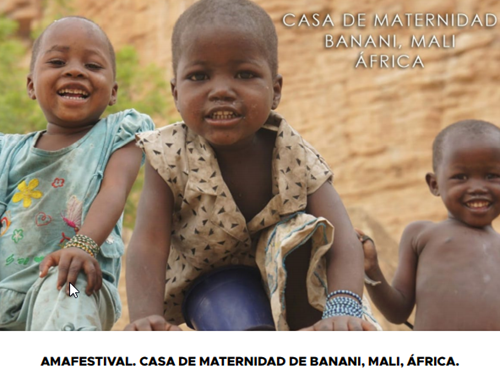 Honestly, I would have blogged about this book earlier, but hasn't had the news. Thanks to Federico Cinalli, one of the authors, who pointed me to this project. I can only agree that this is a very nice project with a noble cause.
Congratulation guys for the work done.
More posts from ESX Virtualization:
Stay tuned through RSS, and social media channels (Twitter, FB, YouTube)