VMware Site Recovery Manager 6.1 details were also unveiled during VMworld. One of the announces is the fact the SRM supports 5 min RPO (previously 15 min) due the fact that on VSAN 6.1 the snapshot needs less time to complete due more efficient file system. (more details in my detailed VSAN 6.1 post).
Stretched storage support for SRM is only logical step forward as VSAN 6.1 brought this support!
VMware Site Recovery Manager 6.1 details – What's New?
Storage Policy Based Protection Groups – previously one had to be sure that the datasoter where were the VMs located, was replicated. Now in SRM 61. there will be storage profiles which will map to datastores with protection groups. It means that you'll be able to deploy a VM while selecting a storage profile and place the VM automatically on the datastore that is configured for replication.
Stretched Storage Support – as VSAN 6.1 supports stretched clusters, SRM 6.1 is compatible as well. Previously one had to make a choice between using SRM or vSphere Metro Storage Clusters/Stretched Storage to provide a multi-site solution.
Enhanced VMware NSX Integration –
SRM Air – A "DR to the cloud", to vCloud Air.
Before we dive in to SRM 6.1 there is few things to point out as SRM 6.1 leverages the enhancements being made to other parts of the vSphere Suite, like VSAN 6.1
VSAN 6.1 is compatible with:
vSphere Replication
SPBM configured as part of replication
vCenter Site Recovery Manager
SRM configuration based on VR replication
Storage Policy Based Protection Groups
Storage profiles will map datastores with protection groups. Deploy a VM > select storage profile > done. (No need to place the VM on datastore where you previously configured the replication).
Storage policy-based protection groups utilize vSphere tags in combination with vSphere storage policy based management to enable automated policy based protection for virtual machines. Storage policy-based management enables vSphere administrators to automate the provisioning and management of virtual machines storage to meet requirements like performance, availability and protection. vSphere tags allow for the ability to attach metadata to vSphere inventory, in this case datastores, which makes these objects more sortable, searchable and possible to associate with storage policies.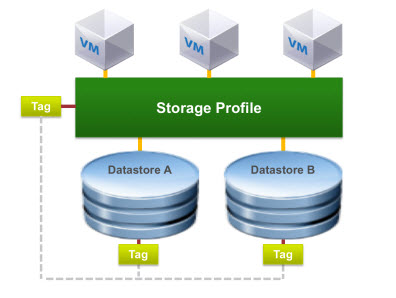 The process of creating protection groups:
You see that VM is associated to a storage policy which is associated to a Profile driven protection group…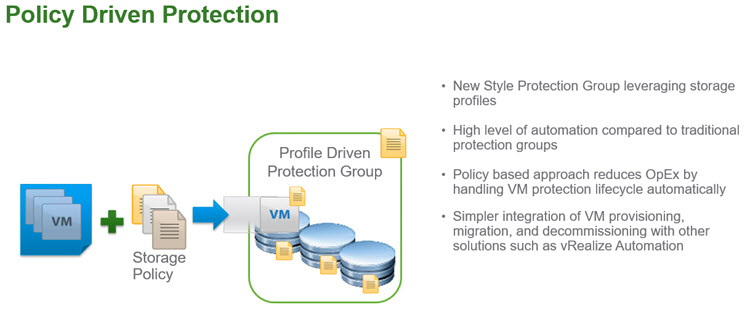 Here is a screenshot from the process of creating a Protection group in Site Recovery Manager 6.1.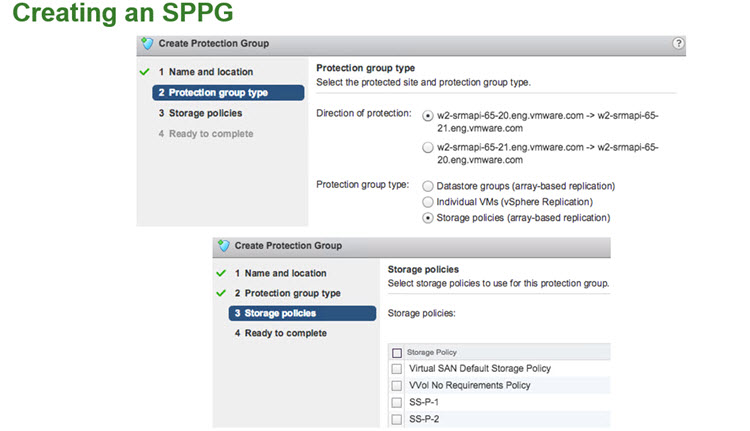 and here you can see the adding VM to an SPPG wizard…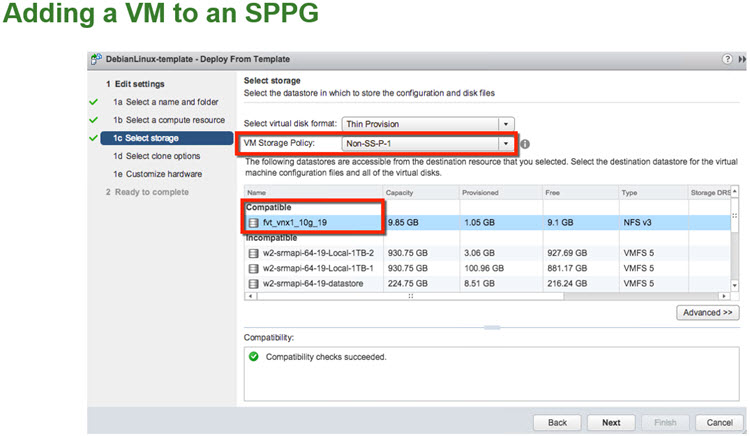 and here

Stretched Storage Support
SRM with Stretched Storage suport alows:
Planned maintenance downtime avoidance – using orchestrated cross-site vMotion and recovery plans.

Zero-downtime disaster avoidance – SRM 6.1 workflows + cross-site vMotion > VM is moved to another site to avoid upcoming disaster.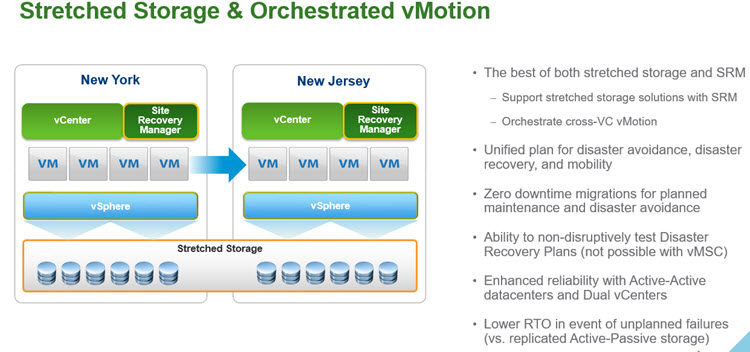 And here…
VMotion in stretched storage recovery plan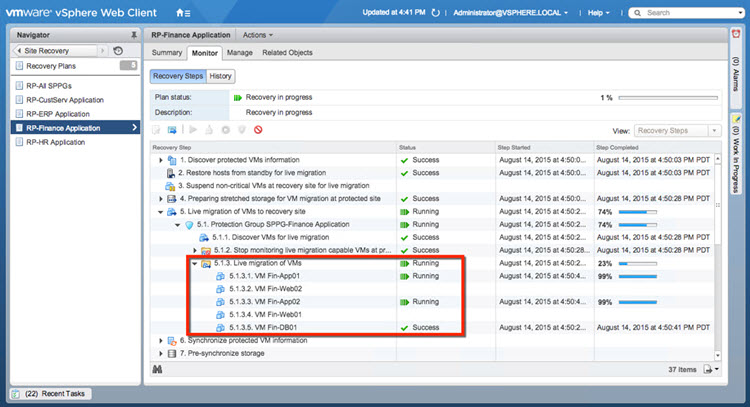 It will also be possible to uncheck  a checkbox, there is an option to enable the vMotion of eligible VMs, in case of planned recovery…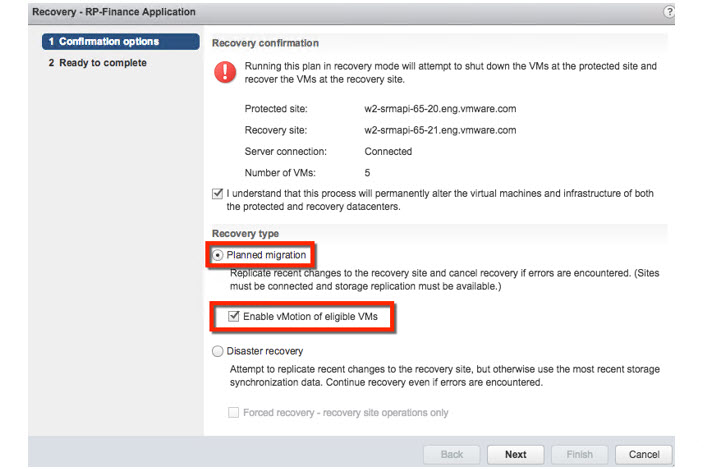 So the Stretched storage in DR Mode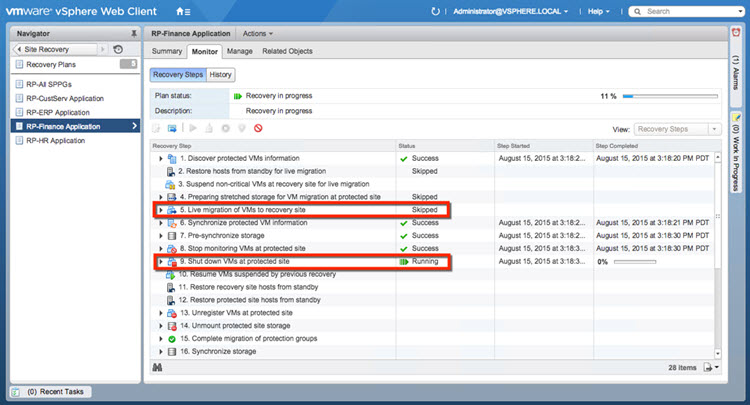 Enhanced VMware NSX Integration
While NSX is gaining more and more traction, it's mainly due to a integration to different components of the vCloud suite. It's not different with VMware SMRM6.1 where NSX Universal logical switches provide IP portability on recovery.
Especially allowing creation of layer 2 networks that will span vCenter boundaries. By using Universal Logical Switches with NSX you will have a virtual port group at both ends, the protected and recovery site that connect to the same layer 2 network.
Without NSX, if the networking is not the same on both sides, you would need to configure the IP mapping manually, and the VMs when started on the other site will have small downtime. Integration with NSX can possibly avoid that.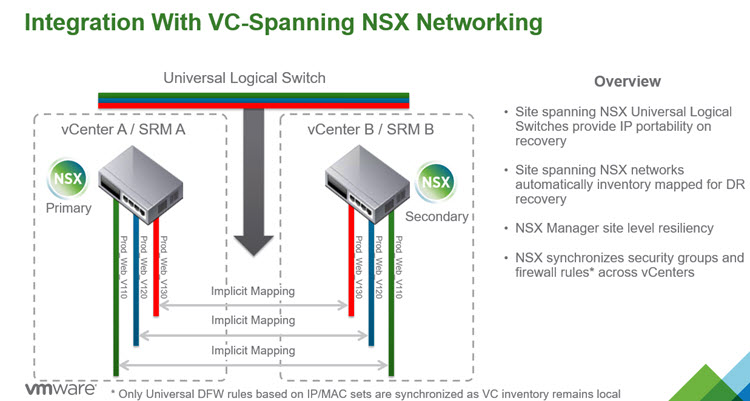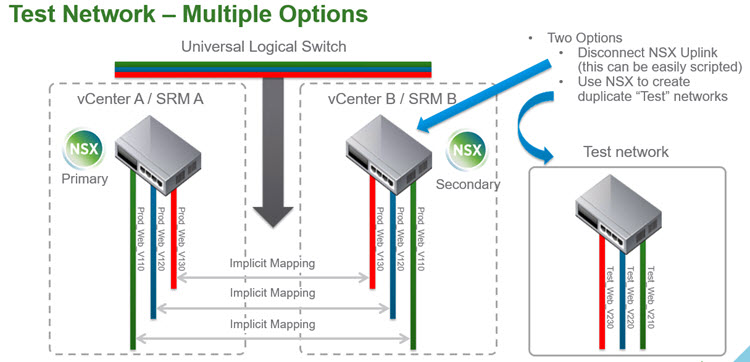 Concerning the testing there are two options which one of those allows NSX to create duplicate (test) network….
SRM Air
Automation for vCloud Air DR.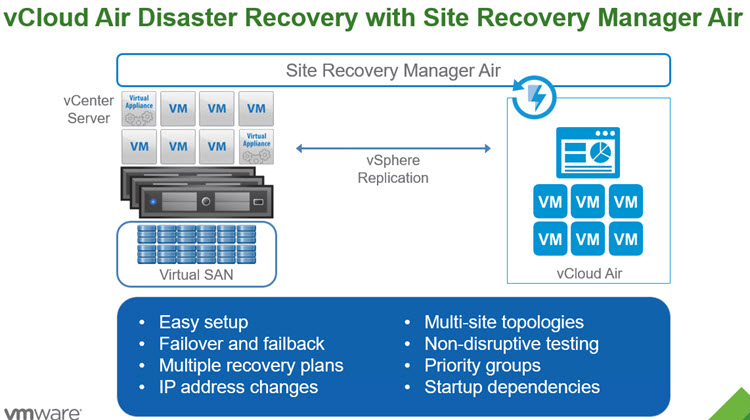 SRM is a logical evolution of the product and when it will be released I'll make sure to test it and share my results.
VMware published a new technical white paper with lists the new features of Site Recovery Manager 6.1:
Support Stretched Storage and Orchestrated vMotion
Enhanced integration with VMware NSX
Storage Profile Based Protection
Check it out, and also check out our VMworld 2015 page!