VMware VSAN 6.1 is already third release of VMware VSAN. This release brings an enterprise features which brings stretched cluster features, NVMe and Diablo Ultra DIMM support (storage closer to the CPU, on memory-stick), but also enhanced usability and management with new Virtual SAN On-Disk format upgrade and disk group bulk claiming. Also an integration with vRealize Operations Manager. To get started we'll have a look at all features one by one in details.
VSAN Stretch Cluster
VSAN 6.1 brings stretched cluster support. VSAN supports location so you're able to keep active-active site. Architecture between two or more geographically separated sites, synchronously replicating data between sites.
Geographically different locations – It's possible to deploy VSAN on different sites.
Active-Active – the active-active architecture allows "losing" a site and have no data loss and near zero downtime. (If a site goes down, HA kicks in I suppose…)

Supports both Hybrid and All-Flash architecture.
Synchronous replication – between sites, a synchronous replication of data between sites.
Stretched cluster leverages fault domain architecture, where Witness is responsible for quorum and voting mechanism during cluster related failures. The Witness is ESXi virtual appliance and stores only meta-data.
The networking and latency
5ms over 10/40Gb links is needed.
100ms latency over 100 mbp for connectivity for the Witness appliance and fault domain. (Latency or RTT (Round Trip Time) between sites hosting VM objects and the witness nodes should not be greater than 200msec (100msec one-way). In fact, the latency to the witness is dependent on the size of the cluster.)
Witness appliance can be deployed on 3rd site (for example on vCloud Air). Screenshots of VSAN stretched cluster supported architecture: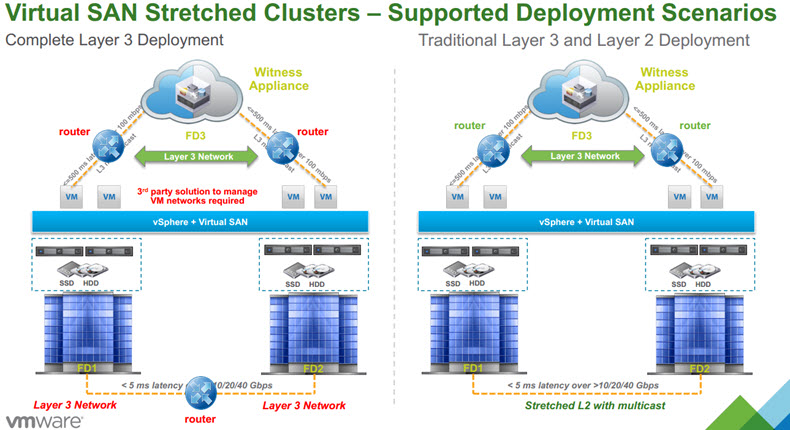 Read Locality – read/write from local domain instead of from the remote domain location. This has been introduced as new feature as the remote location would introduce signifficant latency if data would had to be fetched to the local site.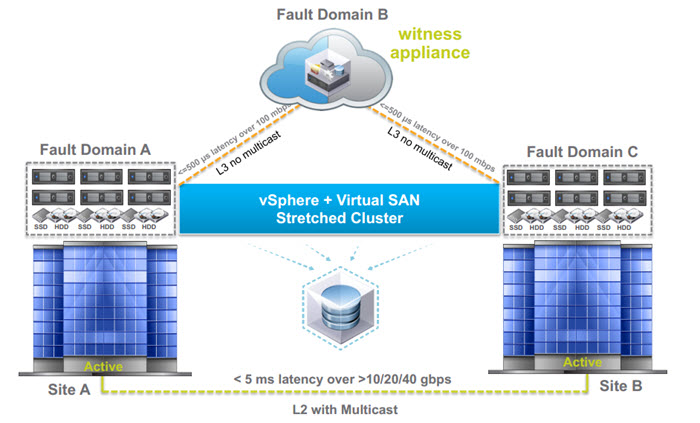 One of the different deployment scenarios can now be he fact that multiple site VSAN stretched cluster can bee "hooked" to vCloud Air and have a vSphere replication (VR) used to replicate to vCloud Air for DR purposes.
Lowest RPO is 5′ for the VR and VSAN only. Normally RPO within the VR product as a part of the vSphere suite, is 15 min….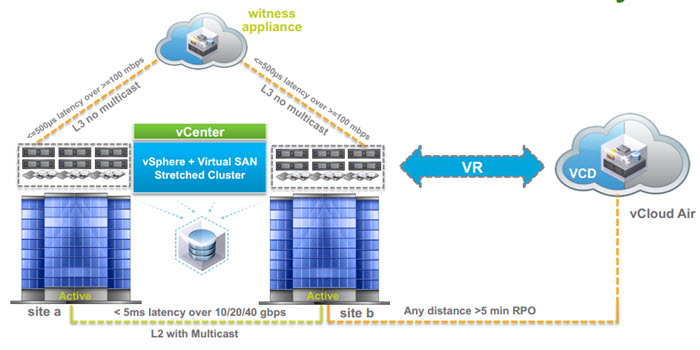 For sites where you don't want to use vCloud air, it's possible to setup a private datacenter with vCenter and SRM so VR is orchestrated with SRM and the RPO is as low as 5 min. This is because VSAN uses more efficient vSAN Sparse snapshot mechanism.
Stretch cluster management screen: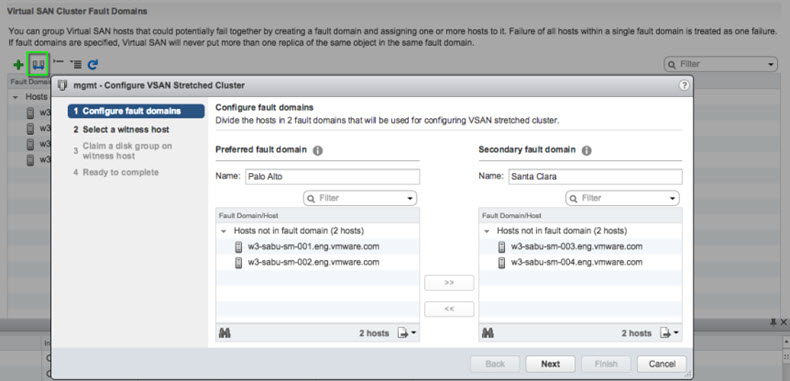 vSphere FT Support
vSphere SMP-FT is fully supported on VSAN (not on VSAN stretched cluster). The secondary copy can be located on separate fault domain. Not in the case of stretched cluster scenarios. Requirements – 10Gb network
Supported Clustering Technologies
Oracle RAC (Real application cluster)
Microsoft Exchange cluster (DAG), SQL cluster (Always-On) – with file share witness quorum only.
No DAG for Exchange or SQL on architectures using failover clustering instance (FCI).
New Flash Hardware Devices
lower than 5us write latency on NVMe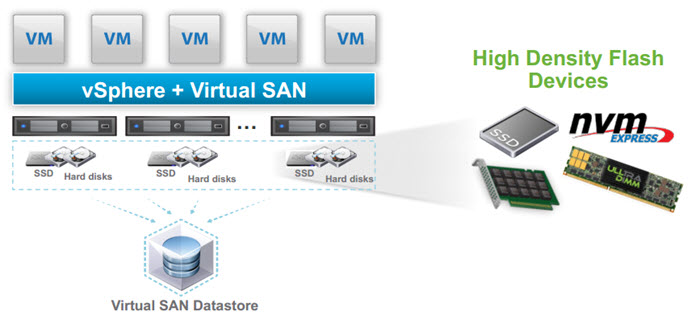 Two Node Solution for ROBO environments
Officially supported! This is certainly interesting solution for stretched cluster scenarios where it's possible to implement a solution which has a Two nodes at the remote location and the third (witness) node is located in the main datacenter. The Witness node is ESXi VM. The whole solution is managed via single vCenter and so there are obvious advantages on such a solution (patching, simple management, cost effective…).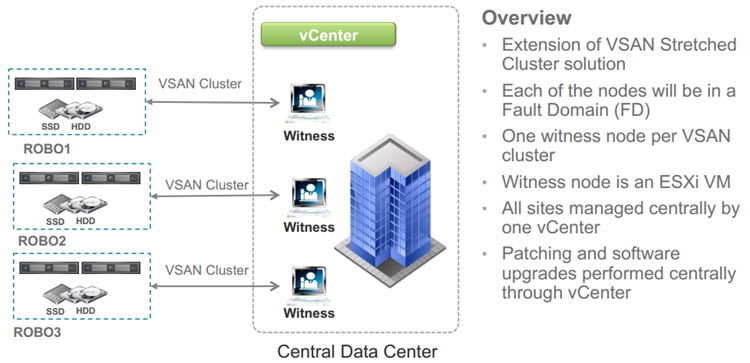 For ROBO environments the networking requirements are different. You'll have 2 servers per remote site and the witness appliance in your main datacenter. The max latency in this scenario is 500ms (RTT).
Update: You migt want to check out my post VMware VSAN 6.1 In The Lab.
The ROBO VSAN config needs 2 hosts where each one of those is in different fault domain. The third host is a host outside of VSAN cluster. You can watch new video from VMware concerning the configuration of the VSAN in ROBO environments.
OnDisk Upgrade
VSAN 6.1 can do on-disk format upgrade from VSAN 5.5 (1.0) to VSAN FS (2.0). And this surfaced already in VSAN 6.0….
ScreenShot from the lab: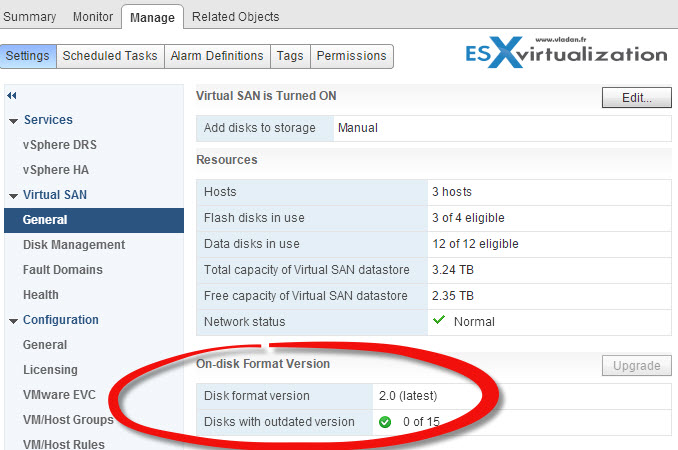 Better disk management
Disk bulk claiming, where selection is based on VSAN architecture.
Claim for capacity
Claim for cache
Group disks per model/size.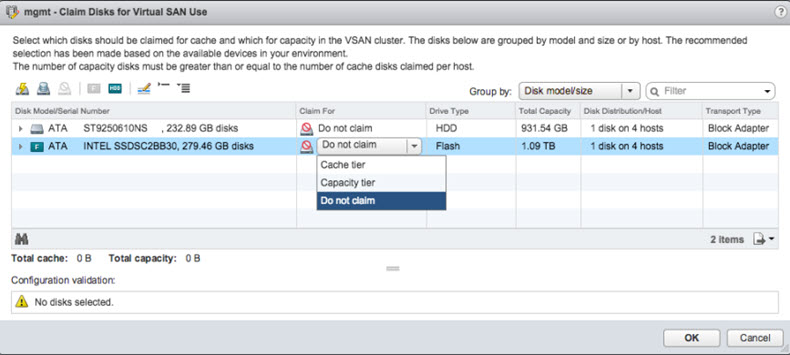 VSAN health check plugin includes the firmware, drivers of the underlying hardware and pulls the latest informations from VMware HCL. I have wrote about VSAN health
VM creation test – creates a tiny VM on each host which gets deleted after the test. This allows to validate the all VSAN components are operational. That the management stack is operational on all hosts, the Virtual SAN network is working, the creation, deletion and I/O to objects is working, etc.
Multicast performance test – shall be run only in case the production switch isn't in production yet, or you can have small maintenance window. The test works by selecting one ESXi host in the Virtual SAN cluster as the sender, and designating all other hosts to being receivers…  The VSAN requires actually less than 20 Mb/s (200jmbit/s) of multicast speed during peak load. Any speeds between 20Mb/s and 50 Mb/s are acceptable and below 20Mb/s is not good…
Storage performance test – this test runs some tests on storage performance, by creating some VMDKs on different hosts..
VMware VSAN Management Pack for vRealize Operations
You can now integrated VSAN 6.1 and vROPs by installing a management pack for vROPs.
Global View – provides visibility across multiple Virtual SAN clusters for monitoring, alerts and notifications
Capacity Monitoring and Planning – monitor disk usage and SSD wear out across all Virtual SAN hosts and use advanced capacity planning based on "what if" scenarios, historic demand and stress trends
Health Monitoring and Availability – provides proactively notifications on failures, performance or policy compliance issues on an ongoing basis, with root-cause analysis and remediation strategy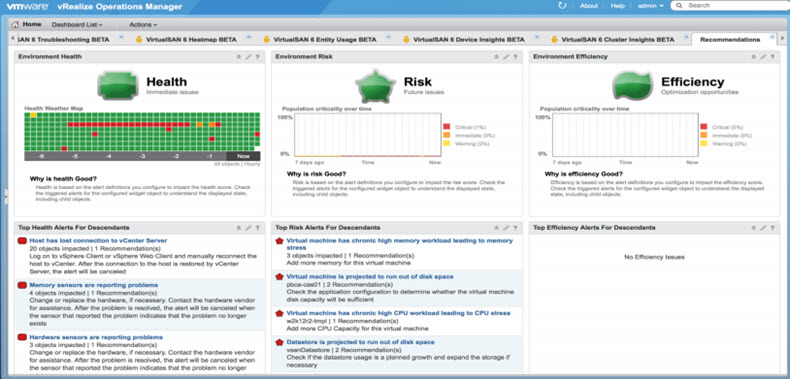 The expected availability of VMware VSAN 6.1 is announced for Q3 2015.
Stay tuned for more… If you liked this post, don't hesitate to share on Twitter, FB, Linkedin or other social media channels. Subscribe for more posts via RSS or get them delivered once a Week via E-mail.