A few days ago VMware has announced that vExpert 2021 applications are opened. The program accepts you to apply twice a year and it has been a very long time since I'm part of the program that has many benefits and gives you some advantages.
Being vExpert makes me always very proud that I'm part of this vExpert family. Great community and great people from all over the planet are vExperts even if when the program has started the group was very small, say tiny. To give you an idea, in 2011 we were only 6 French vExperts. Now, if you look through the vExpert portal (you have a possibility to sort by country) we're over 20.
I've always been motivated being vExpert, to network with other vExperts all over the world, not only in France. I learned many new technologies and achieved some difficult VMware certifications as well. All this made me progress with my professional career.
To apply and become vExpert you need to enter vexpert.vmware.com and apply on the site. If you don't have an account yet, you'll need to create one first, before you apply. In case you need any help with your application you can contact a vExpert PRO which is a vExpert guy in your country that knows the ins and outs of the vExpert program and how to get you aboard.
What is vExpert program?
The VMware vExpert program is VMware's global evangelism and advocacy program. The program is designed to put VMware's marketing resources towards your advocacy efforts. Promotion of your articles, exposure at our global events, co-op advertising, traffic analysis, and early access to beta programs and VMware's roadmap. The awards are for individuals, not companies, and last for one year. Employees of both customers and partners can receive the awards. In the application, we consider various community activities from the previous year as well as the current year's (only for 2nd half applications) activities in determining who gets awards. We look to see that not only were you active but are still active in the path you chose to apply for
You might wonder which path you should take? It is simple. Look where are you the most active, in which area you promote the more VMware software and technologies.
Which Path Should you Apply for?
Evangelist Path – The Evangelist Path includes book authors, bloggers, tool builders, public speakers, VMTN contributors, and other IT professionals who share their knowledge and passion with others with the leverage of a personal public platform to reach many people. Employees of VMware can also apply via the Evangelist path. A VMware employee reference is recommended if your activities weren't all in public.
Customer Path – The Customer Path is for leaders who evangelize VMware. We are looking for passionate customers who do the work to evangelize within their organization or worked with VMware to build success stories, act as customer references, given public interviews, spoken at conferences, or were VMUG leaders. The actives must not be related to your position within the company, i.e. not being paid for evangelizing VMware. A VMware employee reference is recommended if your activities weren't all in public.
Partner Path – The VPN Path is for employees of our partner companies who lead with passion and by example, who are committed to continuous learning through accreditations and certifications and to making their technical knowledge and expertise available to many. This can take shape of event participation, video, IP generation, as well as public speaking engagements.
Part of the benefit that this blog and I can be proud of is also the personalized image on VMware Advocacy where my articles gets posted, liked and reshared.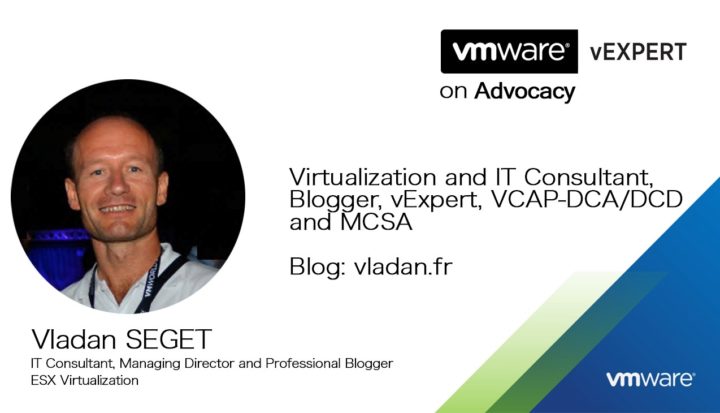 Apply HERE.
More posts from ESX Virtualization:
Stay tuned through RSS, and social media channels (Twitter, FB, YouTube)