After the yesterday's announce of the VMware Horizon Workspace Suite, I'll focus today on the improvements and major features introduced in VMware View 5.2 which is part of the Horizon Workspace. What's new in VMware View 5.2? VMware View is major release, even if the version number goes from 5.1 to 5.2 only. But there are so many new features and improvements not only from the innovation side, but also from the scalability. One of the principal factors limiting to deploy really large VDI projects was the 8 host cluster limitation. This has evolved and now VMware View 5.2 supports 32 Hosts and also the 2000 desktop VMs  has been lifted to support 10 000 virtual desktops.
Introduction sparse efficient virtual disks (video) which enables you to actually never recompose your desktops to recover space on your storage. (Works for OS disks only and not on Win 8 at the moment). The unused space is reclaimed (threshold can be specified) and so the View desktops stay small.
The access, the browsing in the View Admin is much faster. I can compare to View 5.0 and 5.1 where the admin UI was kind of "lazy" but nothing to do with the 5.2 which is fast and responding well. I'm using the beta of View 5.2. The new look and feel of the interface matches the overall UI of the new vSphere Web client too.
Deployments View 5.2 side by side with vCSA – vCenter server virtual appliance – are now possible too.. Don't you have a feeling that we're heading to the world of vApps and Virtual Appliances only? -:) If you have a look at the architecture of the Horizon Workspace, I have the feeling that this is definitely the case, even if I have not clearly saw that statement from any of the major VMware Bloggers.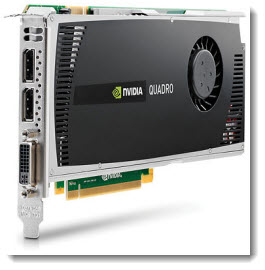 Hardware Acceleration of 3D graphics
In View 5.2 you can use the GPU of the ESX host and share it across multiple VMs. This enables really good 3D application usage. The virtual desktops still sees the abstracted VMware SVGA device for maximum portability and compatibility.
You can even vMotion a VM from host which has the graphic card installed to a host without GPU without interruption of the 3D graphics to work…
The host has to have some system requirements. Those are:
PCIEx16 slot

NVIDIA Quadro 4000, 5000 and 6000
Tesla M2070Q
GRID K1 and K2
FYI, the NVIDIA Quadro 4000 has a listed price about €750. The higher end models costs over €2000…
The software requirements:
vCenter Server 5.1 or later
VMware View Agent 5.2 or later
No preference for View Clients (VMware View Client 5.2 recommended)
On the admin side, to be able to leverage the 3D support per pool, you'll need to do it in Settings > remote display protocol > set default display protocol to PCOIP and Hardware or 3D renderer.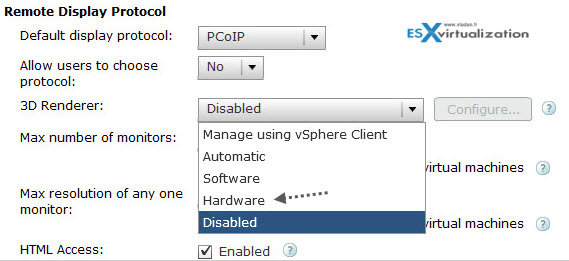 vCenter Server Virtual Appliance (vCSA) supported on VMware View 5.2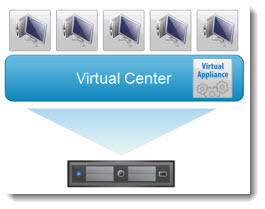 Previous version of VMware View needed vCenter Server installed on Windows based server system in order to fully support linked clones. This limitation has been lifted with VMware View 5.2 as it's now supported to run vCenter Server as a virtual appliance. This eliminates the dependency on Windows base systems and brings more flexibility and easier updates.  This is really cool, as the vCSA is quite faster to deploy… I'm using it a lot in my home lab, and I hope it will receive further improvements in vSphere 6.
As a tech preview feature – its possible to have the View Plugin for managing users, integrated into the vCenter and the vSphere web client. Andre Leibovici over at Myvirtualcloud.net has got a screenshot, but it's kind of "not sharp enough". He also shows a video, but no HD. You can see the HTML 5 access there. The HTML 5 access is certainly cool, but for best possible experience it's recommended to use the View client installed on the endpoint, together with PCoIP protocol.
Continue reading on next page about MS Lync support, Sparse disks, HTML 5 access and more… –>