The presentation I was able to assist, on the VMware Horizon Workspace you could already read quite a lot of informations on the different parts of the suite and different technologies integrated into that suite. If not, read the article here – VMware Horizon Workspace announced. While this was a detailed look at the individual components, I'd like to share more informations about what's under the hood. During the presentation held by Greg Armanini, Andrew Hawthorne and Sam Khavari from VMware, the following schema has been showed.
From the storage point of view, the Horizon Data VM is using the storage for multiple things. For an application logs, OS logs, Redo logs, Metadata, Index… So there are basically two options on how to integrate the appliance to your existing storage architecture:
A storage configured through vSphere, which is presented to the horizon appliance and then put a data there. As the different logs needs different performance characteristics (often because database related), those are put on separate VMDKs.
Redo logs – important for applications consistency with very particular write pattern. So being separated in separated VMDK
Metadata – DB based, needs to be optimized on faster storage
Index – content index, document index, searchable
Blob Store – files, different versions are stored. Can be stored on pRDM or NAS storage. The private horizon storage content is stored there. When user first creates a document, and put it in his space, log entry is created, redo log is created, the metadata is appended, the metadata gets created and the file is finally put in the blob store.
The integration with existing file share, like Windows file share, will be added in future release of Horizon, and so only when creating new Horizon Space now you start from the beginning.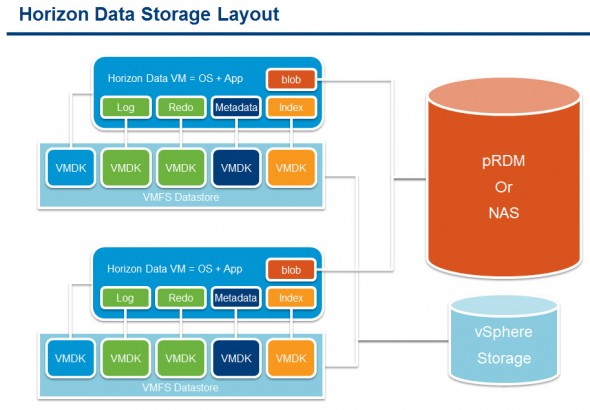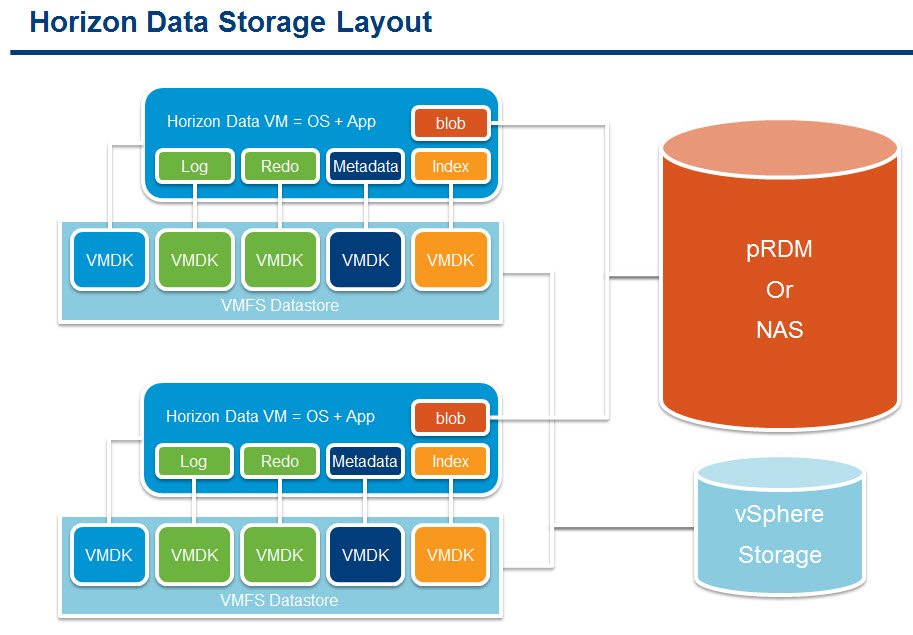 The API integration, and DLP will get also integrated to future releases of Horizon Data.
VMware Horizon Network architecture
The Horizon Gateway vApp is the vApp responsible for accessing the infrastructure behind. The different clients can access the Horizon Workspace through the Gateway vApp which routes the requests to the vApp that the client needs to access. The client has the feeling that there is only single service, but in reality behind the gateway there are multiple VMs.
There are APIs that are user acceptable. SDKs and more documentation is coming.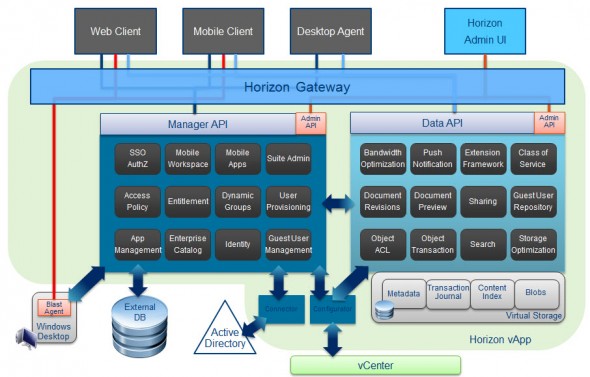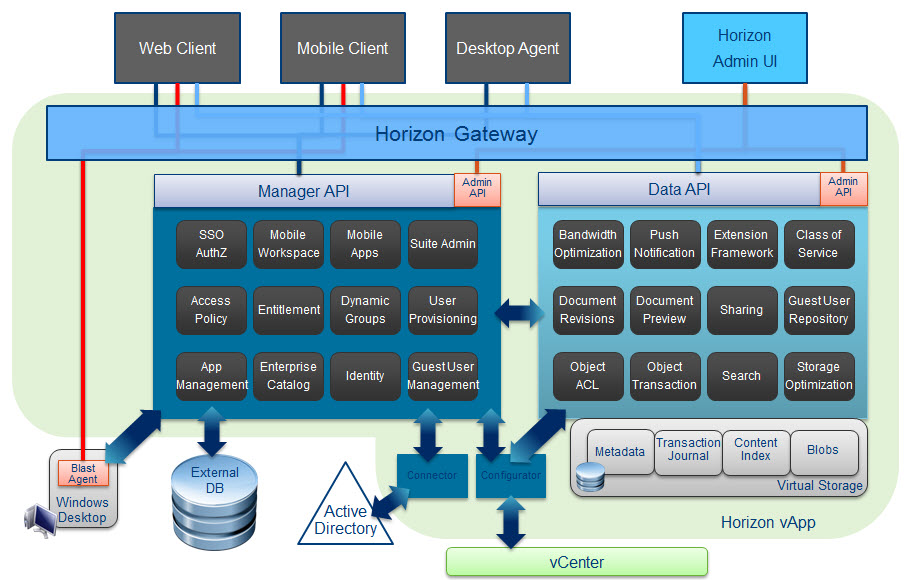 You might want to read the overview article on the Horizon Workspace Suite Here. You'll get all the details about what's in the suite (View 5.2, Octopus, Appblast…. etc).
The VMware Horizon Workspace should come out in March 2013.
VMware Horizon Architecture – Deep Dive – this post