A new document showing how to optimize a PCoIP protocol over WAN links.
VMware View 5 has been released recently during VMworld 2011 at Las Vegas and with this new release, the way to optimize and configure VMware View has changed. The latest release of VMware View 5 has brought some great enhancements in the PCoIP protocol and other features – detailed in my post here and here.
The PDF document discuss in details (with screenshots), on how to put in place the new pcoip.adm file, which is a Group Policy Object (GPO) administrative template. This template must be first imported to a Group Policy MMC console in order to be able to tweak some settings.
The GPO can be configured individually on the Master Image VM or centraly through Microsoft Active Directory. Usually you would want to create a OU container, configure View to store all the desktops pools there and you can apply then the GPO to that container. The document shows you step-by-step on how to do it (both ways)
By default, the bandwidth is optimized to low level usage, client caching is enabled and also the updates to the lossless codec. But you can further reduce the bandwidth usage by turning on the audio compression, and turning off the Built to lossless capability.
Further optimization can be done on different desktop settings and tuning, which is extremely important. There are several tweaks invoked in the paper, like visual settings optimization, disabling VSS, desktop wallpapers, screensaver etc… etc..  But you might want to use for this a nice Free Tool recently released by Quest Software. This Tool is now part of my Free Tools Toolbox too, and it's called vWorkspace Destkop Optimizer.
Then you'll find some network bandwidth planning examples for Office Desktops in different scenarios too. And at the end there are some Advanced configuration tweaks invoked, like Image quality levels etc.. All this again with different examples of configuration.
I can highly recommend this Whitepaper which you can get here for everyone who start to deploy or test VMware View 5.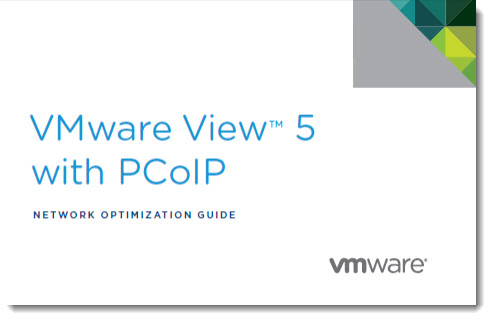 Also to read: VMware View 5.0 – performance and best practices white paper
Source: VMware View 5 with PCoIP Network Optimization Guide