I somehow ignored this information but I think that it's very useful to share, especially if you're navigating the SMB or very SMB sector. In fact, VMware VSAN for ROBO Two Node 10 GbE cross-connect support. So you have the possibility to cross connect ROBO nodes, via low-cost 10GbE option and have a great performance because you'll have dedicated VMkernel interface for VSAN traffic.
—————————————————————————————
Update: Not supported. Unfortunately… The recording and the deck from the presentation did not show that (missing), so I originally thought that this was a supported feature…. Unfortunately, this is unsupported, for now, but VMware is investigating whether it would be as working (supported) option. So sorry folks to disappoint you, the config is unsupported, does not work, and the text below nonvalid. If in the future this change, the post will get updated.
Update 2: Supported on vSAN6.5 !!!!
The witness traffic runs on separate NIC which can be 1gb network, sharing also other traffic. Not only the witness traffic. This network, as I could see is has a 1Gb network switch (not direct connect).
It's because I was watching Melbourne VMUG presentation video by Greg Mulholland (not available any longer), to realize that I haven't covered that information concerning the cross-connect nodes in VSAN 6.1 ROBO scenarios on my blog, and also personally I wasn't aware of that.
Here is a screenshot from the video (I also embed the video at the end of this post):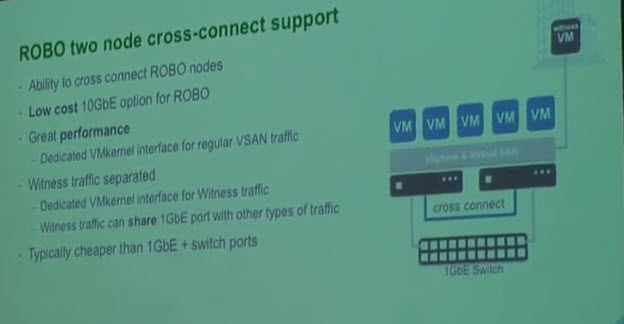 ——————————————————————————————————————–
Let's have closer requirements for ROBO environments…
VSAN Robo architecture
This type of setup allows 2 nodes (with a switch in between) where the third node is located elsewhere (not on one of those 2 hosts). Makes sense. So you'll still need a host which will host the witness component, but this can be located at the main datacenter.
But for that VMware provides a "virtual host" so you don't need to dedicate a physical host to just run the witness. The VMware Virtual SAN Witness Appliance 6.1 is a virtual witness host packaged as a virtual appliance. It is actually a vESXi! Check out my detailed post about it here – VMware VSAN 6.1 Witness Appliance Download and Further Details.It's a first time when VMware supports nested ESXi for production environments…  No, you can't run VMs on this nested ESXi … The schema from VMware looks like this.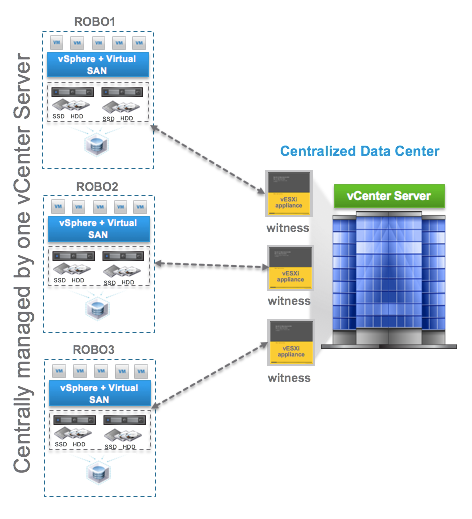 What does it mean from a licensing perspective?
What do you need if you have a remote office where you would like to deploy VSAN?
You'll need:
VSAN 6.1 ROBO license
vSphere ROBO license
Virtual SAN ROBO licensing does not limit Remote Office Branch Office sites to 2 nodes, only to a maximum of 25 VMs per site. So you can have 5 sites with 5 VMs each… and still use one VSAN 6.1 ROBO license…
Limitations of VSAN ROBO:
No more than 25 VMs per Site – One limitation is that you cannot deploy a ROBO license on a site that will run more than 25 VMs. So in case you want to run more than 25 VMs per single site, you would need VSAN Standard or VSAN Advanced licensing.
VSAN ROBO edition can be hybrid only (not All-Flash)
vCenter server not included – You'll need vCenter server (purchased separately)
Wrap-UP
So what's in it for SMB? Let's say you have a customer which is planning a greenfield deployment and you as an architect want to propose VSAN ROBO. If you look closely, VSAN ROBO deployment is not targeting SMB with those packages as SMBs usually do not have a second remote site. SMBs and vSMBs run usually Essentials or Essentials Plus packages.
So IMHO there is not much in for SMB as you have to have your main data center already where you'll run the witness components, and there you have your vCenter there too. You could have a third host (much smaller with less memory etc… ) and in this case, you could have the 2 bigger nodes having the VSAN config with as a third host the one which is smaller.
But perhaps better use case is a company with main data center and ROBO sites where they can deploy VSAN ROBO and spread the 25 VMs limit across multiple ROBO sites.
You can check the latest VMware Ready Nodes PDF document for latest hardware specs. The Virtual SAN Ready Nodes listed in this document are classified into HY-2 Series, HY-4 Series, HY-6 Series, HY-8 Series, AF-6 Series and AF-8 Series.
More from ESX Virtualization: