I just wanted to point out to sessions and group discussions that will discuss VMware VSAN. As you know, the sessions are recorded, but the discussions are not. So it's a probably smart move for some to attend the group discussions instead of the actual session as the recording will be available online after VMworld. But it's up to you how you'll manage your precious time once in Barcelona…
Also there will be a demos of the VSAN at the VMware booth in the Solution Exchange.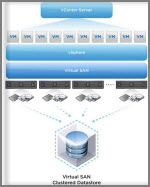 Most of the info about those sessions and group discussions came from VMware vSphere blog post by Charu Chaubal. Founding it interesting and pertinent, here are the details.
VSAN-related Breakout Sessions and Group Discussion
STO5391 – VMware Virtual SAN (Vijay Ramachandran and Christos Karamanolis)
STO5027 – VMware Virtual SAN Technical Best Practices (Dinesh Nambisan and Cormac Hogan)
EUC4688 – Lowering TCO for Virtual Desktops with VMware View and VMware Virtual SAN (Jad Chamcham and Narasimha Krishnakumar)
STO4798 – Software-Defined Storage: The VCDX Way (Wade Holmes and Rawlinson Rivera)
STO1004-GD – Software Defined Storage (VSAN, vFRC, Virsto) with Rawlinson Rivera, Cormac Hogan, Christos Karamanolis, and VMware R&D Engineers
Group Discussion:
HOL-SDC-1308 – Virtual Storage Solutions ( Rawlinson Riwera, Christos Karamonolis and VMware R&D Engineers)
Several  "Ask the Expert" 1:1 sessions with various VSAN experts (consult the electronic Content Catalog during show)
Demos of VSAN presented at the VMware Booth in the Solutions Exchange
Other useful links:
Source: vSphere Blog