VMware Updated vSphere 5 to vSphere Update 1.
It's mostly maintenance release. Not only vSphere 5 has been updated to U1, but also other VMware products like vShield Edge 5.0.1, vCloud Director 1.5.1 , SRM 5.0.1, vCenter Heartbeat 6.4u1, vCenter Configuration Manager 5.5, vCenter Configuration Manager 5.5 and VMware View 5.0.1.
In fact the whole cloud operating software from VMware got the 5.0.1 update. The support for the vSphere 5.0.1 has been added to each of those software products. For example vCD 1.5.1, vShield 1.5.1 or vCloud Director 1.5.1 …. all those products supports vSphere 5.0.1.
What's new in vSphere 5 Update 1:
Support for new processors – ESXi 5.0 Update 1 supports new AMD and Intel Processors. See the VMware Compatibility Guide for details.
Support for additional guest operating systems – ESXi 5.0 Update 1 adds support for Mac OS X Server Lion 10.7.2 and 10.7.3.
New or upgraded device drivers – ESXi 5.0 Update 1 adds support for Native Storage Drivers for Intel C600 series chipset and upgrades LSI MegaRAID SAS driver to version 5.34.
Resolved issues shows various bug fixes and solved problems, for example with VMs running NT4 showing not up to date VMware Tools even if those are up to date…..  Pretty impressive, that VMware still supports those systems.. But there is more than that. Check the Resolved issues section there.
I think you should also look at the Product Interoperability Matrix, where you can choose product from the drop-down list and see the compatibility. Or, you can choose the upgrade path radio button, where you choose the situation which match your environment.
Follow this link to see the Product Interoperability Matrix.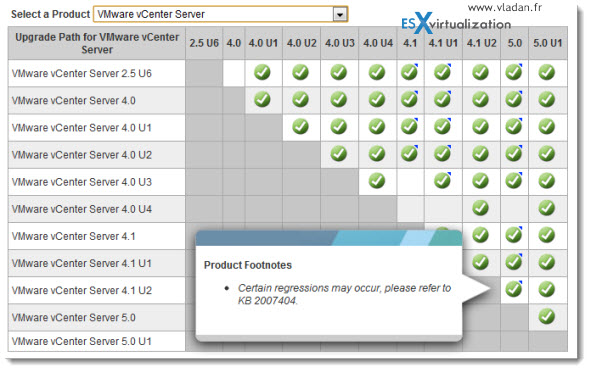 You can see all the products releases with the urls below:
vSphere 5 Update1 :  https://t.co/5DtiuAcy
vCenter 5.0 Update1 : https://t.co/DFLL2log
vShield Edge 5.0.1 : https://t.co/pyUzcbDi
vCloud Director 1.5.1 : https://t.co/mwCZ9TOq
SRM 5.0.1: https://t.co/JWs9yKXb
vCenter Heartbeat 6.4u1: https://t.co/eZsFYx1e
vCenter Configuration Manager 5.5 : https://t.co/IDE9gemF
View 5.0.1: https://t.co/KmhTwbg5
In brief  – the new releases:
VMware View 5.0.1 – added support for MAC clients with PCoIP. This is major step towards MAC users. Remember my post where I showed you the possibility to deploy VMware Fusion on large numbers of MAC computers? Also, I think that it's worthy to mention that VMware simplified the possibility to download the View clients for any OS from One Single Page – see here.
vCenter 5.0 Update 1 – There is a new support for Windows 8, Ubuntu, and SLES 11 SP2.
Some reinforcements of the vRAM policy…
vCenter Essentials is incorporated with hard enforce vRAM limits – In vSphere Essential edition, a hard enforcement is added to limit vRAM usage (192GB). Once the limit is met, additional operations (such as powerOnVM) that lead to license over usage will be prevented. This enforcement is only added to Essential editions, other editions do not have this.
and here:
vCenter now enforces restrictions on which vSphere editions can be managed by vCenter – With this feature, vCenter Standard and Foundation is disallowed from managing vSphere Essentials and Essentials Plus host editions. This is disallowed per the EULA already, but was not programmatically enforced until now. The exception to this rule is the 'Essentials for ROBO' edition. This is still allowed per the EULA and as per the programmatic enforcement. Furthermore, it is also enforced that vCenter Essentials can only manage Essentials and Essentials Plus hosts.
vCloud Director 1.5.1 – support for vSphere 5.0 U1, vShield 5.0.1, RHEL 5 U 7 .  Different enhancements –  firewall rules, chargeback retention, AMQP system notifications, log collection. Many resolved issues. New support for AES-256 encryption on Site-to-Site VPN tunnels.
vShield 5.0.1 – support for vSphere 5.0 U1, Enhanced reporting and export options, New REST API calls to simplify automation of vShield Data Security workflows including triggers for completion of scans. Improved audit logs for vShield Manager provide detailed information about administrative user actions on vShield security operations. Simplified troubleshooting with single file download of vShield system configuration and events. Improved vShield App policy management offers the option to fail open or fail close for network security and selectively exclude virtual machines from the policy.vShield App High Availability enhancements automatically restarts vShield App or virtual machines if a heartbeat is not detected. Enablement of Autodeploy (Stateless ESXi) by providing vShield VIBs (host modules) for download from vShield Manager.
SRM 5.0.1 – Forced failover, to allow you to recover virtual machines in cases where storage arrays fail at the protected site and, as a result, protected virtual machines are unmanageable and cannot be shut down, powered off, or unregistered. Added support for IP Customization of Ubuntu 10.04, 10.10, 11.04, and 11.10.  Bug fixes can be found in Resolved Issues.
I noted no updates to VDR 2.0 ( VMware Data Racovery ) – a VMware's backup solution…. -:(.  No enhancements? No bug fixes?. Any reactions from my readers?  -:)
Stay tuned for more.
Enjoy..