Update: VMware vSphere 6.5 has been announced during VMworld Barcelona. The product has been released to the public. You shall check our vSphere 6.5 dedicated WordPress page where you'll find many How-to configure, videos, or step-by-step articles.
Free VMworld Sessions on YouTube are available. I updated my VMworld 2015 page yesterday with the list (there is about 20 of them to watch). One of the first sessions I watched was the session INF4528 – vCenter Server Appliance VCSA Best Practices & Tips Tricks presented by William Lam from VMware. By the end of the presentation, William shows what VMware is working on, which features and functions. For example, a migration assistant for migrating from Windows based vCenter server to VCSA based vCenter was showed and the migration UI shows VMware vSphere 6.5 as a version.
I know that it's way too early to talk about vSphere 6.5 and that certainly vSphere 6.1 will see the light before, possibly before the end of the year, but still. Kind of cool to see that VMware works on some really cool things and those folks are listening to your feedback.
I can highly recommend this session if you haven't watched yet. I found out that Mr Lam speaks quite fast but there are ways to slow the video down…
Screenshot from the presentation.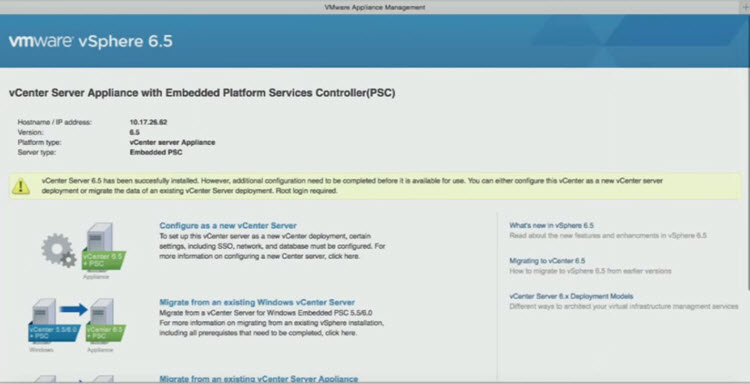 The session gives some really good tips on:
Architecture and deployments – in multisite/high-availability environments
Installation (via GUI and scripted)
Best practices (DNS… DNS… ) – avoiding errors by having DNS which just works (the right way)
VCSA Upgrades and configuration – via CLI, via GUI, tweaks and tips
VSSA PSC UI (New in upcoming VCSA 6.0 U1), in HTML 5 please… -:) This is UI only for the PSC
Return of the VAMI (yes the one we reach via <ip_of_vcsa>:5480
Dynamic Memory resize support – if change the VRAM of the appliance, all the services will re-configure automatically during the boot… No need for manual JVM tweaks
Increase disk capacity simplified – (also in the 6.0 U1) – each partition now have its own vmdk so easier to expand for example the space of this individual disk file. Also it's possible to place the vmdk with DB to an SSD and the rest on spinning media.
URL based patching – point to url at VMware.com and patch (the possibility to patch via ISO is also there, as previously)
Possibility to find out which config has been used for a VCSA install – there is a /etc/vmware/install-defaults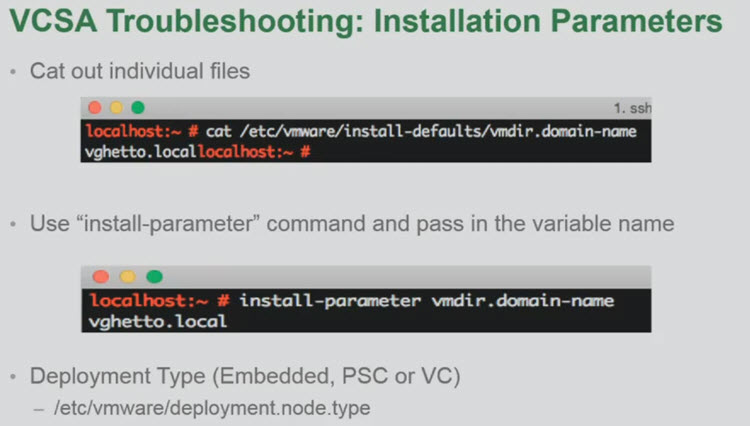 Native syslog support – possibility to send to Syslog server, or Loginsight
VIMTOP – a tool like ESXTOP, but destined for VCSA. Nice..-:)
Migration from vCenter server 5.5/6.0 to VCSA 6.0 – "tech preview" feature, and there is also a Fling.
Over all the session is packed with tips and as Mr Lam speaks fast you are really getting lots and lots of information. Well done!
The session is available on YouTube here. Enjoy…