VMware vSphere: Install, Configure, Manage [V5.0] will be available at 29th of August.
The VCP – VMware Certified Professional is one of the most appreciated exams in the IT industry. The VCP 5 has been announced last week. Yes already. The new Training Course provided by VMware Education will become obligatory for VCP 4 holders at February 29, 2012. Until then there is the possibility for VCP 4 holders to pass the VCP 5 certification exam and became VCP 5 without the need of this Training class.
The Install, Configure, Manage It's a five-day, hands-on training course that explores installation, configuration and management of VMware  vSphere 5, which consists of VMware ESXi 5.0 and VMware vCenter Server. The VMware Education Page on VCP 5 has got more links on the VCP 5 requirements, VCP 5 Mock exam and VCP 5 Exam Blueprint.
See more details below.
A quick quote from the VCP 5 page:
This industry-recognized certification requires completion of a VMware-authorized training course and hands-on experience with VMware technologies. Achieving the VCP certification confirms that you have the education needed to successfully install, deploy, scale and manage VMware vSphere environments, as well as the skills obtained by a minimum of six months experience with VMware infrastructure technologies.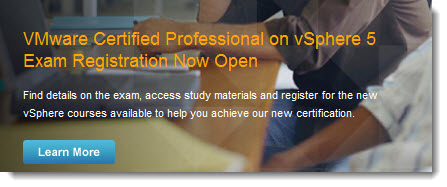 The VMware Certification page has got new informations available about the new VCP 5 Training Course and the VCP 5 exam. As for now it's still in beta stage, but after the 29th of August 2011, the exam will go live. There is also a mock exam available, where you can take a test with 30 online questions.
See more and read about the new certification exam on the VCP5 homepage.
For some time (until February 29. 2012) there will be no other requirements for people with  VCP 4 certifications.  I found a small picture with the different certification path as you can see below.
For example if you just starting with virtualization, you must attend the VMware training course VMware vSphere: Install, Configure, Manage [V5.0] in order to take the VCP 5 exam and became VCP 5.
Update:
This update reflects also people which are VCP 3….
– A person with VCP 3's can take the What's new course to qualify to take the VCP 5 exam
– To upgrade to VCP 5 – the upgrade path is valid until Feb 29th, 2012
– After that date (Feb 29th), the VCP 3  holders will have to take Install Configure Manage – 5 to qualify for the VCP 5 exam
– People which will come and do What's new course 5 ILT classes will get access to the What's New 4 eLearning to assist them in transition to vSphere 5
– People do not have to take the eLearning course to qualify for the upgrade path
– You can still take the The What's new course to achieve a VCP 4 and then follow the VCP 4 to 5 upgrade path is still valid
The highlighted paths are available until February 29th 2012,  VCP4 people do not need to attend any vSphere 5 training course in order to pass VCP 5 and became Certified VCP5.  But they might consider to attend What's new course which can be helpful in preparing for the VCP 5 exam.
VMware vSphere: Install, Configure, Manage [V5.0]  – The Course Outline:
 1  Course Introduction
•  Introductions and course logistics
•  Course objectives
2  Introduction to VMware Virtualization
•  Introduce virtualization, virtual machines, and vSphere components
•  Explain the concepts of server, network, and storage virtualization
•  Describe where vSphere fits into the cloud architecture
•  Install and use vSphere user interfaces
3  Virtual Machines
•  Introduce  virtual machines, virtual machine hardware, and virtual machine files
•  Deploy a single virtual machine and virtual machine appliance
4  VMware vCenter Server
•  Identify vCenter Server and database requirements
•  Describe vCenter Server architecture
•  Deploy a vCenter Server appliance
•  View and create vCenter Server inventory objects
5  Configure and Manage Virtual Networks
•  Describe, create, and manage a standard virtual switch
•  Describe and modify standard virtual switch properties
6  Configure and Manage vSphere Storage
•  Configure ESXi with iSCSI, NFS, and Fibre Channel storage
•  Create and manage vSphere datastores
•  Configure, deploy, and manage the VMware Virtual Storage Appliance
7  Virtual Machine Management
•  Deploy virtual machines using  templates, cloning, and VMware vCenter Converter™
•  Modify and manage virtual machines
•  Create and manage virtual machine snapshots
•  Perform VMware vMotion® and Storage vMotion migrations
8  Access and Authentication Control
•  Control user access through roles and permissions
•  Configure and manage the ESXi firewall
•  Integrate ESXi with Active Directory
•  Introduce vShield Zones
9  Resource Management and Monitoring
•  Control virtual machine access to CPU, memory, and I/O resources
•  Introduce VMkernel methods for optimizing CPU
and memory usage
•  Monitor resource usage using  vCenter Server performance graphs and alarms
10  Data Protection
•  Discuss strategies for backing up ESXi hosts
•  Introduce the backup/recovery APIs
•  Discuss strategies for backing up virtual machines
11  High Availability and Fault Tolerance
•  Configure and manage a VMware High Availability (HA) cluster
•  Configure fault-tolerant virtual machines using VMware Fault Tolerance
12  Scalability
•  Configure and manage a VMware Distributed Resource Scheduler (DRS) cluster
•  Configuring Enhanced vMotion Compatibility
•  Using VMware HA and DRS together
13  Patch Management
•  Manage ESXi patching and patch compliance using vCenter Update Manager
14  Installing VMware vSphere 5 Components
•  Introduce ESXi Installable installation
•  Introduce vCenter Server installation
•  Additional vCenter Server module installation
Source: VMware Education
.