I recently got a hand on a new book published by PACKT publishing called VMware vSphere Resource Management Essentials by Jonathan Frappier. This book is up to date guide for VMware administrators willing to start learning VMware technology from the ground up. Jonathan Frappier is an experienced IT professional who holds an advanced VMware certifications like VCAP5-DCD and who writes with passion.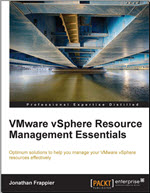 The book is destined to administrators wanting to learn about VMware vSphere and its resources management and automation tools within vSphere.  It's a nice topic since everyone does know on how to create and optimize single VM or VMs, but not everyone know how-to manage all the resources present in a cluster or datacenter.
There is four chapters in this book, where each one of those is focusing on different part of VMware vSphere Infrastructure:
Chapter 1 – System requirement for installing ESXi and vCenter, VMware HCL
Chapter 2 – Assigning Resources to VMs – this is the chapter where the reader will learn the details about how the VMs uses physical resources provided by ESXi hosts and shows up different ways that ESXi handles those resources.
Topics like Memory assignment and management, memory overcommit mechanism, reclamation techniques, ballooning, transparent page sharing (TPS). Importance of memory overhead as design consideration factor.
CPU cores, sockets and best practices for designing vCPU based on vCPUs. Rightsizing vCPUs…. Then the author deep dives into storage and performance of storage, RAID levels, the basics of IOPS and tools to use for measuring performance and throughput.
*********************************************************************
Shop for vSphere licenses at VMware Store:
*********************************************************************
Quick word on networking, but not much details here as one could easily write another book to cover vSphere networking. The chapter is well balanced with important details, but without getting too much "load" on the reader by keeping things simple, clean and readable.
Chapter 3 – Advanced Resource Management Features – here is the power of VMware and its superiority over other hypervizors. Depending of the licensing level, the tools you have to manage your clusters aren't the same. This chapter is "loaded" with everything that vSphere in its advanced licensing has to offer. This isn't an SMB chapter, even if bits and pieces could be used for an SMB level licensing, however features like vDS, Resource pools, storage vMotion, SDRS, FT, NIOC or Host Profiles are enterprise plus features of VMware vSphere.  But also the newest features which comes up in vSphere 5.5 like VFRC, AppHA and the there is also few words on VMware VSAN.
Average SMB user will be however interested in CPU power management, Reservations, limits and shares, vMotion, EVC and really good explication hon Admission control which is often miss-understood, together with slot size examples.
Chapter 4 – Automation and Monitoring Options.  vSphere offers different ways to automate things. vCenter orchestrator (vCO) for creating workflows, vSphere CLI for command line utilities from within the ESXi or via vSphere Management Assistant (VMA). And then there is a PowerCLI with it's own scripting language similar to Microsoft's PowerShell, where different cmdlets are used to accomplish different tasks.
The chapters gives you good basics on VCO for example by showing how-to get started with the workflows that are already built-in to the vSphere and you're guided through several examples and how-to's as well.
More features are also mentioned in this chapter, like Alarms or community tools. Also VMware vCOPs product, which is part of the vSphere bundle now has also its place.
Thoughts:
The book isn't very long to read as it only has 4 chapters, but I liked the format where the author present a feature and right after he gives you an examples with screenshots how-to use it in real life! This is not simple theoretical or technical guide, but Jonathan shares his experience and tips that he has learnt so far with vSphere so it's very valuable.
You can find this book at PACKT Publishing website here – VMware vSphere Resource Management Essentials.  Or you can also find the book at Amazon.