New major version of VMware Workstation 12 has been released few days back. This new version of VMware Workstation is an evolution of previous version, but a major evolution! New OSs has been added to the list, like Windows 10 which can now use easy install, but also the latest Linux distributions. Workstation 12 Pro supports Ubuntu 15.04, Red Hat Enterprise Linux 7.1, Fedora 22, and many more.
If you're user who needs or works with graphics applications you'll find out that VMware Workstation 12 Pro now supports DirectX 10 and OpenGL 3.3. Workstation also supports 4k displays (3840 x 2160), but also allows to have multiple displays each one with different resolutions.
Monster VMs can be created. Imagine a VM with 16 vCPUs, 8 TB virtual disks, and 64 GB of memory running inside VMware Workstation 12. You can also allocate up to 2Gb of video memory to VMs…. Pretty awesome. Concerning multimedia and audio, a HD audio with 7.1 surround sound is supported.
Also USB 3.0, and Bluetooth devices allows to connect to your VM the latest hardware like webcam, headset, or printer. USB 3.0 is supported also in  Windows 7 besides Windows 8.
VMware Workstation 12 – What's New?
Full support of Windows 10
VMware Workstation Pro provides the following support for Windows 10:

Run Windows 10 as a virtual machine
Run Windows 10 as a host operating system
Windows 10 Auto Detect and Easy Install
Unity support for Windows 10
Migrate Windows 10 PC to a virtual machine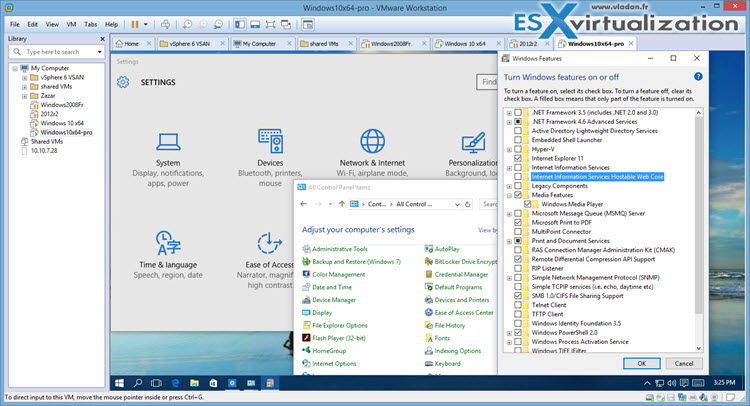 New guest operating systems support
Support has been added for the following operating systems:
Ubuntu 15.04
Fedora 22
CentOS 7.1
RHEL 7.1
Oracle Linux 7.1
VMware Project Photon

Advanced graphics
Support has been added for the following standards: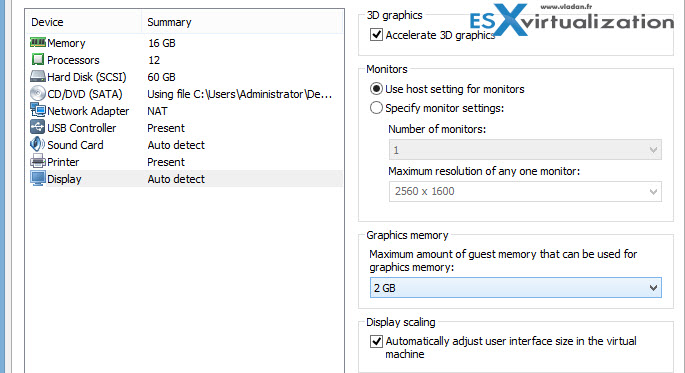 Performance improvements for suspending and resuming encrypted virtual machines
Improved vCloud Air Integration (Workstation Pro on Windows only)

Power operation on remote virtual machines
Enhanced user experience

Support IPv6 NAT network
Tear away tabs
You can drag open tabs out of the Workstation Pro window into new or already existing Workstation Pro windows.
Automatically suspend virtual machines upon host shutdown
Support 4K monitors with high resolution UI
Support for multiple monitors with different DPI settings
Echo cancellation for voice and video calls with Microsoft Lync and Skype
Added USB 3.0 support to Windows 7 virtual machines (with the latest Intel USB driver)
Improved standard installer
Added NAT network configuration in Virtual Network Editor on Linux hosts
Respect left-handed mouse setting on Windows host
You can get $600 credit to use in vCloud Air. Workstation 12 customers are eligible to receive $600 in vCloud Air service credit to use for up to 6 months – twice the standard VMware vCloud Air sign-up offer. Get 30 days trial of VMware Workstation 12 to test it out! Save up to 50% when purchasing as Academic version.

Source: VMware Workstation Blog.