The VMworld 2010 in Copenhagen went really fast….VMworld 2010 highlights.
The Highlights? Some of them, especially for me, as a blogger and IT engineer working for a local IT Company at the Reunion Island, was the vExperts meeting on Tuesday. Why is was that special for me? Because Steven Herod was present there. He is certainly a cool guy. (btw. he is invited to Reunion Island together with John Troyer….-:) ).
Well it' was a cool party when we as a vExperts had the chance to meet the CTO Steven Herod and the others VMware Engineers working on the core projects, at the CTO party at Bella Center Copenhagen. We could discuss with the engineers what's actually was their challenge to bring up the vSphere 4.1 release.
Finally I haven't get the chance (or because the days were too short) to explain my background to all of you, bloggers. To all the bloggers which were present at VMworld 2010 Copenhagen. I could meet some of you, shake hand…. But the time is just going too fast and the days are having just 24 hours. Between sessions I wanted to attend, labs I wanted to do, interviews I wanted to shoot with my Camileo S10, … it was just too much to do in a short period of time.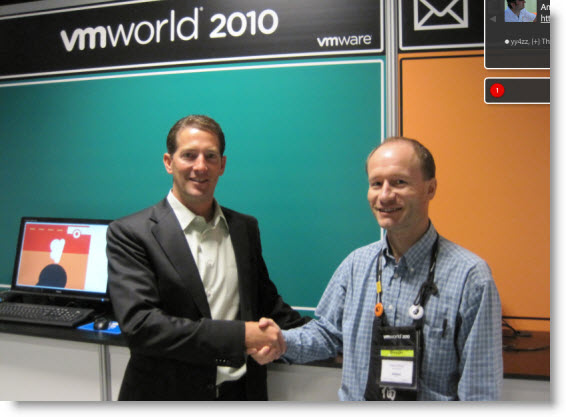 I wish the days could just have 48 hours and I could meet more persons, more bloggers, more VMware Engineers.. but I'm looking forward to attend VMworld in US… if of course possible.
I had the chance to speak to Gabrie at the VMworld Party about that (about what.?)… to explain my background….That's what I promised in one of my blog posts….. What I was doing before I was doing an IT? I said in my previous articles that I'll tell you guys what I was into.. before I was an IT guy….-:)
My background? I'm an an artist. I was a figure skater since I was a 6 years old. As an amateur. At the age of 23 I joined Holiday ON Ice to be a part of the company. Since I was a kid I was a figure skater, like Philippe Candeloro, if you had the chance to see him. Then I had the occasion to join an Ice show, as a professional skater. We traveled all across the globe during 7 years and that's where I met my wife, also skater.
Seven years later, after traveling across the globe, I quit the skating, got married, and installed in France. My wife is French. And. After some time spent on the "continent" we moved to the Reunion Island.
Seven years ago, if you would ask me what's the Reunion Island Is, I would not be able to reply on that… I was living on the European continent, close to Bordeaux…. and some Island too far to anywhere… was not even possible to think off.
But, Reunion Island is France…It's French Overseas Territory. It's French Department. France has it's territory divided into departments. And One of them is Reunion. It's as clear as that.
If you're french and looking for a job, the same way you look for a job at the continent, in France, you can look for a job at the Reunion Island.The Job centers are there too… But, don't dream….
There is 3 times more unemployment than on the Continent…. And the life is more expensive, since you have to import quite a lot of stuff… For example a Car. The automobile industry  –  cars are 20% more expensive than on the continent.
But, we have other advantages over the Europeans…. for example… we are not freezing, like we do here at Copenhagen… -:). The cold was my principal enemy here in Copenhagen. It's been several years since I have not traveled to the continent and the temperatures here are really cold (especially in the morning and in the evening.). At the Reunion Island the temperature are quite stable, and the changes are very slow.
I mean there are no seasons, like in Europe. Spring > Summer > Winter ….. The temperatures are changing very slowly. You can't really see that there is spring or Autumn.
I was really Impressed with the VMworld 2010 this year. It was my first VMworld and I have the head full of souvenirs… It's with event like this whare you can make contacts, learn on Sessions and on labs, and dream of something better… A better future…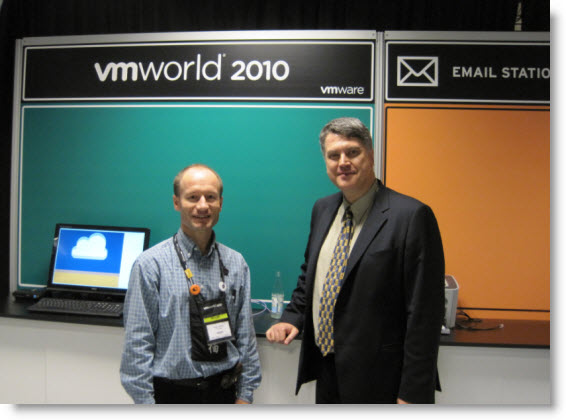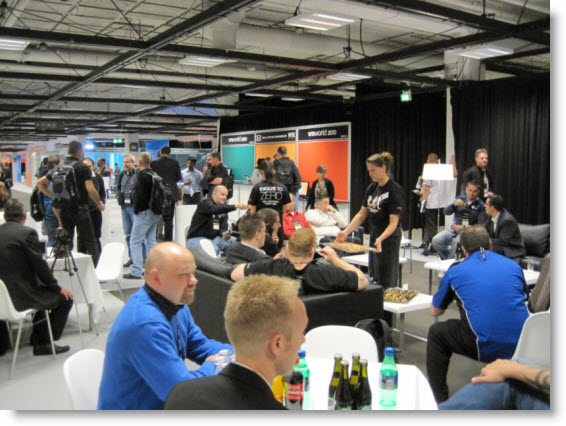 VMworld 2010 highlights – this post