VMworld 2019 again will be held in San Francisco and Barcelona this year. The event might seem far in the calendar but the US edition is only a couple of months away. There is a unique opportunity to get lower pricing when scheduling early. In this post, we'll try to give some tips and tricks for people visiting the first time.
Usually, VMworld is a great place to meet people and ask questions. I usually have a number of folks coming up to me to thank me for my blog, which helped them during their work or to pass a VCP exam. A long time ago, I've also used discounts available during VMworld to pass one of my VCAPs.
If I remember right, the discounts which were available were up to -50% off the normal price for the exam. Try to look around for some discounts during this period as it can be really interesting.
VMworld Tips:
Early bird price
Take advantage of Early Bird pricing which ends June 21st. Get $300 discount by registering before June 21, 2019. 
Accommodation
If you're on a budget and your company only partly participate,  with an entry, so you have to find yourself cheap place to stay, you might want to read further as cheap places still exist. You don't have to stay in a VMware recommended a $300/night hotel.
There are other, cheaper, alternatives. Believe me. Usually, Airbnb offers great value and you can delay the reservation until the last moment. Other sites than AirBnB exists too. Think of HomeAway or even free CouchSurfing, but there are plenty of others.
Most of the time you'll spend outside of where you staying anyway. Make sure that you have a separate entry and you can come back late as when a party finishes at 1 or 2 AM, you're not stuck outside….
Register for VMworld Here.
Transportation
Depending on where you're staying, but in Barcelona, usually, there are 10 Metro tickets provided for every attendee. This mostly covers the basic transport needs. You can use Metro which is fine, but by waking up early I usually prefer to take a bus as from the bus you can at least see the city and all the nice places.
What to wear and what to pack?
If your company sends you to attend this event and your boss isn't coming with you, then you'll probably be fine with jeans, t-shirt, sneakers… otherwise I have only one advice here… Get comfortable shoes. If you don't you'll kill your feet the first day and the other two-three days you'll suffer.
I usually only take cabin luggage where I squeeze as little as possible. Also, vendors in the exchange often have some goodies, some "swag" so If you want to get some of these, don't pack your small luggage too tight -:).
Catch up with bloggers and peers
If you want to catch up with your favorite bloggers, come up to the VM Village to say hi. (Get in touch on Twitter to make sure we're there)… Within the blogger's area, usually, there are also folks from vBrownbag recording "TechTalk video" so you can have a look too.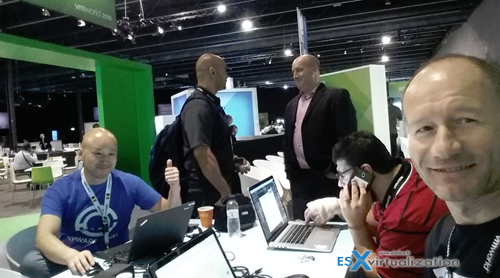 Registrations and Conference passes
Be the early bird and catch the discounted rates for #VMworld US by registering today!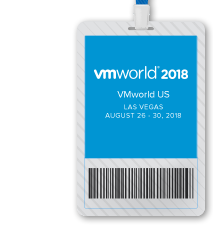 Register for VMworld Here.
FULL CONFERENCE PASSES – Include the following benefits:
General Sessions
Hands-on Labs
Welcome Reception
Hall Crawl Beer Bash
Solutions Exchange Expo
Customer Appreciation Party
Discounts on Certification Labs
Hundreds of Breakout Sessions
Conference Backpack and T-Shirt
Meals as provided by VMworld 2019
Breakout Sessions Note: Some sessions require valid Partner Status
What's Awesome during VMworld?
You may ask, why would I bother my boss to send me to VMworld? I give you a few reasons. The first one is learning new tech. Whatever is your interest, VMware is now having a very large number of products and technologies that give you a great opportunity. You can interact directly with folks at VMware to get the latest info and get in touch personally with software developers or product managers.
The second reason is "networking". And here it comes the "twitter world" where you can meet in real, your Twitter peers. The ones you follow and the ones you read their blog posts. It is simply a greatly awesome experience. (I'm sorry, I don't have English words for it) the best networking experience. If you want to get in touch with someone, just ask him to follow back and then hit him with a direct message. It's that simple. VMworld, if you're present, allows that.
I've met new bloggers during VMworld. And they are numerous. They always ask some questions. What should we do to be as successful as you? Well, there is no single receipt. Hard work of daily blogging, for 10 years, I guess. But I can perhaps give some lessons I learned from the past. Please comment if you're interested that I post more about that……
Photo with longtime friend Lars Trøen. In the background, you can see Alastair from vBrownbag, busy with recording sessions….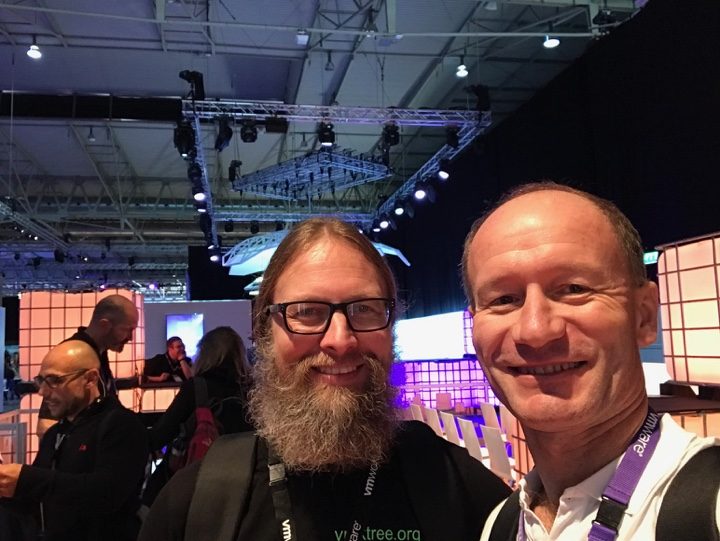 Register for VMworld Here.
Some Key Dates before VMworld
June 18: VMworld US Content Catalog Goes Live

 

June 21: Early-Bird Registration Closes

 

June 22: Regular Registration Rates Apply

 

July 16: Session Scheduling Opens in the VMworld US Content Catalog

 
Since several years, to stay organized, I have a VMworld Page for every year, and the page covers the US event as well as the Barcelona event, where I usually go, personally.
History – Check it out:
More from ESX Virtualization
Stay tuned through RSS, and social media channels (Twitter, FB, YouTube)