This post is a bit of recap what has happened during VMworld Barcelona 2018 and my thoughts of next year. If you follow me on Twitter you're already aware that next year we're heading back to Barcelona again. It's not that I don't like Barcelona (I adore), but there are other cities in Europe where VMworld can be held. For obvious reasons of cost, Barcelona is well situated, but there are few other countries in Europe where the living standard is great and awesome. (Thinking of Portugal – Madona bought a house there…. for which reason you think? )
FYI: I'm attending VMworld for 10 years about. Wow. And this blog runs for 10 years too…..
But hey, the US version of VMworld costs much more when located in California compared to the European version of VMworld…. (of course I don't have the numbers to argue with). Jus saying. There are few other alternatives and one of them is Prague, which is a very nice city, but IMHO is now even more expensive than Barcelona.
I apologize to my readers that I haven't been able to blog more during the VMworld event. If you've attended, you know why….  I met again many old friends and may new ones too, who came to say hi, or said that thanks to my VCP6-DCV Study Guide they used, they were able to pass their VCP exam. And that's really what pushes you forward when your work life is writing a popular virtualization blog like the one you read.
Over the years, VMware has changed from a server virtualization company, which was easy to write about, into some kind of a huge multi-service, multi-software, multi-cloud, multi-….. Today
What's Awesome during VMworld?
You may ask, why would I bother my boss to send me to VMworld? I give you a few reasons. The first one is learning new tech. Whatever is your interest, VMware is now having a very large number of products and technologies that give you a great opportunity. You can interact directly with folks at VMware to get the latest info and get in touch personally with software developers or product managers.
The second reason is "networking". And here it comes the "twitter world" where you can meet in real, your Twitter peers. The ones you follow and the ones you read their blog posts. It is simply a greatly awesome experience. (I'm sorry, I don't have English words for it) the best networking experience. If you want to get in touch with someone, just ask him to follow back and then hit him with a direct message. It's that simple. VMworld, if you're present, allows that.
I've met new bloggers during VMworld. And they are numerous. They always ask some questions. What should we do to be as successful as you? Well, there is no single receipt. Hard work of daily blogging, for 10 years, I guess. But I can perhaps give some lessons I learned from the past. Please comment if you're interested that I post more about that……
Remember, that my blog has started with an article about P2V of a physical server into a VM. When you think about it now, it's ok. But 10 years ago it was a Revolution -:) . You could
VDI Stuff…
If you're an "old IT guy", would you think that one day, you could go and directly interact with Brian Madden during VMworld? Yes, now it's possible because Brian is now a VMware employee…. Brian is an awesome expert in the VDI and "Terminal Server" Infrastructures. Unfortunately, I wasn't able to reach directly to Brian, due to my tight schedule, but he is an awesome guy and it's great to see him that he is now at VMware working on the Horizon View Suite development going forward.
During the General Session, we could see that the COST is the main problem of the adoption of VDI. And VMware took a note on that. Unfortunately, I'm not able to present you the screenshot here right now, but as far as I remember, it was something like 15$ per desktop compared to 40$ (+-) per desktop before. That's where is WMware is heading. The cost is the main reason for NOT adoption of VDI. I don't think that I tell you something that you don't know.
Networking with other vExperts and peers…
We had a great time last night with Luciano and Val (@homelaber). A really great. Funny enough because Luciano (from Portugal) working in Germany in a arge Swedish Telco company where everybody speaks English only (please). Even though they are based in Germany. So he did not even have to learn any German … -:).
This reminds me of my own language problems when I relocated to France and I wasn't able to speak any French. It's only with a lot of efforts and a lot of commitment that I was able to validate my IT knowledge and integrate a company, with speaking only in the French language. Please note that originally I'm Czech born, with English speaking background. (not French)
Now it's the past, but one of the main reasons and problems is always the language barrier.  Here a photo with Lars (as a vBeard man … -:). Note that in a background you can see Alastair from vBrownbag, busy with recording sessions. (Great as usual…)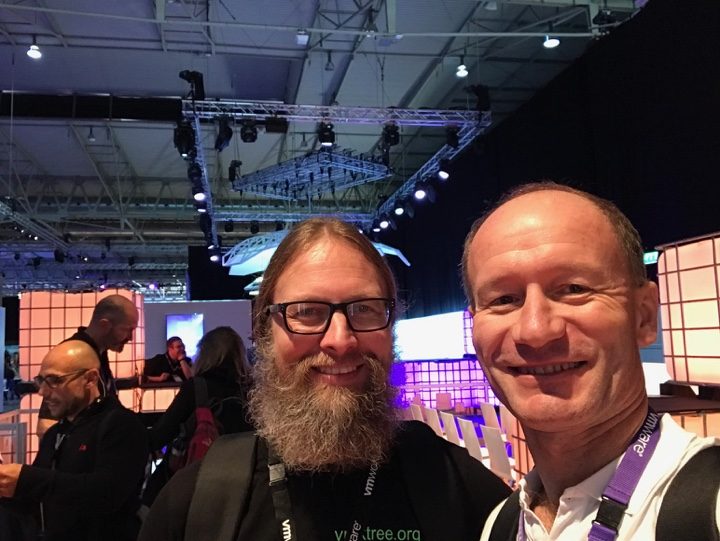 I can talk about this during hours, but only people from small countries in Europe will understand.  English is, and always will be, an international language for IT.
But whether you want to integrate a small (SMB) or very small shops in a beautiful area of south of France with magnificent coasts and beaches.  Or, at Reunion Island where you have great scenery mountains and beaches, recognized by UNESCO, you'll have to learn the local French language indeed. So it's up to you to do all the necessary efforts.
Here with Val and Luciano. Last 3 Vanguards at Barcelona…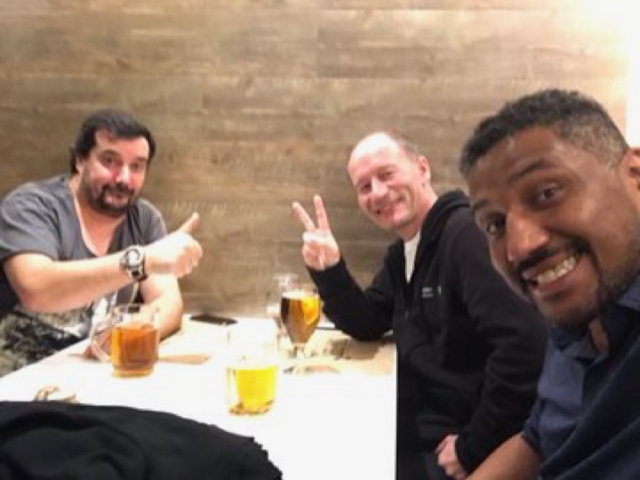 And here with Jorge and some other new Barcelona bloggers ….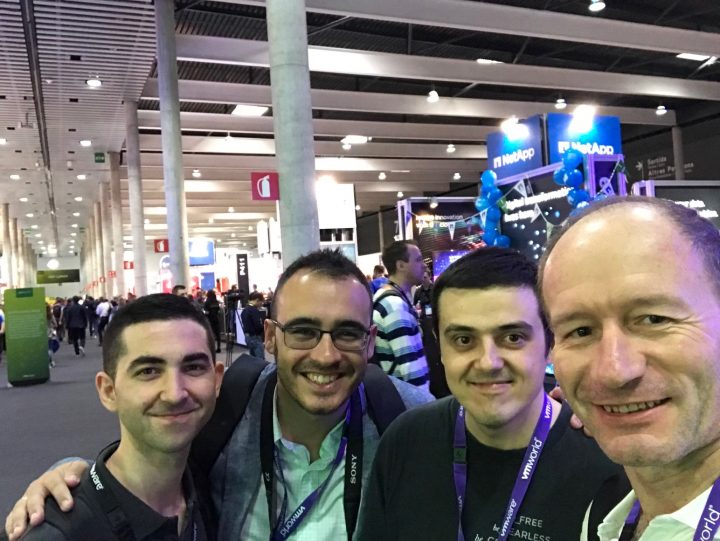 The Future?
I think that I could give back more. I'm not good at presenting (I know), I'm rather an experienced pro-blogger which can, after 10 years of blogging, to give back to the community of VMware users.
I still remember when, 10 years back, started this blog, by simply installing WordPress and writing my first article. But at that age, the blogging was easy. No reason that something could go wrong, that somebody could steal your posts (with images) or even steal your entire blog. (ugly I know) But, yes, even that is possible.
Bloggers who start their blog today needs much more guidance that they would need 10 years ago. Depending on a level they try to achieve, blogging can become almost a full-time job, believe me.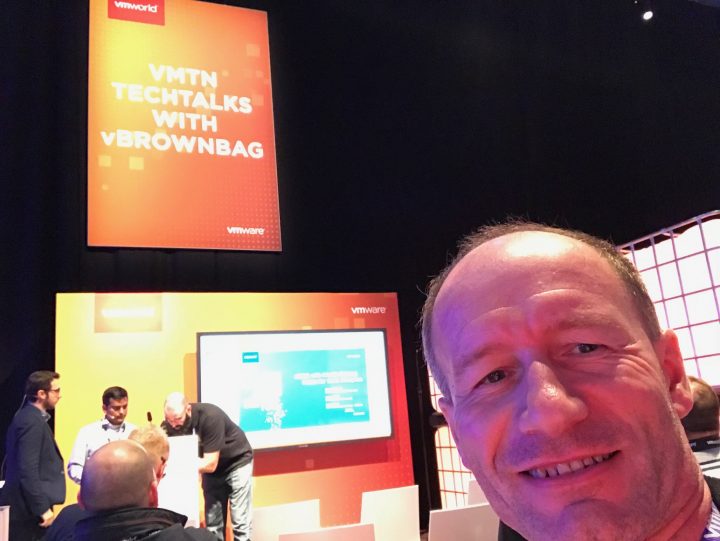 Solution Exchange:
This is the place to explore new technologies from VMware and partner eco-system. I've met quite a few companies there, whether they were ESX Virtualization blog partners or not. One of them was Eaton, which does, as you probably know, the electrical and industrial power failure systems, UPSs, which are more and more intelligent.
For example, they don't only have temperature and humidity sensors, but also consumption sensors, which allows you to monitor the individual plugs where your servers are plugged in. So basically avoiding you to "overcharge" a rack, if you are not looking.
But, many others stand up. My interest was obviously, outside the VMware stand, all the VMware backup DR, eco-system. I'm quite aware of what's going on, but the future of your date is "hybrid". Cohesity, for example, will have a "software-only" solution which you'll be able to deploy and leverage the possibility of the hybrid-spanned location of your data for long-term retention purposes.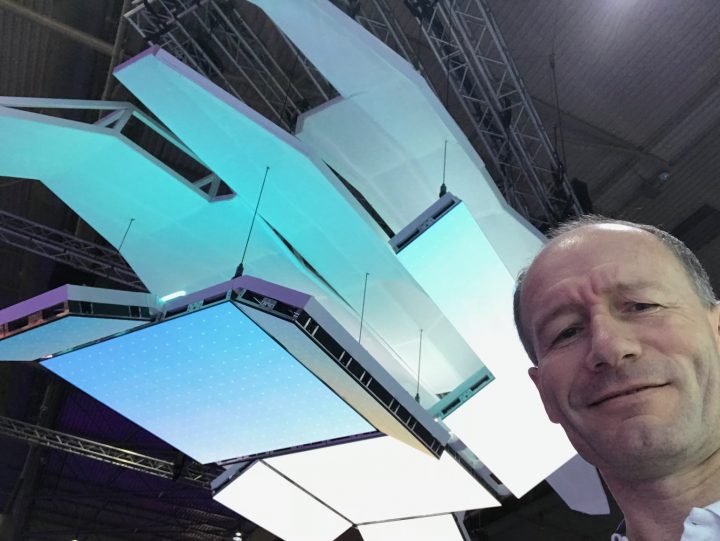 Wrap Up:
I know that I haven't brought many technical announces in this post. You can probably tune in to a General Sessions YouTube Videos which should be out, and some free sessions videos will follow as well. This post was probably just another recap post of VMworld Europe. But I think that my readers will still apreciate that could finally post anything (with great effort though….).
VMware vSphere 6.7 U1 Buy/Download links:
vSphere All Editions – different versions of vSphere
VMware vSphere 6.7 U1 Essentials PLUS – full vSphere suite for SMB
VMware vSphere 6.7 U1 Essentials – Good way to start, for small shops.
Per Incident Support Click Here
VMware vCenter Server 6.7 U1 Download
VMware vSphere Hypervisor (ESXi) 6.7 U1 Download
More from ESX Virtualization
Stay tuned through RSS, and social media channels (Twitter, FB, YouTube)