Yes, it's been finally released. VMware vSphere 6.7 U1 Download is now available. It's been already few weeks since VMware has announced this release. But it's only today when we have a possibility to download.
We have already detailed what's in and what's available in this release. If you want you can check our article about it. But let's recap at least some of the highlights.
First of all, parity of the HTML5 client with the legacy Flash-based client. Now you don't need to switch between clients to do actions like HA config or for vCenter server or also, for example, updating VM tools through vSphere Update Manager (VUM).
New in this release, it's now possible to move a vCenter Server with an Embedded Platform Services Controller from one vSphere domain to another vSphere domain. Services such as tagging and licensing are retained and migrated to the new domain.
Update: If you're using Veeam backup, please hold your horses before the upgrade. Check this Veeam KB before you start the upgrade process.
VMware vSphere 6.7 U1 What's New?
Fully Featured HTML5-based vSphere Client –  yes, this one was a long time requested. We've been waiting to have a vSphere client which works (and not the one which is slow and buggy). VMware delivers after few years of wait, but yes, it's finally here and we can enjoy it.
New Cluster Wizard – allows configuring vSphere HA, DRS, and other cluster's services, including host's networking, within a simple wizard. Additionally, when you add more hosts to the cluster you can go back to this wizard and do that through there.
Configuring clusters will no longer be the same. Some screenshots from VMware blog post.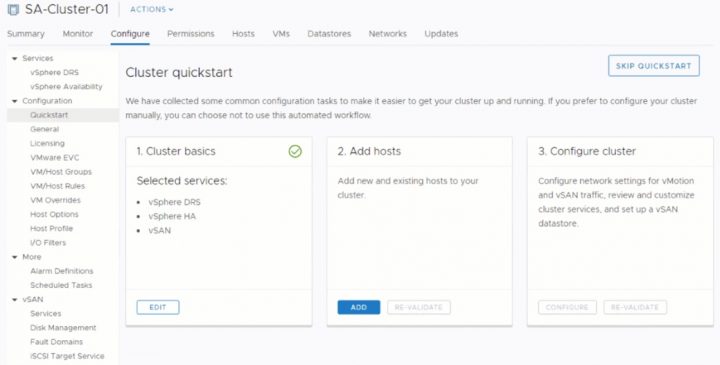 New Integration of I/O controller firmware update within vSphere Update Manager (VUM) – everyone knows that vSAN updating and maintaining is quite a pain when it comes to versions of the firmware of I/O controller which must match with software driver's version. Now with the new VUM's integration, it's VMware who takes care of the problem automatically.
Quote from VMware about the new cluster control wizard…
In this release we've added a new workflow called Cluster Quickstart which provides one simple, efficient wizard to create a cluster, add hosts, and configure those hosts so they are all identical. This configuration includes HA & DRS, Enhanced vMotion Compatibility (EVC), a vSAN datastore, and networking including a Virtual Distributed Switch (VDS). With Cluster Quickstart you can go from zero to fully functioning cluster in a matter of minutes. And, when it is time to expand the cluster, there is a simple workflow to add new hosts and configure them using the cluster settings used during initial setup. This new workflow also includes a cluster validation that can be used to ensure all settings have been properly configured on all hosts and will report any discrepancies.
Also, Interesting changes and updates which are in:
Content library – Now you can are enabled to import OVA templates from an HTTPS endpoint and local storage, as well as syncing content from OVA templates to other vCenter Servers.
Also, now there is a support for virtual machine (.vmtx) templates in the Content Library Service.
Online Health Checks – You can use the vSphere Online health checks to monitor the health of the system. You can run health checks and send the data to VMware for advanced analysis.
There are some requirements
You must participate in the Customer Experience Improvement Program to use online health checks. But in order to perform the online health checks, vCenter Server must be able to communicate over the Internet.
Dark Theme –   A New Dark mode setting. Support for the Dark theme is available for all core vSphere Client functionality
New search enhancements – you can search for objects with a string and filter the search results based on Tags/Custom attributes. You can save your searches for later too.
A new way to create alarms – a simplified way of creating new alarms. A new way to create rules for trigger conditions.
VMware vSphere 6.7 U1 Download links and press releases:
Buy:
VMware vSphere 6.7 U1 Essentials PLUS – full vSphere suite for SMB
VMware vSphere 6.7 U1 Essentials – Good way to start, for small shops.
Per Incident Support Click Here
VMware vCenter Server 6.7 U1 Download
VMware vSphere Hypervisor (ESXi) 6.7 U1 Download
Release Notes are here.
Wrap up:
It's finally time to have a U1 with not only fixes but also with some big functionalities. It's been about time to have feature parity on HTML5 and Flash-based clients. Many customers were pointing this out as long process.
Source: Release notes and VMware blog post
More from ESX Virtualization
Stay tuned through RSS, and social media channels (Twitter, FB, YouTube)