The news just came in from VMware blog and I'd like to share it with our readers as many of them has been waiting for this one. There is a new management pack for vROPs and this pack can manage VMware VSAN 6.0. The management pack has not only the VSAN 6.0 add-ons, but can obviously also manage other storage devices. The Management Pack for Storage Devices for vRealize Operations (MPSD) 6.0.2 can can be installed on any Advanced, or Enterprise edition vRealize Operations Manager Installation.
It's bundled as a PAK file which can be uploaded via admin UI through the vROPs appliance. The Management Pack can connect to any storage device that has a VASA provider, and SAN/NAS Switches from Brocade or Cisco using SMI-S. Performance Data is collected from Host HBA's, NIC, VMs, and SAN/NAS switches.
Monitoring VSAN capacity or performance metrics shall bring more visibility to VSAN deployments.
vROPs Management Pack for VMware VSAN 6.0 – The Features:
Get global visibility across Virtual SAN clusters for monitoring and proactive alerts/notifications on an ongoing basis.
Proactively monitor multiple VSAN clusters using exploratory out of the box and customizable dashboards for deriving Virtual SAN Cluster Insights, Device Insights, Entity usage, Heat Maps etc.
Simplify end to end troubleshooting by leveraging Virtual SAN topology and relationship between VM, Host, Datastore, Disk group, Host Bus Adapter etc.
Get device/hardware specific reports, alerts using SMARTS
Performance:
Monitor aggregate performance (throughput in MB/s) and latencies at a diskgroup and disk level for SSDs and HDD
Assess how VSAN is keeping up with specific workload by continuously monitoring metrics like SSD Read Cache hit ratio and SSD eviction rate.
Monitor CPU, memory and network congestion metrics
Screenshot from VMware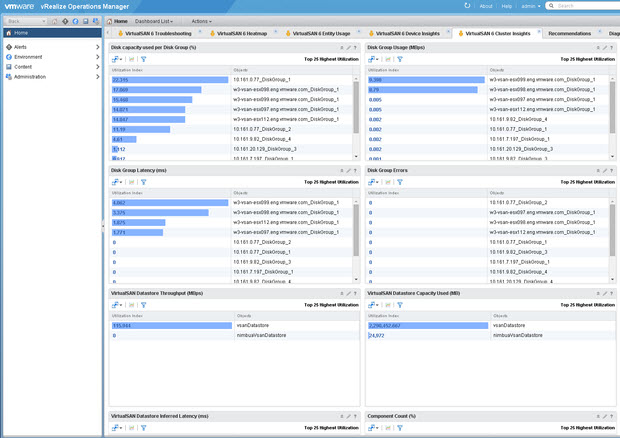 Capacity
Monitor disk usage (available and used capacity) on disks across all hosts in a cluster
Perform capacity planning based on "what if scenarios" and plan for future hardware purchase based on historic demand and stress trends of VSAN workloads
How to install a PAK?
Login to your vROPs appliance and Go to Administration > Solutions > Click Plus sign > Browse > Upload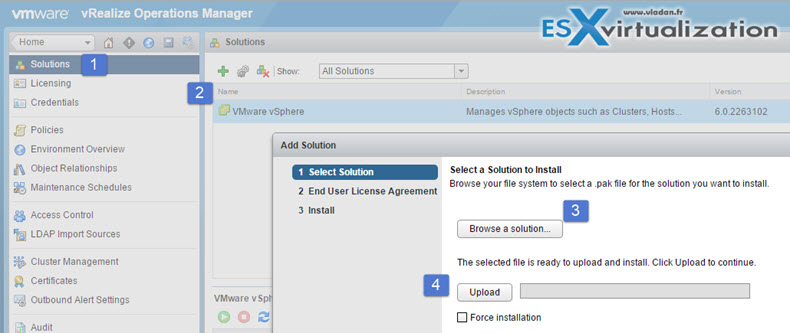 What's New in MPSD 6.0.2
• End to End view of the data path through the SAN and NAS; from VM to Storage Volume
• Support for both NFS/iSCSI and FC/FCoE protocols
• Access to Storage devices leveraging standardized protocols; CIM, SMI-S, & VASA
• Ready to use dashboards for Health and Performance
• Analytics for common APD and PDL storage conditions
You can check the VMware Exchange marketplace for further details.
Source: VMware