There is an new free app which allows vSphere 6 download (but also vSphere 5.x). This app is called VMware Software Manager and it allows downloading VMware suite products withing a web based UI. in its first release the product does not support all VMware products download, but only part of them, starting vSphere 5.1, going through vSphere 5.5 and vSphere 6.0. Note that additional products will show up automatically within the UI in the future.
The web based application installs a small service on a Windows machine (port 8000) and the UI invites you to connect with your VMware account to the portal. After quick initialization you are then presented with graphical tabs which shows the product's categories.

Here is the connection screen…

Quote from the product page:
VMware Software Manager – Download Service is a tool for managing downloads of VMware suite products. The tool allows you to browse and download software, monitor the progress of downloads, and locate your downloaded software in an organized folder structure.

At the time of release, Download Service makes available only a portion of VMware suite releases. Currently available releases include:

–  VMware vCloud Suite® 5.8 and 5.5
–  VMware vSphere® with Operations Management™ 5.5
–  VMware vSphere® 5.5 and 5.1
The VMware software manager is small 16mb MSI package which installs on Windows machine.
When launched it opens a dashboard where you can download the suite. Two possibilities:
If you click on the ">" sign one one of those cards, then it expands and allows you to choose individual software product which are part of the suite.
If you click the Start download icon, then it grabs the whole software suite which has 66.2 GB in size…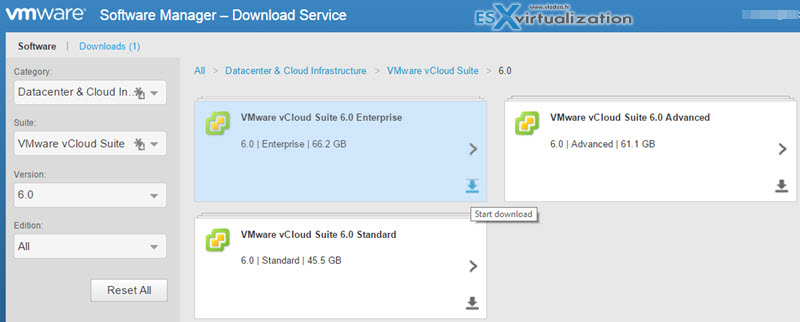 The bits are then organized on your hard drive location that you specified during the installation process, into folders and sub-folders. The application is capable to grab any format like OVF, ZIP or EXE within what's available.
Operating System Requirements
Windows 8.1 (Pro or Enterprise edition), 64-bit
Windows 7 SP2 (Professional or Enterprise edition), 64-bit
Windows Server 2012 R2 (Standard, Enterprise, or Datacenter edition), 64-bit
Windows Server 2008 R2 SP1 (Standard, Enterprise, or Datacenter edition), 64-bit
Supported Browsers
Internet Explorer 10 and 11
Firefox 34 and 35
Google Chrome 39 and 40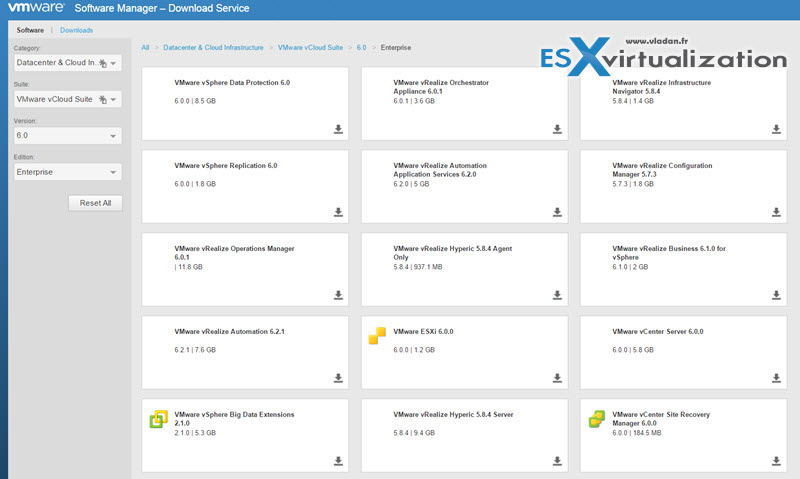 There is a VMware software manager community where you also can get help in case you're experiencing problems. There are some problems with connections. Or in case the page gets unresponsive, just restart the service by quitting the application and starting it back again. It's an exe application which sits in a taskbar so you can easily do a right click > exit.

There is a change settings in the menu when doing right click on the taskbar icon, but it does not allows you to change download location. (this is what I would expect this app to do), but only setting you can change is to enable debug information…
To restart the app, you'll have to go through the Windows start menu > VMware > Download Service.
Looking good. It's a good start VMware. In my situation it crashes pretty often, but perhaps it's just my system…. -:)
For you guys who expected to download the vSphere 6 for free without being entitled with this app, this article does not really help… I'm also sorry to disappoint you if you have expected to find some VMware keymakers within this post. This is certainly not a purpose of this website…
BUT you're welcome to dowload free tool from my dedicated page or you can also find tons of tips, videos and tutorials on the vSphere Pages I'm maintaining. There are also tips on upgrading, backup/replication and monitoring of your Virtual Infrastructure. Check out those pages and if you like please share!
stay tuned via RSS, Twitter, FB and other social media channels -:).
The product documentation is available here. Product download is here.