There has been a new vSphere 6 Training Course released at Pluralsight. The Author is Greg Shield who covers every single topic of vSphere 6 from clean install, upgrades, managing VMs or configuring advanced networking or HA options and much more. Greg Shields is Author Evangelist with Pluralsight and is a globally-recognized expert on systems management, virtualization, and cloud technologies.
Pluralsight has a huge catalog with thousands of trainings covering not only IT, with software development, data, IT administration, virtualization or creative. But there are also courses for manufacturing and design or architecture and construction.
The vSphere 6 course has many lessons which covers every part of VMware vSphere. VMware vSphere 6 got more complex than vSphere 5, it's usuall as every vSphere release brings new features and functionalities. It's an evolution. The topics covered by Greg are part of the VCP6-DCV blueprint so it's a good alternative to existing VCP6-DCV study guides, books or videos that you're probably already using to pass the VCP6-DCV certification exam.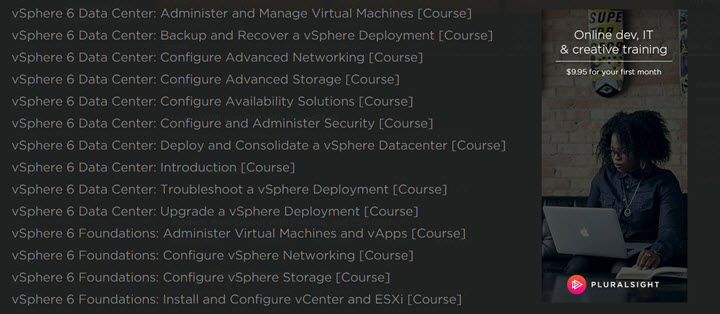 An overview of one lesson…. The video player works well, you have the sub-topics of each lesson on the right where the video plays on the left. It's possible to have it in full screen mode.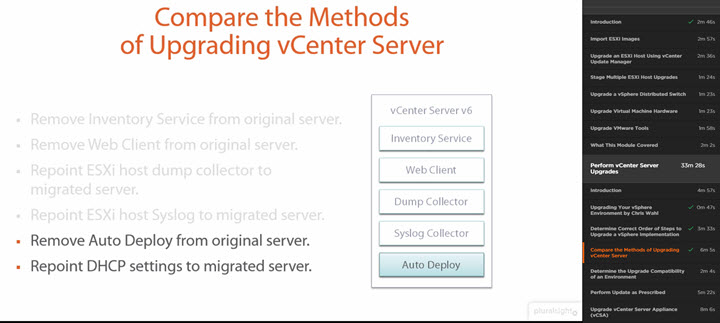 It might be interesting for folks who are not native English speaking, to put the speed to 0.8x or 0.5x in order to get Greg speak a bit slower … -:) On the down right there are the controls for sound, speed, preferences and full screen…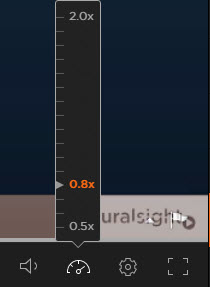 The offline viewing does not work on trials at Pluralsight, but the advanced plan trial allows testing assessments and excercise files. The offline mode allows to download training and learn offline with the Desktop App. There are also apps for mobile phones for IOS or Android.
vSphere 6 Data Center – Topics covered:
vSphere 6 Data Center: Introduction
vSphere 6 Data Center: Upgrade a vSphere Deployment
vSphere 6 Data Center: Troubleshoot a vSphere Deployment
vSphere 6 Data Center: Backup and Recover a vSphere Deployment
vSphere 6 Data Center: Administer and Manage Virtual Machines
vSphere 6 Data Center: Deploy and Consolidate a vSphere Datacenter
vSphere 6 Data Center: Configure Availability Solutions
vSphere 6 Data Center: Administer and Manage Resources
vSphere 6 Data Center: Configure Advanced Storage
vSphere 6 Data Center: Configure and Administer Security
vSphere 6 Data Center: Configure Advanced Networking
If you're Beginner
I'd suggest going through a vSphere 6 Foundations course from David Davis:
vSphere 6 Foundations: Administer Virtual Machines and vApps
vSphere 6 Foundations: Configure vSphere Networking
vSphere 6 Foundations: Configure vSphere Storage
vSphere 6 Foundations: Install and Configure vCenter and ESXi
Pluralsight Free Trial
You can start a 10 days/200 minutes free trial. Click here to view the different plans and start a trial.  You can cancel any time within the 10 days!! 
Good to know if you're testing that trials:
Each time you start a clip, the entire number of minutes count towards your trial, no matter how many minutes you actually watch the course for.  In other words, if you click on a 10 minute clip and watch only 30 seconds, the entire 10 minutes is still counted towards your trial.

If you get the message "Your current subscription does not allow access to this module", you might have run out of the 200 minutes.
A $1 verification is placed on your credit card to make sure your card is valid.  This will be returned to you when you cancel or start a subscription.
Removing your credit card will cancel your free trial.
If you do not cancel your free trial after the 10 days expire, you will automatically be billed for a subscription.
You can cancel your subscription anytime in the 10 days by signing in and going to your account page.
If you want to convert before your 10 days and start your subscription early, you can do that from your account page as well.
Start a trial at Pluralsight!  And also, don't forget to check out our VCP6-DCV Study Guide Page on our blog !!