VMware has announced and released vSphere 7 U2. A bit unusual for the company to announce and release the product update within the same day, but I assume that everything has been ready for the release. vSphere 7 U2 brings support for the latest generation of GPUs from NVIDIA – Ampere family. This NVIDIA platform with the A100 GPU has up to 20X better performance from the previous generation.
There are many enhancements that we've been talking about in our latest post at our friend's website at 4sysops.com – VMware vSphere 7 Update 2: New features and enhancements. I'd highly recommend reading in detail what's VMware was cooking under this release.
vCenter server brings quite a cool feature that many homelabbers were waiting for to test – a native Key Provider. This avoids you to buy an external Key Management Server (KMS) and you can use the internal KMS provided by VMware. KMS as you know is a necessary piece of software you need to setup vTPM, VM Encryption, and vSAN Encryption. Yes, all 3 features needs KMS.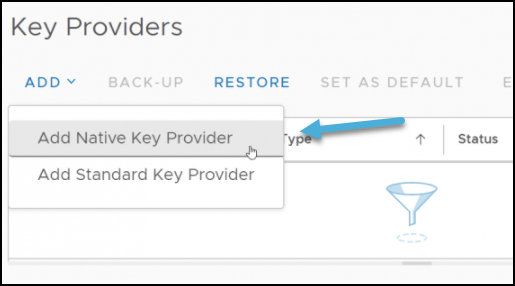 However, if you're already using KMS, you can continue to keep using it.
A couple of details from the release notes that might be interesting too:
vSphere Lifecycle Manager fast upgrades: Starting with vSphere 7.0 Update 2, you can configure vSphere Lifecycle Manager to suspend virtual machines to memory instead of migrating them, powering them off, or suspending them to disk.
Parallel remediation on hosts in clusters that you manage with vSphere Lifecycle Manager baselines: With vCenter Server 7.0 Update 2, to reduce the time needed for patching or upgrading the ESXi hosts in your environment, you can enable vSphere Lifecycle Manager to remediate in parallel the hosts within a cluster by using baselines. You can remediate in parallel only ESXi hosts that are already in maintenance mode. You cannot remediate in parallel hosts in a vSAN cluster.
New CLI deployment of vCenter Server: With vCenter Server 7.0 Update 2, by using the vCSA_with_cluster_on_ESXi.json template, you can bootstrap a single node vSAN cluster and enable vSphere Lifecycle Manager cluster image management when deploying vCenter Server on an ESXi host.
Check my detailed post at 4sysops.com – VMware vSphere 7 Update 2: New features and enhancements.
Direct download/buy links:
More posts from ESX Virtualization:
Stay tuned through RSS, and social media channels (Twitter, FB, YouTube)