Runecast's latest feature allows vSphere admins to upgrade their infrastructure with more visibility before the upgrade happens. In fact, you can simulate the version of vSphere to which they want to upgrade and see which server and individual components would not be compatible. An ESXi upgrade simulation works along with the VMware automated compatibility check.
Usually, all admins have to deal not only with the compatibility of their hardware but also with their components such as firmware and BIOS versions. A really tedious task when managing heterogeneous clusters and taking care of the infrastructure.
It is particularly difficult with clusters running vSAN where you have to check for your storage card's hardware, bios, and firmware versions together with drivers. Not every combination of drivers and firmware is compatible with not every version of vSAN….
Then you'll have NICs, HBAs or CPUs that are also part of each host, and those parts are essential to check for compatibility. Again, newer versions of vSphere has dropped some CPU support so your upgrade might not end well.
Imagine you have a mission to maintain vSphere infrastructure, but the hardware isn't homogenous. Since vSphere 6 VMware has done many changes to driver structure and drivers support. Some of the hardware you might be using such as NICs or storage cards might not be compatible with the latest vSphere 7 release or just partly as you are required to update BIOS and drivers.
For older vSphere versions VMware has extended the vSphere 6.7 support to October 15, 2022, but vSphere 6.0 is no longer supported.
In this post, we'll have Runecast's latest feature called HW compatibility. When the server is not on HCL, Runecast shows you the server with red color. But within the host you can still see which components are "green" within this particular server, and ready for an upgrade. All you need to do is to follow the Runecast's advice.
Runecast HW Compatibility features:
In fact, the latest version of Runecast can verify the compatibility of your Server IO devices against the VMware HCL I/O Devices. This gives the admin a detailed view of which components are safe for an upgrade for let's say to the latest version of vSphere 7.0 U3. However, if needed, you can do a simulation against let's say 6.7 U3 as well.
Discovery – it shows you incompatible servers or hardware components within each server. It shows also an incompatible combination of driver, firmware, BIOS.
Shows recommendation – if incompatible hardware is found, it shows you compatible combinations so you can upgrade some parts of your hardware before launching the real upgrade process.
Detects issues – if there are any problems within your hardware, Runecast will mark it as Red. This can be your server or I/O devices.
Let's say some of your components might be marked in red for 7.0 U3 but might still be working with 7.0 U2 or U1. (Or even 6.7 if you're upgrading from vSphere 6.x version). This gives you the perfect playground for testing different simulations and scenarios before the actual upgrade process can start.
If you're running old hardware with vSphere 6.x which you have no idea if it is compatible with, Runecast you can save a lot of time. By simulating hardware upgrade to the specific release you are able to see which components are safe to go and which needs to be changed.
HW compatibility – How it works?
When you connect to the UI, you'll see HW compatibility on the left. After clicking, you can see that there is a drop-down menu allowing you to select the version to which you want to simulate the upgrade.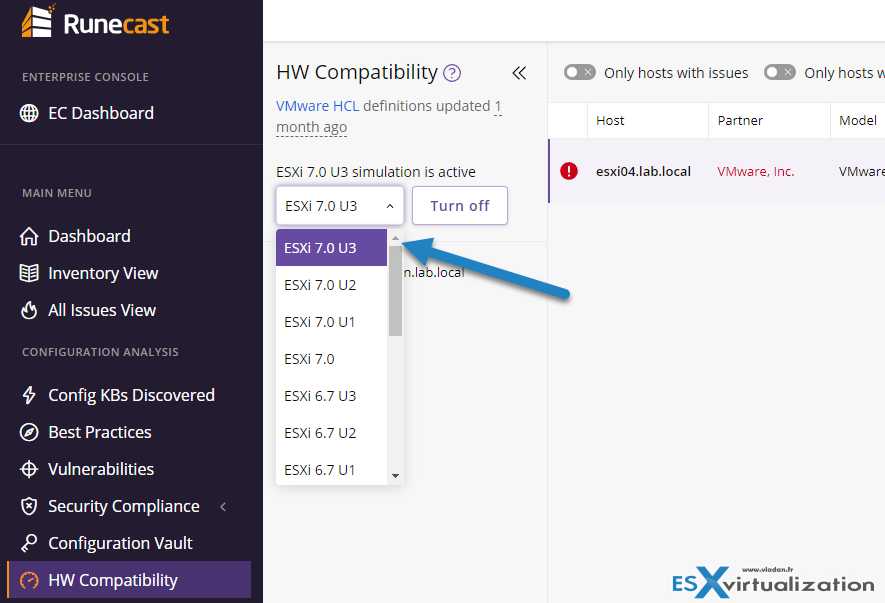 Then the system will show you your hosts which are connected to the Center server. In my nested lab, I have a vCenter Server and ESXi host running 6.7 release.  But you can have an older version still running. The question is: can you upgrade it safely?
In my small example below you can see that when you click the IO devices tab, it shows you which individual components are without issues and which ones are not compatible (red). You will find your NICs, HBAs,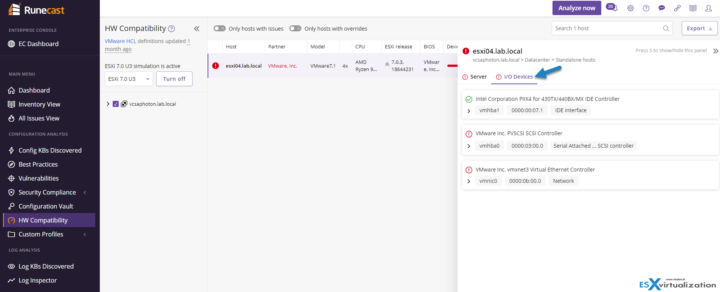 Final Words
It is often very time-consuming and difficult for every VMware admin out there to check if the server hardware is compatible with the VMware Hardware Compatibility List (HCL). But it is necessary if you want to keep your environment healthy, stable, and supported by VMware.
Runecast makes this difficult task easy and fast as the software is performing a scan of your infrastructure and seeing if your hardware is compliant with the VMware HCL. If it's not, it gives you advice on what to do.
Another great feature is the ESXi Compatibility Simulation. Again with a simple scan, you check if the hardware is compatible against a newer version of ESXi before actually upgrading to this version. The Automated Hardware Compatibility and ESXi Compatibility Simulation are great new features that save a lot of valuable time in investigating if the VMware environment is compliant.
There is a free ebook you can download at Runecast – vSphere Upgrade Guide
The Runecast software can be tested during 14 days. You can download the trial of Runecast here..
More posts from ESX Virtualization:
Stay tuned through RSS, and social media channels (Twitter, FB, YouTube)