Today's heterogeneous storage environment within an enterprise tend to be difficult to manage. Each storage array has different management and different tools. Storage Management Initiative Specification (SMI-S) is a standard which was developed by the Storage Network Industry Association (SNIA), which has done this job to make this management easier. Today's post will talk about What Is StarWind SMI-S Provider.
Storage management is easier via SMI-S as the provider gathers the pieces of information from all those different storage devices into a single console. And it's StarWind SMI-S provider which integrates into System Center Virtual Machine Manager (SCVMM) or OpenStack, to make the management of different storage devices, their performance, resiliency, and availability.
SMI-S acts as a "plugin" which allows this heterogeneous storage infrastructure management from a single console. As a result, all the routine management tasks can be automated and performed from a single console.
StarWind SMI-S is based on the Common Information Model (CIM) open standard, Common Information Model (CIM), and the Web-Based Enterprise Management (WBEM) technology. SMI-S is certified as an ISO standard and is supported by many storage system vendors.
Quote from StarWind:
Companies save costs and time. There is no more need to hire engineers with knowledge of all the different storage solutions or put existing staff through constant trainings. All cluster components can now be managed from a single console by integrating storage management into SCVMM or OpenStack with StarWind SMI-S provider.
Screenshot from StarWind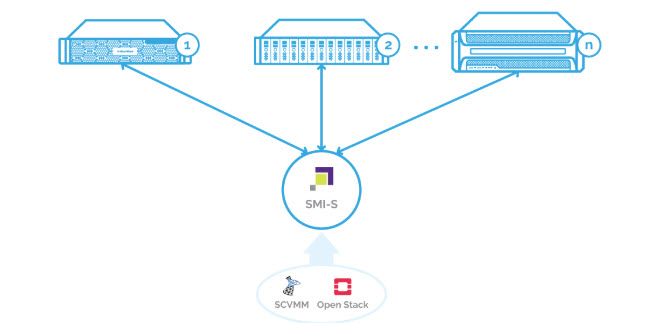 StarWind has also the full step-by-step when working with SCVMM. You can find the detailed walkthrough here:
You'll find the detailed configuration steps for using SMI-S provider in order to automate the management of storage arrays. You'll see in this example the use of StarWind Virtual SAN and iSCSI storage which will be operated with SMI-S.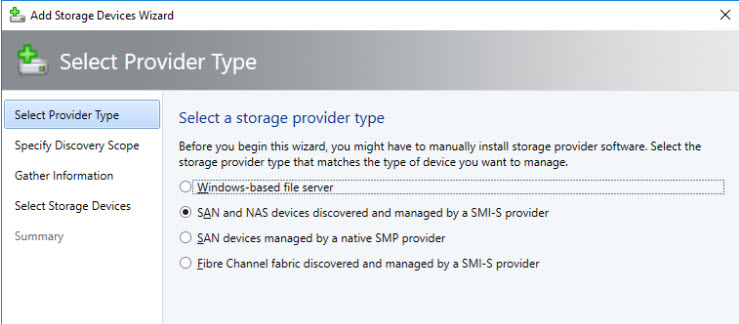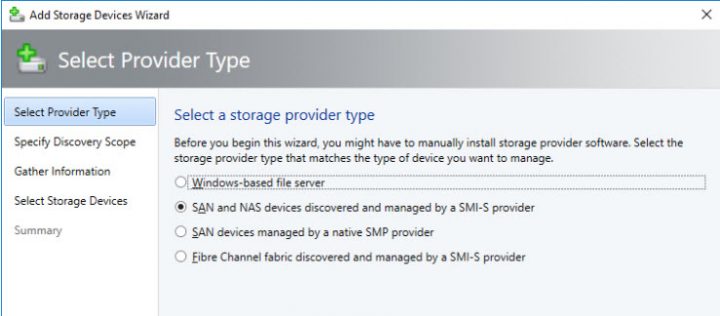 Note: There are about 49 steps in total, and it's possible to automate the configuration with PowerShell scripts. Check it out.
Links:
StarWind Virtual SAN FREE Version Features:
StarWind Virtual SAN Free is completely unrestricted: it is allowed for production use, supports all usage scenarios of the commercial version, has a perpetual license, and is not feature- or functionality-limited version of StarWind VSAN.
No Capacity Restrictions – you can use as many capacities for your mirrors, as you like (previously restricted)
No Scalability Restrictions – as many nodes as you like. (previously limited to 2-nodes only)
No Time Limit on License – The Free license if for life. After 30 days, the only management option you'll have is PowerShell or CLI.
Production use – can be used in production, but if anything goes wrong, you will only find support through community forums.
PowerShell Scripts – StarWind Virtual SAN Free is shipped with a set of ready to use PowerShell scripts allowing users to quickly deploy the Virtual SAN infrastructure.
No StarWind Support – only community-based support.
StarWind HA – The shared Logical Unit is basically "mirrored" between the hosts, maintaining data integrity and continuous operation even if one or more nodes fail. Every active host acts as a storage controller and every Logical Unit has duplicated or triplicated data back-end.
No virtual tape library VTL as on the paid version.

StarWind Virtual SAN Free use cases:
Shared storage for Microsoft Hyper-V VMs and SQL Server DBs
Shared storage for Microsoft Failover Clusters, Exchange, Oracle and SAP DBs
Shared storage for KVM, Citrix XenServer and Xen Project VMs
HA file server
More posts about StarWind on ESX Virtualization:
More from ESX Virtualization
Stay tuned through RSS, and social media channels (Twitter, FB, YouTube)