A few weeks back I had a reader asking me What is the cheapest VMware vSphere license. I told him that it is the vSphere Essentials Kit allowing to manage 3 Bi-CPU hosts via vCenter server. But I was wrong. While the essential kit is cheap enough so even very small businesses can afford the buy, there is an even cheaper edition of VMware vSphere called VMware vSphere Essentials Kit Term.
In fact, the "Term" license is available for Essentials, but also for Essentials plus. So where is the hic? While the license costs is a bit over 200€ (in Europe), this license is not permanent. So basically by buying this license you agree that one year later the license will expire and you'll have to buy another one.
For which projects, it would be a good fit?
I might find few use cases ( if looking hard enough).
Time limited virtualization project – it might fit for some time-limited projects where you have a deadline, and after 12 months the hardware is decomissioned. It may be a case when you rent hardware via contract. So you have a choice to pick the Essentials Term or the Essentials Plus Term (vMotion, HA, etc….). Fair enough.
A Project which is low on a budget – projects low on a budget which doesn't have a visibility over their business. The folks do not know if their business will work or not. They have 12 months to try, then they must buy another license (or stop their business). Fair enough too.
Usually, the hardware cost takes a big part of the cake so spend as-less-as-possible on VMware licensing might be an option too.
Let's recap the lower cost VMware offers for small businesses:
vSphere Essentials – 3 hosts with each maximum 2 CPU. 1 vCenter Server Essentials version which can manage maximum those 3 hosts. No vMotion, no High Availability. You can create a datacenter, create a cluster, but only a cold migrations between hosts is possible. If you don't need vMotion and HA, it's the best and lower cost solution I can recommend. Hooked to some backup solution with a separate physical backup server, this is a "no brainer" for small shops.
The vSphere Essentials Kit licenses are perpetual and do not have an end date. The subscription term includes updates and new releases of the selected product during the time frame selected.
vSphere Essentials Plus – same as above, but you can vMotion VMs across your cluster. It allows you to do some hardware maintenance, patching and has piece of mind in case you have unexpected hardware failure as VMware HA will restart VMs running on the failed host, on other remaining hosts within your cluster. (Check our guide on How to configure VMware High Availability (HA) cluster).The vSphere Essentials Plus Kit consists of the following:

vSphere Hypervisor (ESXi)
vCenter Server Essentials
vSphere Data Protection
vSphere High Availability (HA)
vSphere vMotion
Cross Switch vMotion
vSphere vShield Endpoint
vSphere Replication

vSphere Essentials Term – Time limited license. The same features as in "Essentials" but for 12 months only. No support included. You have to buy per-incident support if necessary.
vSphere Essentials Plus Term – Time limited license. The same features as in "Essentials Plus" but for 12 months only. The price includes the product license and Basic (or Production) support & subscription for 1 year. (you have a radio button to choose Basic or Production support)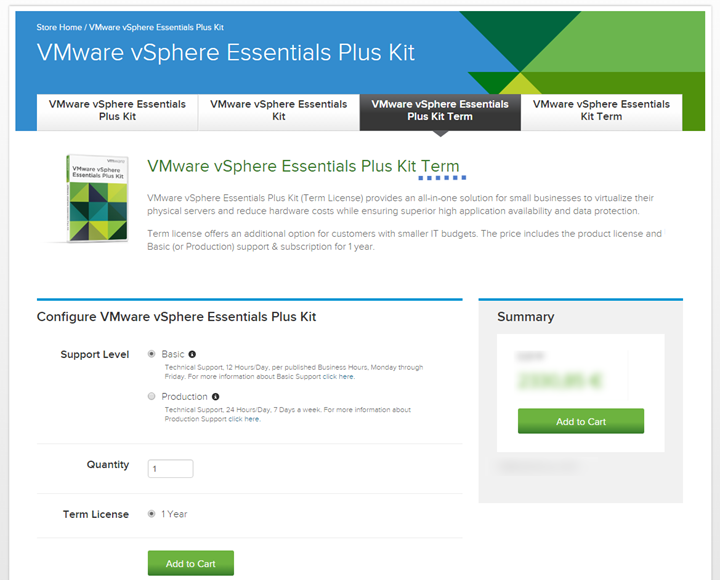 I hope that you now see the options. For me, it was new as I always knew that the Essentials or Essentials Plus existed, but now the "Term" is the third option. It might interest some admins as with this licensing package you also buying 12 months support contract. Don't forget that….
It might interest some admins as with this licensing package you also buying 12 months support contract. At least with the Essentials Plus Term option. Don't forget that….
If during the 12 months period there is a major release, you can benefit from the upgrade for free.
Admin folks maintaining virtualized infrastructures in small shops are usually having other hats within the company. I know few shops where the admin is also accountant or electrician…. you know. Not a VCA, VCP or VCAP…. So in those cases if you have a problem, believe me, it is good to have a VMware support.
Know that VMware support can be also bought "per-incident" it means that you buy tickets ahead and consume them as you go….
Per Incident Support Click Here.
vSphere Essentials, Essentials Plus, and the "Terms" kits –  Click here.
Stay tuned through RSS, and social media channels (Twitter, FB, YouTube)