After every few years, many computer users have to upgrade their computers to compete with the tech world. It is an inevitable process, and there are no short cuts to this. By the end of 2018, the i5 8600K from Intel was one of the most sold processors of the year.
The fact is that this processor was the 8th generation processor from Intel that was reasonably priced and offered great performance. The balance of price and performance provided by this processor made it one of the most preferred processors in almost every midrange computers and laptops.
However, today's market is full of countless numbers of processors that come with more advanced features as compared to the i5 8600K processor. If you are planning to upgrade your PC, it is high time to do so, but before that, you need to upgrade the motherboard. A motherboard is a crucial part of a PC as it ties the entire system as a single unit. If you are looking for a recommended motherboard for the i5 8600K processor, then you're at the right place.
The i5 8600K supports only the Z370 chipsets. It makes it easy for you to choose your motherboard as it narrows down your search area. Even though many motherboards from various brands are available for this processor, the following are proved to be one of the best that for any future upgrades.
Best motherboards for i5 8600K
Asus ROG STRIX Z370 – E GAMING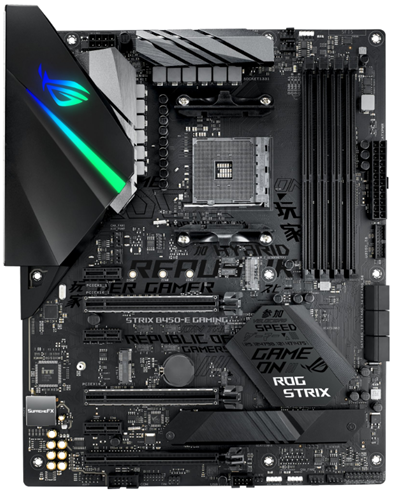 Socket: LGA1151
Size: ATX
Chipset: Z370
It is one of the best-looking motherboards in the market to date. If you are going for a naked look, then this is one of the top selections for you. Other than the aesthetics, it comes with 4 RAM slots that can be extended up to 64 GB. The motherboard holds an M.2 heat sink for keeping the M.2 drive cool, enabling efficient and faster storage unit. It comes with USB 3.1 on two different connectivity options, type-A, and type-C. This motherboard also encloses Intel Gigabit Ethernet port, LANGuard, Game first, and 2 x 802.11 ac Wi-Fi with MU-MIMO support.
Two standout features that this motherboard holds to its belt – motherboard's audio & the RGB customization. In the audio department, it has the SupremeFX S1120A with the Sonic Studio III, helping with the high-quality audio channels. The RGB light is something that Asus put some effort into. It allows you to customize the RGB on any RGB component of the system. It is not specific to selected RGB compatible components but to any RGB customizable component without the need for a third-party controller.
Pros 
Great looks
Great audio features
High overclocking capacity
RGB customization
Cons 
MSI Z370N A PRO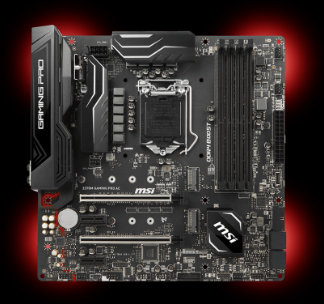 Socket: LGA1151
Size: ATX
Chipset: Z370
MSI, as we all know as a gaming computer expert, has its hands on the global motherboard market as well. The MSI Z370 A pro is one of the most demanded motherboards of recent times. This motherboard is the perfect combination of performance meeting budget. It has some cool features like multiple GPU ports with steel armor PCIe configuration for multi-core GPU processing. It has Intel's optane memory technology that helps the system with a transfer speed of up to 32GB per second. The audio quality is also quite good on this motherboard. Heat sinks on this motherboard are heavily coated for maximizing the cooling and optimum efficiency. This motherboard is VR ready, so that is a bonus to the users. What it lacks is aesthetics, which is not so appealing like the previous motherboard. But the build quality and other features compensate for the lagging in looks.
Pros
Build quality
Low cost
Good port selection
VR ready
Cons 
GIGABYTE Z370 AORUSGAMING 7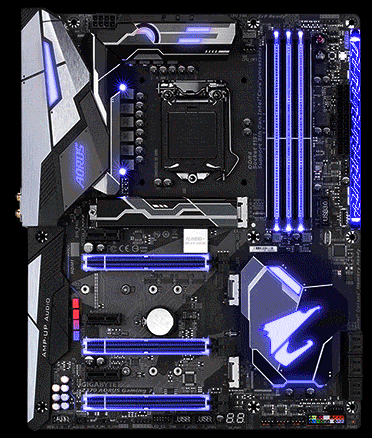 Socket: LGA1151
Size: ATX
Chipset: Z370
It is not one of the enthusiast-level motherboards but a great alternative if you are not able to get your hands on the motherboards as mentioned above. These motherboards have great overclocking capacity, which is a bit higher than the previous motherboards, especially if you have an unlocked processor. The motherboard comes with both type-A and type-C connection ports, which also happens to be a Thunderbolt 3 connection. It also carries 4*PCIe slots for the connectivity of other vital components of the systems. This motherboard is excellent if you are a hardcore gamer.
The fan attached to this motherboard has smart control enabled for effectiveness. It also has RGB Fusion with multiple zones enabled with RGB configuration possibility. On the gaming front, it uses the Killer E2500 with Intel's Gigabit LAN for the ultimate gaming experience. The sound is handled with 121dB SNR AMP-UP audio with ALC1220 and ESS SABRE 9018 DAC high-end version with WIMA audio capacitor. When it is combined with the sound BlasterX 720-degree, it gives you one of the audios that you can ever hear from a computer.
Pros
Smart fan system
Great design
Good port selection
One of the best overclocking capacities
Cons 
Not fit for non-overclocked
Conclusion
Pay more attention when choosing a motherboard for your i5 8600K. Do not opt for anything that you think is cheap. If you do so, you will end up buying a motherboard that will further cause issues and affect the speed and performance. Therefore, doing proper research and knowing your needs before purchasing the motherboard that would most suit your day to day needs is necessary.
Now you know the best motherboards for i5 8600K processor, so what are you waiting for? Step out of your house & choose the best motherboard to upgrade your computer now.
If you are looking for a recommended motherboard for the i5 8600K processor, then you're at the right place.
All the best!
[Note: This is a sponsored topic by gamingfeature.com]
More posts from ESX Virtualization:
Stay tuned through RSS, and social media channels (Twitter, FB, YouTube)