Another freeware application which keeps Windows 10 less "talking" back to Microsoft. The program's name is Windows 10 Privacy and it's Freeware (donateware). It's minimalistic, but very efficient app! If you boarded on with Windows 10 you might also check Windows 10 AntiSpy from Ashampoo, which is another free software allowing to tweak Windows 10 system in order to send less (or none) information back to Microsoft.
In fact Microsoft tries to get quite a lot of information from Windows 10 users. This has been criticized recently on many media sites. It's practically impossible to turn everything off. You can do vast majority of it by hand but it's quite tedious to navigate through all those menus and change all those settings… Some of those settings aren't even acessible.
The first issue is that Windows 10 automatically assigns an advertising ID to each user on a device tied to the email address that's on file. Using that ID, the company can tailor ads for web-browsing and using certain applications. The November update did reset all the W10 privacy settings back to default so if you previously configured the settings your way (it means to send nothing) you were stuck back with the default settings (which sends quite a lot…). With the November update the settings for advertising ID, Background apps, SmartScreen Filter, and Sync with devices were set to their old, default values….
But let's talk about today's freeware called simply Windows 10 Privacy. The program creates a system restore point on start, and displays tweaks in tabs named privacy, telemetry or OneDrive. As being said Microsoft enables everybody to change the concerning settings, but hides them in countless menus, where a normal user does not really goes and would need to look in details.
Here is a User-Apps tab allowing to uninstall built-in apps from Windows 10.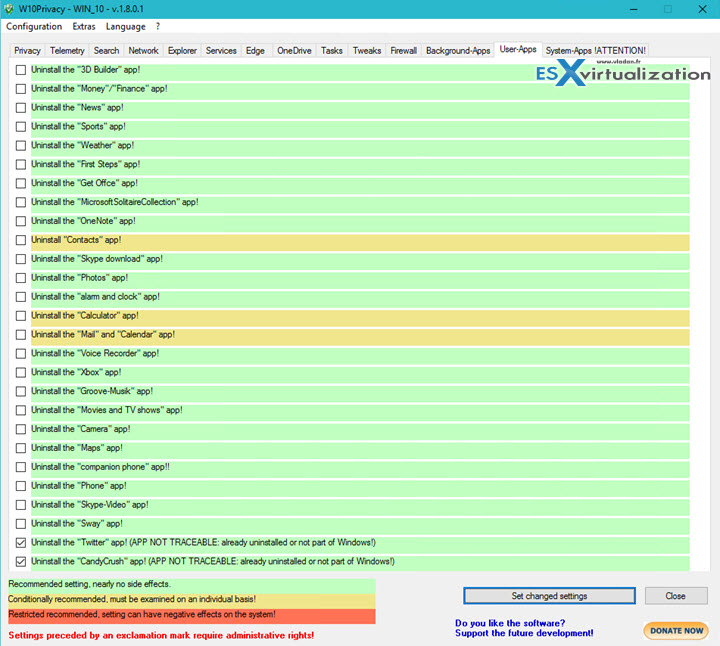 The software is quite complete and offers the possibility to simply check the boxes for features you don't want. Additionally you get clear advice:
Green = no side effects
Yellow = you should watch
Red= you might run into problems.
For example, by deactivating Windows defender and having no other antivirus program you might run into problems when a virus strikes through an email attachement. So keep an eye on the red lines!
Or deactivating the built-in search will also deactivate the search in Outlook, so the searching through your emails will be slower…
You can save your configuration via File menu.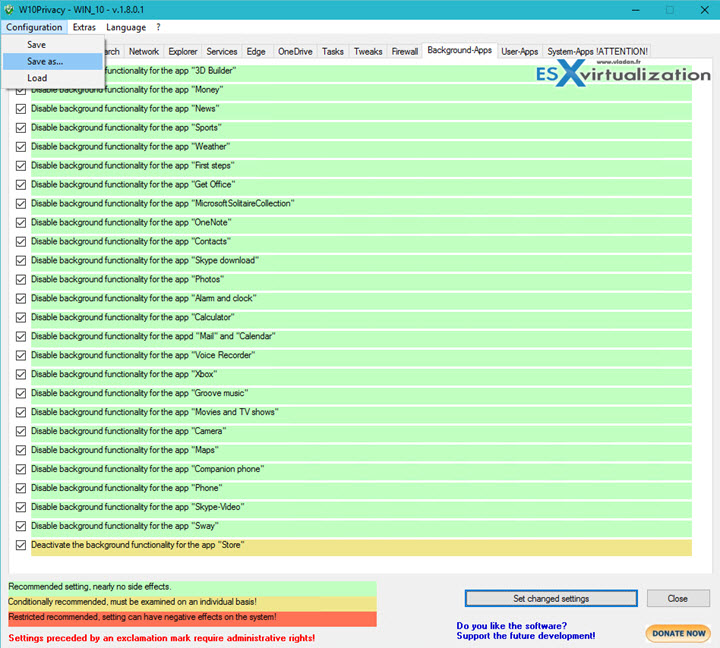 There is tons and tons of settings as you can see. While Microsoft offers this OS for Free as an upgrade for W7 and W8.x users, one must watch out what's really needed and what's not! While I like the system as a whole, because it's well designed and faster, I certainly do not appreciate the constant tracking…
When you change setting on a tab and click Set changed settings, you get this message informing you that it might take some time to proceed and then the app will reload showing you the new settings. It's basically normal as behind the scenes it certainly uses some scripting and uninstalling a buil-in Windows app takes some time. When you check to uninstall the built-in windows appls there is like 10-15 of those to uninstall…

The privacy and security concerns other (older OS too), unfortunately. It seems that recent updates for Windows 7 and Windows 8.x are also concerned about telemetry….
The following updates bring more through telemetry and data collecting features to your older operating systems:
It's not clear which data transits to Microsoft, but If you don't wish to share any data with Microsoft, you should not install these updates.
It's kind of sad and makes me think that using a PC at home comes to an end… People can get really upset with that never ending fight with tweaking and configuring, re-configuring of Windows privacy settings…. and it's not even clear what's shared.
Finally What's a solution?
Installing a Linux distro on a desktop and use VMware Workstation (player) for apps which are indispensable only?
Buying a MAC? Don't forget that MAC is running Unix system underneath…
Installing vanilla Windows just for fun, but then using all your preferred apps on Windows XP (or Linux) VM? This might be actually a choice for many as many folks using their main system for gaming..
Who knows -:) For now Check and download Windows 10 Privacy Here.