There is a new release preview available for Windows 8 and also Windows 2012 Server
The very controversial release of Windows 8 is coming. This time it's the RC version which we can test. Usually as a VM by using Free VMware Player, VMware Workstation or as an Datacenter VM directly on your ESXi host. I say controversial, because the luck of the start button will discourage many users for an upgrade or so.
I'm using W7 on my laptop and for my usage is sufficient, the system is stable. Nothing to say. I might only be interested in upgrade in case the Windows 8 brings some really "greener" features which would leads to better battery life while on the go…
I have reported on the previous version of Windows 8 and also about the possibility to use some freeware applications to bring back the start button and deactivate the metro interface in my article Windows 8 Metro Disabler Freeware.
In this new release – "Release Preview" – What changed? Few things, but there might be more under the hood.
Internet Explorer 10  – The IE 10 comes finally with Flash Plugin, even if at first the Flash plugin should have been left forgotten. Tracking of cookis is off by default. In fact the "Do Not Track header" tells sites to not issue you tracking cookies will be set to On by default.
Start Screen – You'll find more personalization possibilities for the Start screen. You can choose Start Screen background from a given set of images. Also you can change Start Screen color by selecting a color from given list.  You can switch between Start Screen and Desktop by a simple press of "WIN" key.
Multitouch Gestures – Windows 8 will allow multitouch gestures on touchpads. Pinch-to-zoom, two-finger scroll along the X and Y axes, and edge swiping. Feature that has been present for years on MAC, now appears on windows touchpads. Will see how it works. Hope with the same sensitivity… -:).
The Right Click on Bottom Left brings a system menu – You can also right-click on bottom-left corner to access hidden Quick Access Menu which provides easier access to a few useful system tools.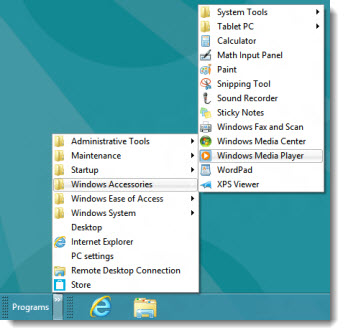 Quick Tip
Note that the start button can't be added back to the start menu, but there is a work around where you can have an access to a new menu in the task bar. You don't need any additional software.
This was also possible in Windows 7. Through the task bar (like in W7) Add New Toolbar, and this toolbar will have all the shortcuts to all the Installed program.
How to do it? It's very easy to do. Just follow those steps:
01. Right-click on Taskbar and select "Toolbars -> New toolbar. 
02. It will open Browse dialog box. Just paste following string in the "Folder:" text box:
"%ProgramData%\Microsoft\Windows\Start Menu\Programs"
03. Press Enter and click on "Select folder" button.
Windows Upgrade Offer – Microsoft starts also on June 2nd, 2012, the Windows Upgrade Offer.  What is it?
Consumers who purchase eligible Windows 7 PCs that are preinstalled with Windows 7 Home Basic, Home Premium, Professional, or 
Ultimate and include a matching and valid OEM Certificate of Authenticity through January 31, 2013 will be able to purchase an upgrade to Windows 8 Pro for $14.99 (U.S.) which will be redeemable when Windows 8 is generally available (the program expires in February 2013).
When consumers register for the Windows Upgrade Offer, they will be able to download Windows 8 Pro starting the day it's made generally available and the upgrade comes with 90 days of support from Microsoft.
You can download the ISO of Windows 8 32bit or 64bit from this page.
Just some quick information about the upcoming Windows Server 2012.
There will be many improvements in the RDS, as I could see on Microsoft's blog here. You can download the ISO of Windows Server 2012 from this page.
Enjoy.. -:)