Z-Drive 6000 is a new NVMe compliant PCIe enterprise SSD from OCZ Storage Solutions (Now part of Toshiba Group). NVM Express (or NVMe) stands for Non-Volatile Memory. NVMe has larger queue depth than SCSI (64000 over 254 for SAS, or 31 for SATA). NVMe Host Controller Interface Specification (NVMHCI), is a specification for accessing solid-state drives (SSDs) attached through the PCI Express (PCIe) bus. NVMe standard will allow up to six times faster data transfer speed than 6 Gbps SAS/SATA SSDs.
The future is here. The industry shift to the NVMe standard has started. More and more vendors are bringing products which are stamped NVMe. Today we'll have a look at the latest one from OCZ Storage Solutions – the Z-Drive 6000 series PCIe NVMe based drive which is officially released today.
We have looked at a sample of this drive during last year's VMworld already, and the numbers were impressive. Destined for the enterprise customers, the drive will use new connector – SFF-8639 and will provide on the Z-Drive 6300 version up to 6.4 TB of Data on Single SSD with standard 5-years warranty. The 6300 version is also a high endurance drive as it allows 3 Drives Writes Per Day (DWPD) during 5 years.
Let's have a look at the main benefits and features of the drive.
Z-Drive 6000 benefits:
Highest performing MLC-based 2.5" 8639-compliant NVMe SSD with sustained IOPS performance over 160,000 for 4K write blocks and consistent, low-latency between 25 and 30 μs
High density support of up to 3.2TB of usable capacity for Z-Drive 6000 SFF models and up to 6.4TB1 of usable capacity for Z-Drive 6300 SFF models
Full NVMe 1.1b driver support validated by the University of New Hampshire Interoperability Lab (UNH-IOL) with access to OCZ NVMe drivers for Windows, Linux, and VMWare systems
Temperature sensing and thermal throttling to maintain consistent operating conditions even under adverse temperature variances
User selectable power envelopes (15W, 20W, 25W) for temperature efficiency in any ecosystem
Highly scalable, serviceable and innovative 'flow-through' design for enhanced cooling
Edge card support in Half-Height/ Half-Length (HHHL) MD2 form factor for blade server platforms and 1U rack-mounted systems (will be available in future release)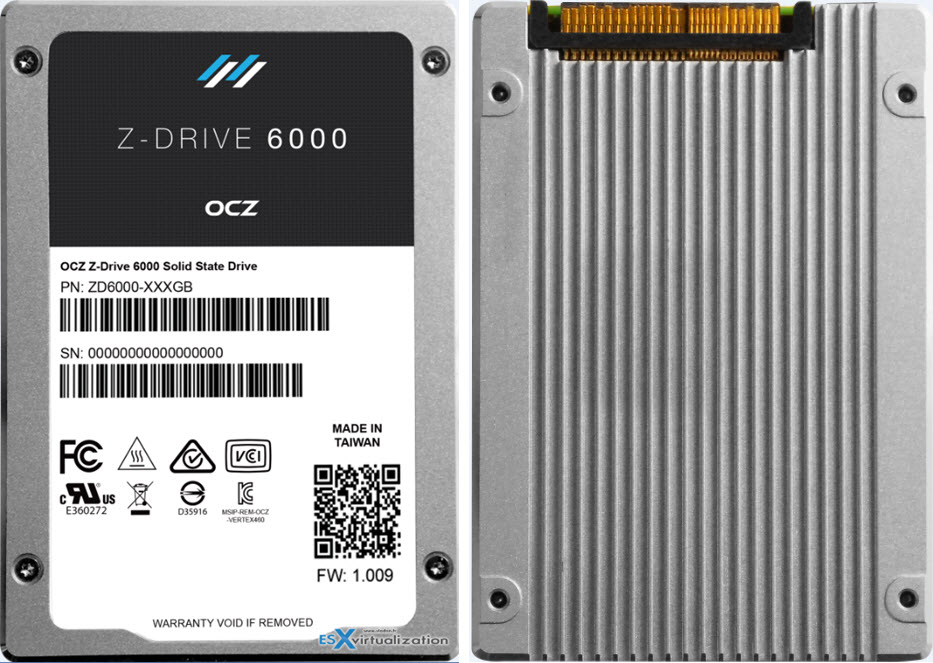 Z-Drive 6000 Series Features
NVMe 1.1b Support – A streamlined I/O stack that reduces latency and supports massive parallelism, enabling users to meet current and future storage needs
3rd Party Driver Support -Full compliance with NVMe standard allows for 3rd party NVMe driver support across any platform, allowing OEMs and system integrators to only qualify a single driver of their choice
'Flow-Through' Case Design -OCZ's innovative 'Flow-Through' case design allows more airflow to critical components, keeping the device cool and reducing airflow requirements
End-to-End Data Protection -DIF* (host appended or drive appended), ECC, and CRC support delivers superior data protection and reliability
Power Loss Protection -Full power loss protection ensures that all in-flight data has reached the device at the moment of power loss and is not lost
Hot-Swap Support -Hot-Swap support enables unprecedented serviceability for PCIe storage devices by no longer requiring that a node be brought offline to service the storage device
Dual Port Support -Dual Port support allows two data paths to the device, and up to four separate name spaces to ensure availability of critical data (will be available in future release).
User Selectable Power Modes -Variable power modes, in 15W, 20W, and 25W modes, reduce wasted power when maximum performance is not required
AIC MD2 Form Factor -HHHL AIC form factor enables OEMs and system integrators to populate sockets where an FHHL device would not fit, or where SFF-8639 bays are not available
Next to the SFF-8639 connector there are holes allowing an air circulation through the case. Another smart design choice by OCZ.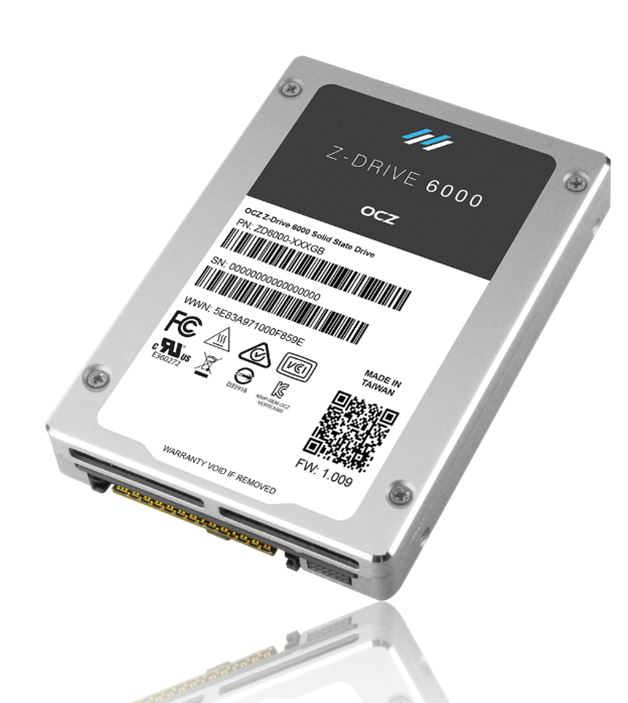 OCZ is part of Toshiba Group.
NVMe Benefits and advantages
While NVMe is new as technology, it's just a question of a time when this standard will become a mainstream. Here is a quote from the release notes documents.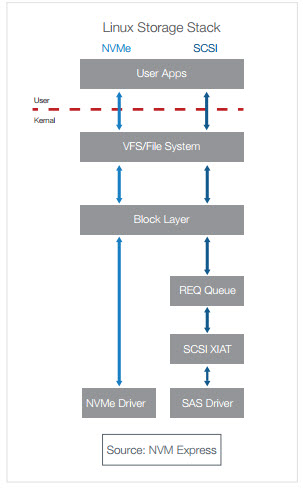 I/O requests in an enterprise ecosystem spend much of their time in the hardware infrastructure (that includes NAND flash media, the flash controller, the host bus adapter, related hardware, etc.), and only a small portion of time working through the software I/O stack. The NVMe standard streamlines the software I/O stack by reducing unnecessary legacy overhead and supporting multiple queues, and many more commands per queue than any other commonly used storage protocol as outlined in Figure 2.
NVMe supports 64,000 commands per queue (as well as 64,000 queues) to enable extremely fast hardware responses especially when compared to the SAS protocol that can only support 254 commands per queue or the SATA protocol that supports 31 commands per queue.
Published tests results indicate that the Linux NVMe software stack reduced software overhead by more than 50% (from 6µs to 2.8µs) when compared to a Linux SCSI/SAS software stack.1 The number of instruction cycles was also reduced from 19,500 to 9,100.
Here is few screenshots showing the detailed specifications and driver support: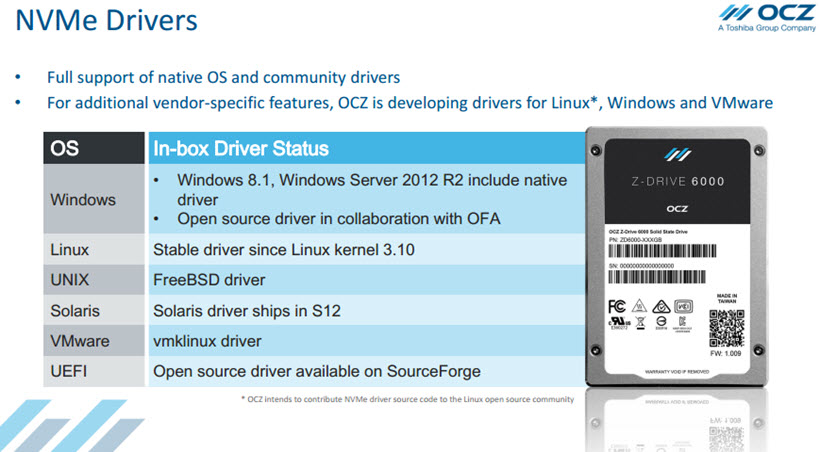 Specs: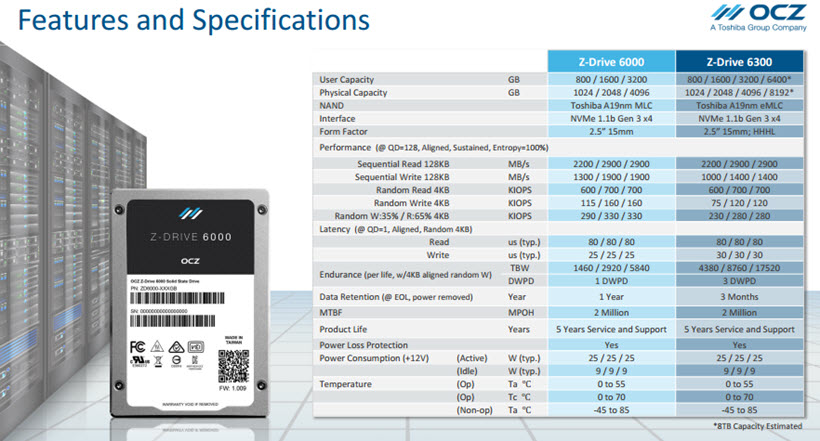 Pricing is unknown at the moment. The largest capacity, the 6.4 Tb model will be available in Q4 2015 only.
Use cases:
The Z-Drive 6300 SFF Series are suitable for mixed workloads, like OnLine Transaction Processing (OLTP), Big Data processing and analysis, Database Mining, Data Warehousing, Web 2.0 Servers, High Performance Computing (HPC), Virtual Desktop Infrastructure (VDI) Virtualization, Microsoft Exchange / Email Servers, OnLine Analytical Processing (OLAP), Professional Media Editing / Post Production, Cloud Computing.
The Z-Drive Z-Drive 6000 SFF Series are targetting read-intensive workloads, like Online Archiving, Media Streaming, Video on Demand (VoD), Read Cache and Indexing, Customer Relationship Management (CRM), Decision Support System (DSS), Virtual Tape Library (VTL), Enterprise Content Management (ECM).