The principal VMware Certified Professional certification pages:

NEW:  VMware vSphere 5.5 Install, configure, manage training by VMware Education is available! This 5-day hands-on training course covers installation, configuration, and management of VMware vSphere®, consisting of VMware ESXi™ and VMware® vCenter Server™.
NEW: VMware has announced new certification to the already crowded number of certifications. There is four VMware Certified Associate (VCA) certification. And with good news is that there is no obligatory training in order to pass those certifications and get the VCA certification!
Which certifications are available?
So for example to became the VCA-DCV you can (it's recommended only – not an obligation) follow the VMware Data Center Virtualization fundamentals, which is a freely accessible online course.

Fourth one VMware Certified Associate ? Network Virtualization (VCA-NV) will come soon.
Here is a certification Road map from VMware.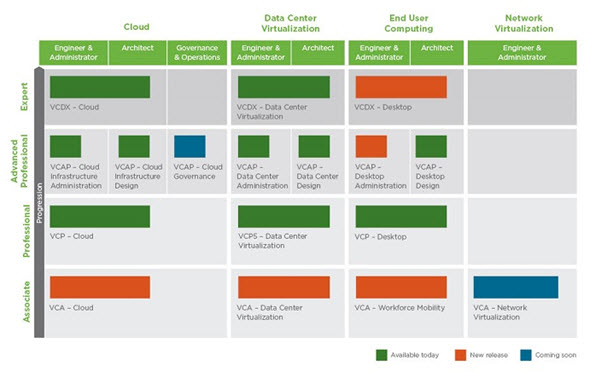 VMware Training by VMware Education.
There is a large choice of Official Vmware Training courses. There are trainings for every level of people: beginner, confirmed, advanced.
VMware vSphere – Install, configure, manage [v5] - VCP 510 training is the base. This training is for people willing to get certified on VCP 5. You can have a look at the full course requirements on this page.
But what's next? What would be the next step after getting the VCP 5? With many offerings for VMware Training you might be interested in a VMware vCloud Director Training available at the official VMware Education Website. This Training has got a lot to offer during 3 days of training.
Not only vCloud director, but also other products. VMware vCenter™ Chargeback and VMware® vShield Edge.
ESX Virtualization site has started as a simple bookmarking site, but quickly found itself a lot of readers and subscribers.
Vladan
is as an Independent consultant, professional blogger, vExpert 2009 - 2014, VCAP5-DCA/DCD, VCP 4/5 and owner of this website.
Latest posts by Vladan SEGET (see all)