VCP6-DCV study guide which will help to study towards VMware VCP6-DCV certification exam. VCP6-DCV is something that is not easy to achieve, but with a help of this "unofficial study guide" you'll learn a lot about vSphere 6 and progress on your experience.
This page is to help out with studying for VMware Certification Exam VCP6-DCV (Datacenter Virtualization). This exam validates you have the skills required to successfully install, deploy, scale and manage VMware vSphere 6. The exam has 85 questions and it's 75 min long. The passing score is 300 (out of 500).
You may, or may not need to sit a VMware class or Hands On-Line training. It depends on your past certification experience if you're current VCP or not. It all depends on each individual.
The path for someone who is not VMware Certified Professional (VCP) looks like this:
Once on the VMware store page, just click the menu Training > Education products and click the View All link.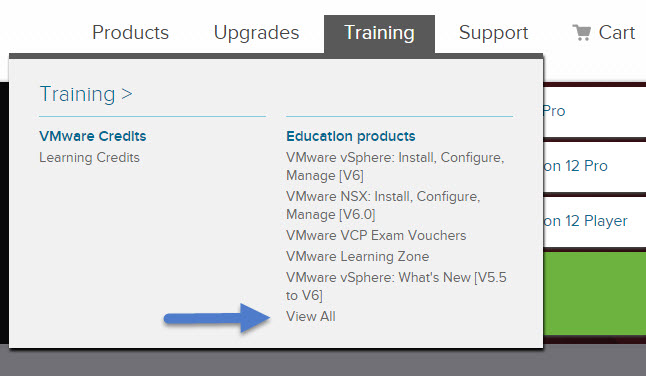 The path for someone who is not VMware Certified Professional (VCP) looks like this:
Take a VMware class or take Hands On-Demand Training – VMware vSphere: Install, Configure, Manage [V6.0]. (From the menu choose Training > Education products > click the View All link)
Pass VMware Certified Associate Exam (VCA6-DCV)
Pass VCP6-DTM Exam (VCP6-DCV)

VCP6-DCV VMware Resources:
Passing VCP you'll not only earn respect from your employer and coworkers (which is cool), but you'll gain more knowledge and insurance in your daily job. You'll learn about VMware vSphere and administering and troubleshooting virtualization technologies such as:
vSphere HA and DRS Clusters
Storage virtualization using VMFS
Storage DRS and Storage I/O Control
Network virtualization using vSphere standard and distributed switches and Network I/O Control
vSphere management using vCenter Server and vRealize Operations Manager Standard
Virtual Machines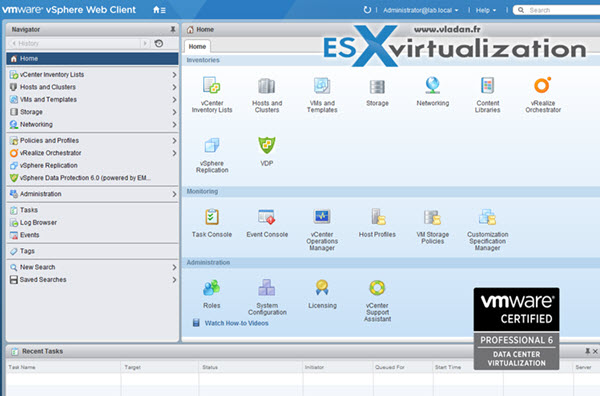 Wish you luck with your exam!!!
It's always a pleasure to hear back from people that used this guide and passed the exam. If you are a person like this, don't hesitate to tweet it!!!
One of the readers of our blog, Adrian Lutea, who successfully passed -:)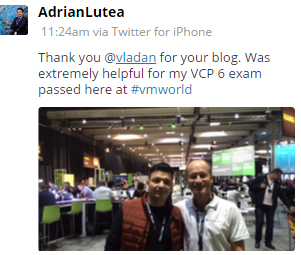 And another one here. Congratz guys -:)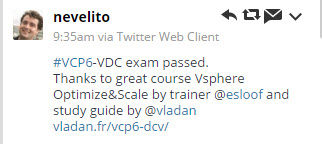 ++

++

++

@arielsanchezmor #vExpert @VMware @vCommunityGuy here is it! Thanks @vladan for his guide! pic.twitter.com/7t80OyM3gu

— Manlio Frizzi (@Mfrizzi) February 16, 2017