It's been quite a while since I've been hooked with such a technology and speed. The fact that running VMs in the RAM gets you the best ever performance isn't new. Some bloggers even used Starwinds iSCSI to create a RAM disk and test the speed…. /CC @esloof. Faster even than an SSD. Running VMs out of RAM is the fastest, but how about persistency? It seems that, Atlantis computing found the sauce. Atlantis Ilio 4.0 can leverage RAM in order to run virtual desktops and make the changes persistent. Atlantis ILIO Persistent VDI 4.0 has been announced during VMware PEX in Las vegas. Press Release can be found here.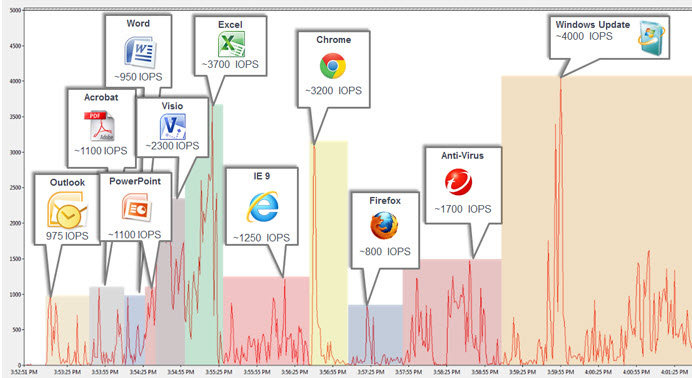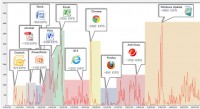 How it works? The product runs as a Virtual appliance in each ESXi. Every VDI desktop running on that host is storing the disc blocs , which are also deduplicated and compressed, in a RAMdisk created by Atlantis Ilio. The deduplication of the disk blocs makes the usage of RAM quite minimal, and only the blocs of C: drive are used to run in the RAM.
The version 4.0 introduced the possibility to use this technology in VDI deployments for persistent desktops (a desktops which can be personalized by users… desktop background, theme etc…). It's because the blocs changed by each user are stored in another appliance. This is new in v 4.0 and wasn't possible in previous release.
Brian Madden has great write up about this technology. Here is a quick quote:
Atlantis's ILIO Persistent VDI product has a VM on each VDI server that they call a "Session Host." That's really no different than their previous non-persistent product. The new part is that they now also have a "Replication Host" which is a central VM that maintains the master copy of each user's blocks. (And of course this can be replicated, synced, backed up, etc.) So when a user wants to connect to their desktop, the VDI software (View, XenDesktop, etc.) routes them to some random VDI server, and that server's Atlantis ILIO Session Host VM gets all that user's blocks it doesn't already have (from other VMs) copied down to its memory from the central Replication Host.

The beauty of this is that the long-term permanent storage of each user's unique blocks is outside of the dekstop VM's IO data path. The desktop VM on the VDI host reads and writes its blocks from the RAM of the ILIO Session Host VM at full RAM speed, and the Session Host just replicates any unique compressed blocks over to the Replication Host out-of-band, taking its own sweet time.
In this excellent demonstration video you'll see the performance that you would certainly want to have on your user's desktops. The video shows test where 9 applications starts on a VDI desktop which was limited in vSphere to 50 IOPS. This takes 4.5 minutes. Then Atlantis ILIO did the same test without limitation and the 9 applications has started almost immediately. No wonder, the desktop runs in memory. In a PassMark test the result was an amazing 5049 score, which is the 3rd place overall world wide.

Atlantis ILIO Persistent VDI 4.0 Features:
In-Memory VDI – Unlike traditional storage, ILIO In-Memory storage decouples desktop performance from the traditional limitations of disk-based storage by running all sessions directly on server RAM – as primary storage – to provide unparalleled desktop performance including 12 second boot time, near-instant application launches and desktop search results that appear immediately. In addition, because all desktops run on RAM, the amount of storage traffic sent on the network is drastically reduced, addressing one of VDI's key deployment risks.
Atlantis ILIO Fast Replication technology maintains a real-time optimized backup on shared SAN/NAS storage to preserve the state of all persistent virtual desktops to deliver data protection and recovery.
Automated Deployment – Atlantis ILIO Center, the management system for Atlantis ILIO software, provides push-button automated installation, configuration, sizing and datastore creation for thousands of virtual desktops across multiple racks of servers. Atlantis ILIO virtual machines are automatically created and registered as NFS data stores that are ready to use by Citrix XenDesktop or VMware View provisioning tools, or by Atlantis ILIO Fast Clone, to complete the desktop provisioning process.
Atlantis ILIO Fast Clone – Atlantis ILIO Fast Clone can create new full clones of persistent virtual desktops in as little as 5 seconds per desktop. Unlike other storage cloning, Atlantis ILIO Fast Clone creates new virtual desktops without generating storage traffic.
The product also provides some comparison numbers when it comes to storage sizing. In fact, by using linked clones you can reduce the storage space requirements, but it does not help to get more IOPS. The classic way only is to add more spindles…
Then another possibility is to use the CRBC cache, which has been introduced in View 5.1 as a technology preview for Desktop Virtualization VMware and which helps for Reads (so it's good for Boot storms). But does not really help for writes.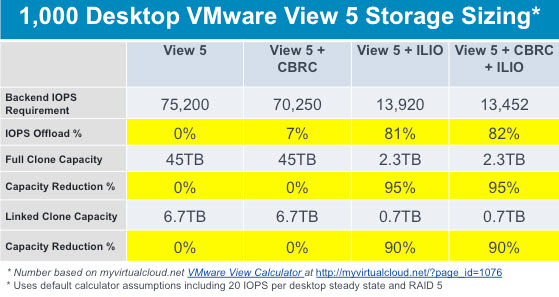 Another interesting information which I found at the product page, where there are a good details about how the virtual appliance interact with the IOs and requests, to actually eliminate some of them…. A quote from the product page – the Inline deduplication (Note: Inline dedup is deduplication in Real Time) :
Atlantis uses the different and focuses on eliminating data and I/O on the wire before it reaches the storage system. The ILIO virtual appliance intercepts write requests and eliminates the request from the wire if the write IO or the data payload is a duplicate, thus eliminating I/O traffic to the backend SAN and the required capacity to store the payload once committed to storage.
This technology is certainly a very good point to speed-up the VDI desktops. The video shows it all. I'll certainly return to this technology in one of my future posts.
Brian Madden has detailed article on the architecture that Atlantis Ilio uses here.