Atlantis computing just announced Atlantis USX 2.0 which brings some quite unique capabilities.
If you don't know Atlantis computing than you should read my article about diskless VDI architecture from Atlantis computing, which is another product they do – Fastest Virtual Desktop Experience – Atlantis ILIO Persistent VDI 4.0 – desktops running in RAM. (BTW, you can get it for testing for free now – up to 10 desktops – see this link.)
Atlantis computing unveiled their 5 product features in their press release today. It seems that real-time deduplication is the core of the system, but an abstraction layer on the top of existing storage seems the do the secret sauce… In addition, the announce of another hyper-converged solution using USX 2.0 is quite outstanding too.
USX 2.0 details
Update: After I attended the webinar presenting the USX 2.0 solution now I have a little bit clearer view of what Atlantis is offering with their product. Atlantis USX 2.0 platform can be used in 2 ways:
Accelerate existing SAN solutions
Build a hyper-converged solution with local storage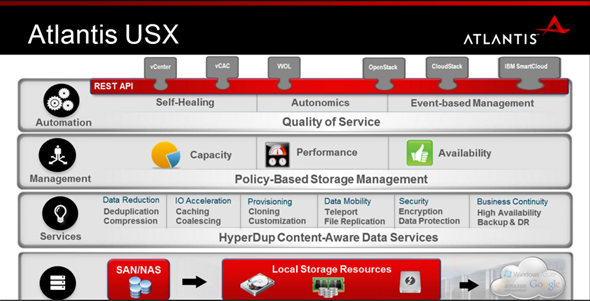 Their solution can extend the life of the existing storage (up to 5 years) by applying deduplication and compression (so data reduction – can reclaim up to 80% of the existing storage) and IO acceleration via server side RAM and Flash. They add capabilities to do fast provisioning and data mobility.
So it's possible to use Atlantis USX 2.0 as a fully functional storage platform and turn DAS into enterprise storage. USX is able to pool and abstract storage and present a pool of storage to all the hypervisor.
You know VVOLs, right? We have heard about VVoLS since VMworld 2012. Basically the storage array must be compatible in order to make use of VVoLS. But Atlantis computing can leverage VVoLS even if the storage array isn't VVoLS compatible – through a USX 2.0 APIs. This could most likely help in adopting VVoLS faster.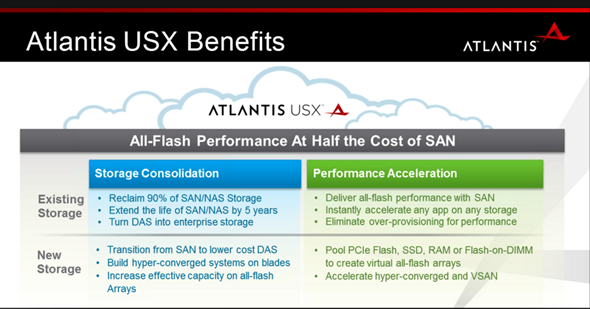 But that' only the part of the release as there is 5 different features announced which are part of Atlantis USX 2.0:
Quote from USX 2.0 press release:
VMware VVOL Support for Any Storage – Past, Present or Future

Atlantis USX provides a strategic storage abstraction layer for VMware environments that completely virtualizes storage, allowing all storage (past, present and future) to instantly become VVOL compliant without the need to purchase or update SAN/NAS infrastructure. With Atlantis USX and VMware VVOL, all storage becomes VM-centric, supporting per VM operations, including snapshots, cloning, replication and acceleration. In addition, Atlantis USX works seamlessly with VMware Virtual SAN and Horizon to reduce the storage required to deploy virtualized workloads by up to 90%, while improving application performance by up to 10 times.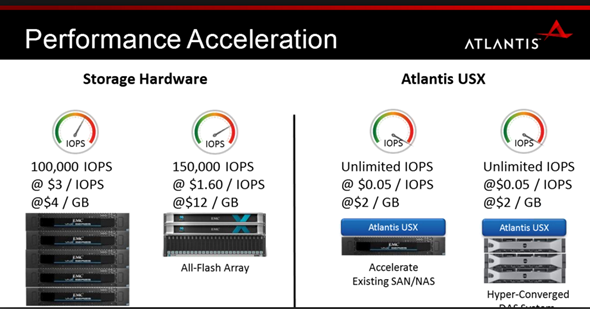 Hyper-converged anyone? Firms like Nutanix, Simplivity and others offers hyper-converged systems where you can expand storage, compute,… linear way.
Quote from USX 2.0 press release:
The First All-Flash Hyper-Converged Storage System

Atlantis and our hardware partners are teaming up to deliver the industry's first all-flash hyper-converged storage system featuring cutting edge Flash DIMM memory-channel storage, PCIe Flash, DRAM and optional SAS storage for capacity expansion. Atlantis USX pools local server flash and applies Atlantis HyperDup™ data services, including real-time deduplication and compression to increase effective storage capacity by up to 10 times. With an entry-level, three-server configuration, enterprises can process more than two million OLTP database transactions per minute, deliver up to one million real-world IOPS (80% write, 80% random 4KB blocks) and support four hundred persistent power-user virtual desktops.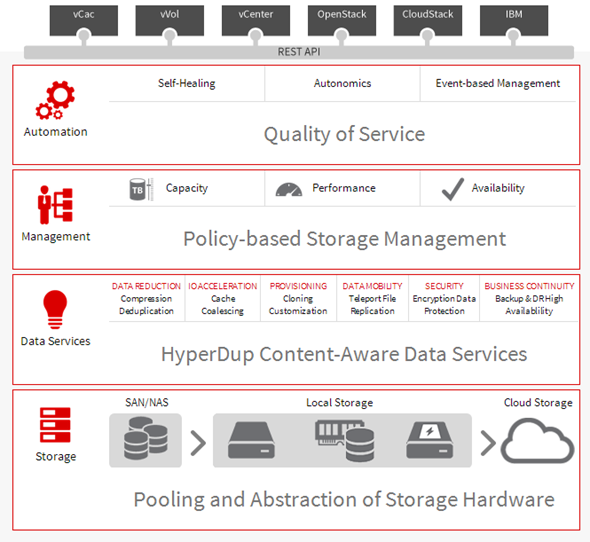 Other features:
 Atlantis Teleport – Unprecedented Data Mobility

Teleport, a new capability in the Atlantis USX 2.0 platform, dramatically improves business agility by enabling virtualization administrators to move or migrate VMs between storage systems, datacenters and the cloud in seconds – compared to hours with traditional Storage vMotion. With Teleport, the speed of data mobility makes it possible to instantly migrate VMs between storage systems, dynamically expand and contract datacenters on a daily basis to save power, and quickly move test and development environments across continents to go into production.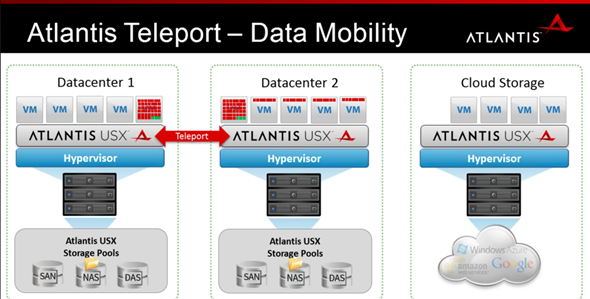 Atlantis USX – Storage Consolidation and Performance Acceleration

Atlantis USX enables enterprises to get 10 times more storage capacity out of their existing storage investment, reclaim up to 90% of their SAN and NAS storage capacity and turn under-utilized direct-attached storage (DAS) into enterprise-class storage that delivers all-flash array performance. Instead of being caught in an endless cycle of doubling storage capacity every two years, IT organizations are now empowered to extend the life of existing shared storage by 5 years or more without the need to purchase any new hardware. Storage costs may be lowered by 75% by Atlantis USX, which provides 10 times more effective storage capacity on existing storage, accelerates performance without additional hardware and enables businesses to unlock under-utilized DAS.

Atlantis USX HyperDup Content-Aware Data Services

At the heart of the Atlantis USX platform are patented HyperDup™ Content-Aware Data Services that leverage Atlantis real-time deduplication technology to provide data reduction, IO acceleration, provisioning, data mobility, security and business continuity for any storage.
Pretty exciting. The full press release is here. I know that not all press releases are quite fun to read, but I think that this one, you'll be quite hooked..