Simplivity uses standard server platform with specially designed PCIe card which allows very efficient inline deduplication, compression and optimization of data. The rest of the hardware is commodity hardware with 10 GbE network. It's VM aware platform which uses policies build around VMs running in the vSphere infrastructure.
Pairing with another Simplivity block locally or at the DR site (called Federation) allows expansion of the whole resource pool of compute or storage, to manage the whole infrastructure as a single piece. The deduplication engine being very effective, the replication  (backups) of VMs is optimized as not much data is finally send to the other side for DR.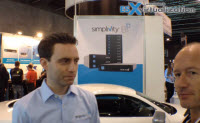 My questions were to whether is necessary to have remote vCenter installed or everything could be managed through single vCenter. Also I wanted to know whether another Simplivity block needs to be installed at the remote location. This has been answered by Jesse St Laurent who works at Simplivity. He also told me that there are VM aware policies, which actually handles the on site or off site backups.
I've checked their website for more deep information on the subject and found out that they use VAAI for hardware acceleration and cloning VMs when doing snapshots, and also that the technology is really built around a VM – as a "VM aware".
A quote from their website:
SimpliVity leverages commodity server platforms and 10GbE networks to deliver highly performing and highly functioning enterprise IT. When an OmniCube joins a Federation, all of its compute and storage resources are made available to the other OmniCube systems in the data center. The OmniCube systems can utilize resources across the Federation, creating a powerful, yet elegantly simple virtualized data store. This elastic pool brings to life many of the core OmniCube features, including high availability, simplified scale out, and cache-accelerated performance.
Here is the video from VMworld 2013 Barcelona:
There is more deep dive video I can recommend provided by Tech Field Day and Steven Fosket – Simplivity. (It's 1 hour long …)
While visiting their booth you could not miss the nice Audi they had parked by their boot. I of course entered to have the possibility to win, but as such a huge interest I'm sure that it won't be me who will be the lucky winner… -:).  SimpliVity was a Platinum Sponsor of VMworld Europe 2013. And I forgot to mention that they got Best Of VMworld Gold Award 2013 for their storage and backup for virtualized environments.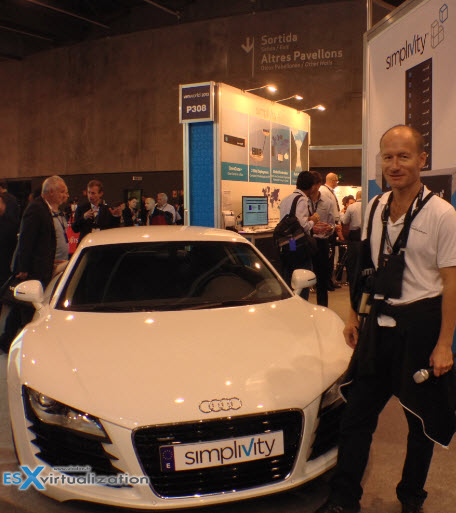 VMworld Barcelona 2013 coverage:
The article was published first at ESX Virtualization website. Feel free to subscribe via RSS or by e-mail to get the latest news to be delivered via weekly newsletter.