I'll try to gather the best videos from VMworld 2011 in Las Vegas.
This post will get updated regularly with the best video links from the event.  There are videos from VMware TV channel, there are videos from Bloggers and writers, there are videos uploaded from mobile phones. I mean, there is such many resources in video this year….
I saw few messages on twitter yesterday saying that there were not enough IP addresses for the wireless connections… No wonder if there is like more than 20 000 visitors and each of them carrying like 3 wireless devices…. So almost every and each of those devices needs an IP address… it's quite huge…. -:).
Of course I missed all the live events, because of my geographical situation here at the Reunion Island, but I'm not the only one. A fellow blogger Gregg Robertson living at South Africa has got probably the same troubles with time zones, but he managed to put on great post summarizing the first day at VMworld Las Vegas 2011.
So let's start with Doughlas Phillips and Richard Garsthagen and gather some videos and links :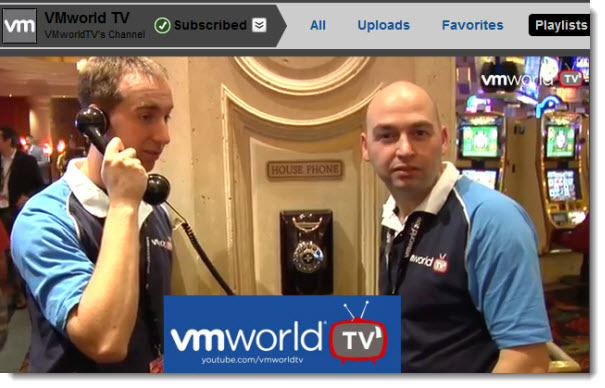 The Highlights of VMworld 2011:
Free Tools presented by Kenny Coleman:
Day 3 – Interview with Steven Herrod:
Day 3 – LG and Samsung and they showed their mobile phones running the Mobile Virtualization Platform and talked to the VMware team about the Horizon software to enable enterprises to start using this technology.
Day 3 – VMware CTO Paul Strong talks about the Office of CTO at VMware along with touching on the overall direction of VMware.

Day 3 – Inteview with Alan Renouf about the new PowerCLI
Day 2 wrap up video:
Day 2 – 2011 new innovators challenge at VMworld:
Interview done by Ruben Spruijt with Steven Herrod (CTO) – AppLast, Horizon Application Manager, ….
Day 2 – Upcoming product from VMware – project Octopus – Access your files from anywhere without installing any apps? can share, read on any device – iPad, iPhone, Android… It also manages versionning of files as well !!!! Pretty cool:
Day 2 – SRM – Real Case scenario for DR with customer from Japan, how he was dealing with the eartquaqe there and how easy was for him to failover to another site. It took only about 1 h for the VMs that has been protected by SRM. The physical servers needed 24hours before everything went back to normal….
Day 2 – vCloud update and look at the vCloud Fish Tank…… very cool !!
Day 1 Wrap up video:
Day 1: Labs gonna be accessible for public in 2012, so you no longer need to build a lab at home to test VMware solutions…? (I think it's cool to have my own lab anyway…. -:).
Day1: Paul Maritz explains what is VMware slowly becaming – an IT Solutions company. So no more virtualization?…. Not so sure…-:).  But the key feature for automation is the storage automation in vSphere… a technical heavy lifting.

Other Videos:
VMworld 2011 – VMware Horizon: Building the Platform for the Post-PC Era
Eric Sloof's Videos:
VMworld 2011 Las Vegas Video – Monday
The VMware ESXi Quiz Show
VMware Las Vegas VMwolrd 2011 – Keynote
VMware VMworld 2011 Elastic Sky Band
VMworld Community Video – -:)
New !! Mythbusters goes virtual
 The Power CLI Hero !!!  – Alan Renouf – cool…
A great walk through the Solution Exchange space. It's very busy there….

VMworld Party….-:)
And a vSwim…. -:)
Mike Laverick's Videos:
Miniwag with Kenny Coleman
Miniwag with Eric Sloof
Miniwag with Steve Beaver
VMworld Miniwag – Tom Howarth
Miniwag with Alan Renouf – What's new in PowerCLI v 5.0
Miniwag with Mike Alys – VMUG Leader
Miniwag with John Troyer
Miniwag with Lee Dilworth
Miniwag with Shannon Snowden