There are some offers available for Cisco Nexus 1000v training. This training will help you to learn the inside out of Cisco Nexus 1000v switch. Jason Nash the instructor, already done few other training courses for TrainSignal:
Cisco UCS, which is very good. I have reviewed this course here.
VMware Advanced Networking
vSphere Security Design, which is a part of the VCAP training package.
Cisco Nexus 1000v – The lessons:
Getting Started with Cisco Nexus 1000v Implementation
An Introduction to the Cisco Nexus 1000v
Components of the Cisco Nexus 1000v
Planning the Implementation of the 1000v
Installing the Virtual Supervisor Modules
Performing Basic Configuration
Performing Basic Configuration Lab
Deploying the Virtual Ethernet Modules
Deploying the Virtual Ethernet Module Lab
Advanced Configuration Options
Security Configuration Options
Upgrading the Nexus 1000v Environment
Troubleshooting and Recommendations
Implementing the Nexus 1010 Physical Appliance
Next Steps
You can have a look at sample video from the Cisco Nexus 1000v course at the product page.
Cisco Nexus 1000 V is software switch implemented as a virtual appliance in VMware vSphere architecture. It runs as a VM on ESX(ESXi) hosts. It's part of the VMware Enterprise Plus licensing and also can be bought separately. The Cisco Nexus 1000 V runs on Cisco NX-OS operating system and provides:
Policy-based virtual machine connectivity
Mobile virtual machine security and network policy
Nondisruptive operational model for your server virtualization and networking teams
Jason Nash walks you through the Cisco Nexus 1000v training which has 15 lessons. You'll see how to setup a training lab, the components of the Nexus switch, step by step basic configuration with deploying virtual Ethernet module lab. The advanced configuration options will be showed as well.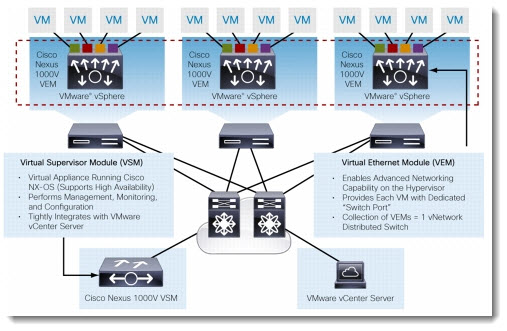 A quick quote from the product page:
One area seeing the most change and integration is networking. When virtualization first became mainstream it did more damage to networking than it helped. We lost visibility, proper policy application, and many vSphere administrators were not used to managing many networking aspects.

While VMware's vSphere has very robust networking it does cause some loss of capability and administrative control compared to legacy networking. To help fill this void VMware made sure that the networking capabilities in vSphere were extensible by other 3rd parties, such as Cisco. Cisco was the first to develop and release another virtual switch for vSphere, called the Cisco Nexus 1000v.
The post Cisco Nexus 1000v Training was published at ESX Virtualization by Vladan SEGET, on Vladan.fr website.