This makes me proud… very proud.
Exciting news, I received a vExpert 2010 award when I opened my e-mail box this morning. Again, like a last year, the e-mail from John Troyer – The visible man behind the vExpert Award – did sent me an e-mail to announce the good news. Thanks John, and thanks VMware… 😎 . And again as a last year I had to check my Outlook spam box to get that message. (Actually last year It was the second message from John which I saw, the first one was buried as a spam).
When I look back at 2009, I can see that I did make a considerable effort in many areas. And considerable progress in my work too. Every single day I was posting on my website the news, how-to, videos and other interesting stuff from the Enterprise Virtualization field. Blogging is a real work, believe me.  I had also achieved a VMware VCP 4 certification Exam last year (at November). Even if the verification process and the validation of the exam took SEVERAL MONTHS and I received the confirmation and update on my transcript only at the end of April 2010.
But never mind, I'm confirmed vExpert and VCP and you can be sure, that you can't count much VCP 4 certified on one hand here at the Reunion Island (FR)….. and vExperts ??? I don't think that there is a second one.. It's not to say I'm the vExpert, I'm the best one. I don't want to swagger.
For new commers to my website. What is the vExpert Award – read the FAQ? What it gives you more than if you were not vExpert?
OK. First, there is a private vExpert forum available only for vExperts. Only vExperts can log in and share, network with each other etc. Second interesting thing is that as a vExpert you have a vExpert logo you can display in your e-mail signature, blog, website. Last but not least you also have an access to Free subscription to conference session materials on VMworld.com, which is especially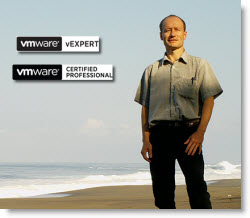 useful to people like me, which lives too far away to be able afford all the expenses to attend VMworld. Unless…. a big sponsor picks me up and say.. Hey, I'll pay you the air ticket from Reunion Island…. 😈
Read more about the vExpert program here…
There will be much more to come this year as what I heard in the TwitterSphere, but I don't tell anything right now. I'll wait for monday, because monday we might know more….
Twitter, oh twitter. Everyone's using twitter those days. Individuals to network with other buddies, companies to promote new products, services.. Twitter with micro blogging had changed the way we communicate…, but blogging and writing is not dead.
Blogging. There is more and more blogs every day on the bloggosphere. Not every blog survives though. To be able to survive with your blog, the first think to consider is to post regularly.

(See daily).
I might post something for peoples wishing to start blogging and also about some techniques I use for blogging and what is my monetization methods I use for my blog and which ones are working and which ones are not. If you want me to post about some particular topic, don't hesitate to leave a comment. There is quite a lot of SPAM in WordPress, but I try to check frequently and Moderate the comments.
Also congratulations to all other vExperts 2010 !