Our readers might hear in the past about Vembu BDR Suite. We have published few blog posts and also reviewed the product a while back. In this post, we will focus a little bit more on efficient Backup Data Management using VembuHIVE file system in BDR server.
Vembu's file system called Vembu HIVE, which exposes every incremental backup as a virtual full backup. It means that not only that a restoration of a backup will not require a merging of all the changes to a previous full backup, but also that through Vembu Virtual Drive backup files get exposed as VHD, VHDX, VMDK-Flat, and RAW image files – at the same time. Those files are created (assembled from chunks) in seconds thanks to Vembu VHFS (Vembu Hive File System).
There are several techniques used to make the system very robust and efficient, such as deduplication or error correction. In fact, the system has built-in Compression, encryption, and deduplication, as well as auto error correction.
Efficient Backup Data Management using VembuHIVE file system
Deduplication – Reduction of storage size through global deduplication with variable length, block level, client-server based is used. It allows saving costs of bandwidth and storage space. With block level deduplication, the files are divided into chunks of blocks of variable size. Those blocks are deduplicated so only blocks of different size are stored at the storage layer. Variable size of data chunks allows which can find more data to deduplicate, and thus allow better deduplication ratios.
Client-side deduplication – allows the deduplication of the data stream at the client side before the data hits the wire and are transferred to the server. (saves bandwidth)
Server-side deduplication – allows eliminating the duplicates from the data stream before it is stored at the storage layer (saves storage).
As with all deduplication techniques, there are cons and pros. While at the client-side deduplication saves network bandwidth, it increases the use of the CPU of the client's machine. Perhaps simply scheduling the backup for outside of office hours is enough to not penalize client's machine?
At the same time, the client-side only treats its own data. Compared to server-side where multiple sources of data can be deduplicated before stored at the storage layer.
Error correction – In the event of a data corruption, the information in the parity file is used in fixing errors in the VembuHIVE file storage. VembuHIVE also maintains such parity information at the backup file or disk image-level, chunk- level, repository-level, and client or backup-level.
Quote from Vembu:
A VembuHIVE file system has in-built version control, encryption, deduplication and in-built error correction. During the backup, the data present in the backup files or an image is separated from all the bookkeeping associated with it, i.e., its metadata and stored as objects.
Below a screenshot from the lab showing a backup of a small 2003 server VM being exposed through VembuHIVE file system as different formats of virtual disks.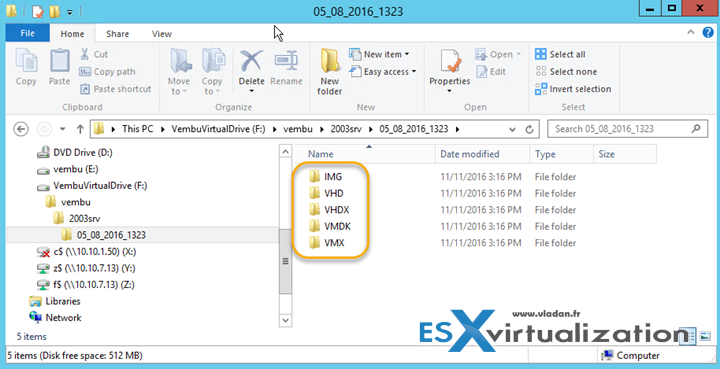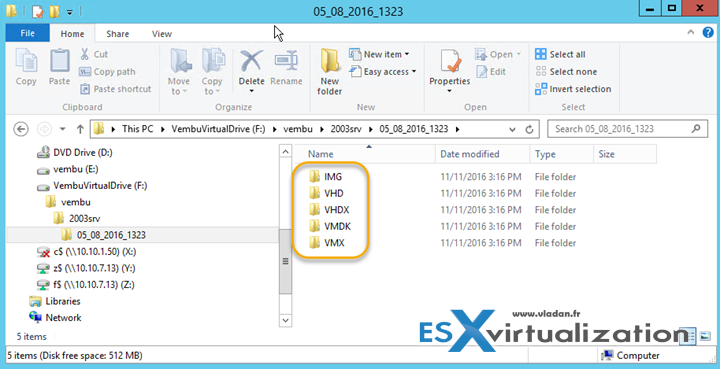 Vembu is able to use those different formats via this Virtual drive (the drive does not consume any storage by itself !!!) and initiate restore operations. VM restorations can also restore individual files after mounting a particular VM and accessing the required files.
So imagine that you're backing up not only your VMs but also physical Windows servers (I'm sure that there are still some in every enterprise). Those backups are stored at the same location too. As a result, it is possible to initiate a restore operation of a physical system as VM not only as Hyper-V VM but also as VMware vSphere VM.
Some of the physical server backup features:
Backs up entire disk image of Windows Servers, Desktops and Laptops including operating system, applications and files.
During system crash or any major disaster, Bare-metal Recovery (BMR) helps to recover the backed up Windows machines into same or different hardware.
Vembu ImageBackup helps you to migrate the Windows Servers and Workstations from physical environment to VMware or Hyper-V environment (P2V)
The Vembu user interface is extremely intuitive and easy to navigate with all the tools placed in the locations you would expect them to be. Check out Vembu website and download a trial.
Read more post about Vembu at ESX Virtualization:
Efficient Backup Data Management using VembuHIVE file system in BDR server –  [This Post]
Stay tuned through RSS, and social media channels (Twitter, FB, YouTube).