Vembu Technologies releasing new Vembu VM Backup Suite Free Edition for VMware, Hyper-V, KVM and physical environments. The latest release of their software is Vembu BDR v3.9.1 (but 4.0 is comming). We have reviewed one of the previous releases of Vembu product here – Vembu Backup and Disaster Recovery (BDR) Product Review.
Vembu is less known to our readers as they only started to appear on the client's market last year. Their main target was solution providers where they're operating since 2004. Vembu has over 60000 clients through 4000 service provider network. So what's the latest news and release of Vembu VM Backup Suite Free Edition? You'll find more in today's post.
Update: The free version has the same feature set as the full version, but it's limited to only 3 VMs.
The product suite is free and when you download it for the first time, it installs as 30 days trial leaving you with enough time to test everything. After the 30 days period, some features get locked out and provides only limited functions for 3 VMs where other functions are not available at all.
Update: The differences between Free and paid edition got more complex to write about because some features from the free editions can be used only on 3 VMs from your infrastructure while other features are not available at all. Vembu has released a PDF where those two editions are compared. Get the PDF from this page.
We'll try to outline the most interesting below.
Vembu VM Backup Free – The features:
The free edition allows you to use some features for all VM:
Agentless VMware backups
Multiple VMs
Full Backup
VM/disk exclusion
LAN Free data transfer using SAN and Hot-Add modes
Application-Aware Processing
Automatic scheduling
Edit existing backup job configuration
VM replication – Recovery of VMs to ESXi host
Instant file recovery
Instant Granular recovery for MS Exchange, SQL, Sharepoint, Active Directory (Check How to recover a deleted user account from Microsoft AD)
Cross Hypervisor migration (V2V)
Scale-out storage repository
Compression and deduplication
Encryption
Bandwith throttling
And some features for just 3 VMs within your infrastructure:
Automated backup verification
Near CDP ( <15 min)
Changed Block Tracking (CBT) – Incremental backups
Advanced reverse incremental – via Vembu HIVE, it creates bootable full virtual disks (VMDK, VHD and KVM) for all recovery points without using any additional resources
Retention Policies
Quick VM recovery (for ESXi and Hyper-V or KVM)
Disk level recovery
Note that you don't have to apply for a free license like it is the case for VMware vSphere (free) hypervisor, the software operates in the free mode automatically.
The free product for 3 VMs compared to the full, licensed product, does NOT allow you to use:
VM Replication
Failover and Failback
Offsite DR Replication
WAN Acceleration
CloudDR Replication
Please check a detailed PDF from their website to see all differences. Those two editions are compared. Get the PDF from this page.
As being said, the free version has some limitation and those limitations apply for VMware vSphere or ESXi, Hyper-V, KVM and also to physical systems as Vembu has the possibility (via agents) to backup Windows systems (desktops/laptops/servers) and also provide a Bare Metal Recovery for those systems.
Screenshot from the lab showing Vembu HIVE which is able to present those backups in different formats.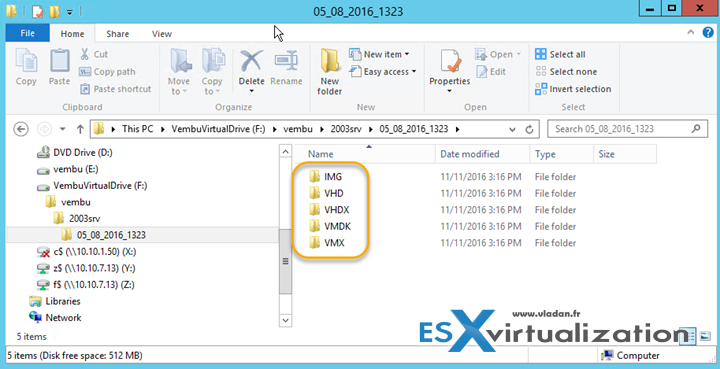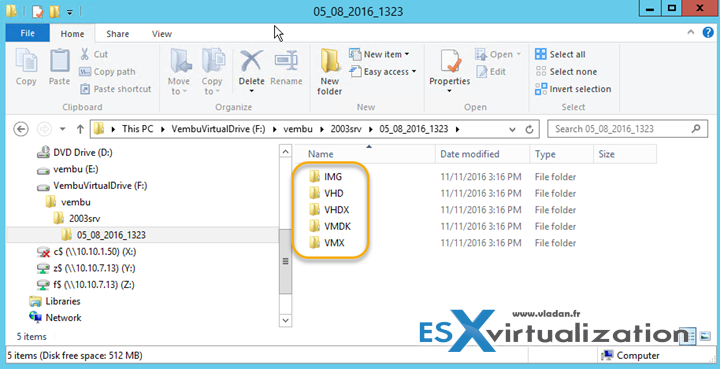 Virtual Environments support
Vembu can backup/restore/replicate not only VMware environments but also Hyper-V and KVM. It is the first product I'm aware of that supports KVM. Perhaps I shall do more research about other backup products and add those which provide support for more than two different virtual environments, to my Top 5.
Virtualization is changing and where VMware was the only data center player, now Hyper-V taking place too, followed by KVM. Having a software which is able to backup all that is probably a good direction for Vembu technologies.
Vembu supports different transport modes:
SAN
Hot-Add
Network-based mode (NBD & NBDSSL) for LAN-free data transfer.
The software switches automatically to the best possible mode during a backup job, to ensure the most appropriate method is used.
Physical Environments support
Vembu Image backup can backup entire disk image of Windows Servers, Desktops, and Laptops including operating system, applications, and files. If your system crashes or to get hit by a virus or malware, Bare-metal Recovery (BMR) helps to recover the backed up Windows machines into same or different hardware.
The free version for physical Windows system can also do only full backups, but on the other hands, you have the Bare metal recovery option which allows you to recover the backed up image data to a new system via Vembu Recovery CD. (It's free to download).
Here also, Vembu can play a role. Within an enterprise, you'll find heterogeneous environments. You'll find for example a VMware vSphere main platform, coupled with a small Hyper-V test server (which needs to be backed up too as your developers certainly need some kind of protection too). And you'll certainly find some dedicated desktop/laptop systems to be backed up because those systems run perhaps the company accounting software in one corner or joe's tailored company app in another.
That being said, a good IT manager must deal with budgets. So whether budgets allow or not, protection of physical systems is a must. And if the admin has a choice to operate all the backup systems within a single console then it is certainly a very strong point to consider.
What's New in Vembu BDR Suite 3.8
Multitenancy – for services providers, which will be able to manage customers with their tenants by grouping them into groups and creating a set of customers, backups, jobs.
Performance enhancements – the backend DB is replaced by PostgreSQL (previously MySQL and MongoDB) resulting in better performance.
Free edition – this is new from the v3.7 and moving forward.
Vembu BDR 3.8 detailed article.
The Vembu quick restore is fast because the backups for VMware, Hyper-V and Physical Windows Disk Image backups are stored at block level in a neutral format. (in a DB) and presents those backups through the Vembu Virtual Drive. This allows instantly restore any incremental backup in any virtual disk format including VHD, VHDX, VMDK, VMDK-FLAT or IMG.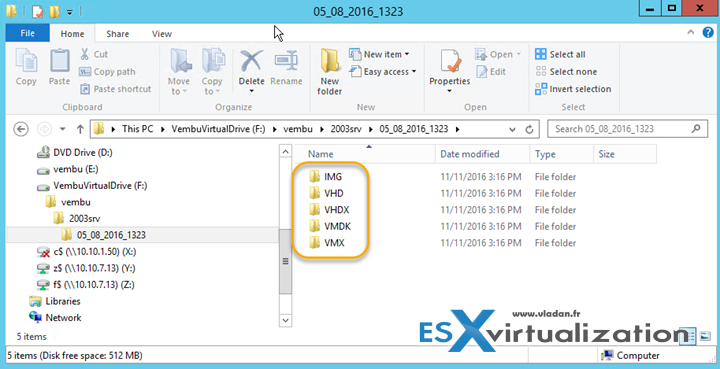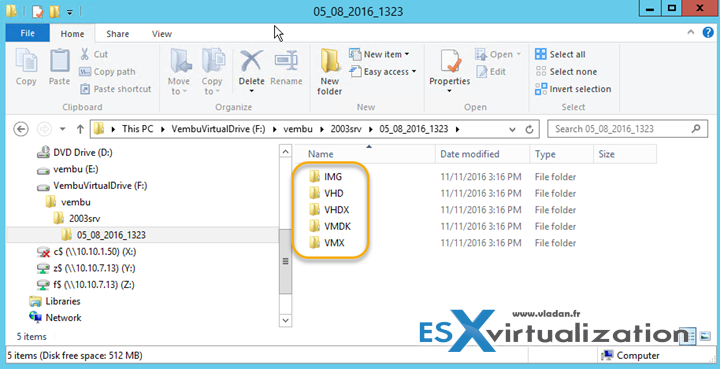 Additionally, Vembu BDR suite has traditional recovery features such as Instant Granular Recovery for Microsoft Exchange, SQL, SharePoint and Active Directory or cool Cross Hypervisor Migration (V2V) where you can migrate a VM from let's say VMware to another Hypervisor as you have those virtual disk files ready as you can see in the image above.
Interested in Vembu? Check out their website and download a trial.
My other posts about Vembu products and their features:
Vembu BDR Suite Free – Details and Compare –  [This Post]
More from ESX Virtualization:
Stay tuned through RSS, and social media channels (Twitter, FB, YouTube)