In case you're in preparation for 74-409 Microsoft Certification exam, you might want to check out this Free Study Guide – Microsoft's certification exam 74-409: Server Virtualization with Windows Server Hyper-V and System Center,  written by Orin Thomas (@orinthomas).
The guide has 8 chapters to learn about server virtualization with Windows Server Hyper-V and starts with the different setting possibilities you have when creating VMs in Hyper-V, Gen1 or Gen2 virtual hardware and more.
The guide has many screenshots which shows the different features and configuration options, so it might be a good start for those of you who want to learn towards the 74-409 exam.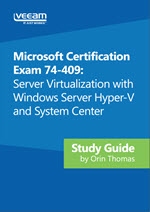 Here are The Chapters:
Virtual Machine Settings
Virtual Machine Storage
Hyper-V Virtual Networks and Virtualization Networking
Implementing Virtual Machines
Managing Virtualization Hosts and Infrastructure
Hyper-V Failover Clustering and Failover Clustering Roles
Virtual Machine movement
Montitoring and Hyper-V Replica
It's been quite a while since I haven't passed a Microsoft certification exam. The last one (if I remember right) was the one on W2008 Server and W2008 Server AD.
But I'm planning to take this exam in the future too as many smaller clients are tempted by Hyper-V (and especially the incentive from Microsoft via the Datacenter Edition of their Windows Server 2012 R2 allowing to run unlimited instances of Windows Server 2012 R2 on the same host). Unfortunately in most cases the clients sees the savings they can via this offer and perhaps they don't really realize other aspects.
But my skills needs to evolve in this direction too. I haven't checked the exam requirements yet or started the preparation, but I think that I'll need a hands of experience. Hands off experience is important before attempting to pass this exam, but as being said, I haven't even started to gather any exam material. This guide is the first piece.
*********************************************************************
Shop for vSphere licenses at VMware Store:
*********************************************************************
Currently adding some more physical hosts to my lab would not do (WAF). I'm running my homelab infrastructure on four hosts (in two clusters) where one of those clusters runs VSAN, the only option for me is go nested and run Hyper-V as a Virtual Machine. I think that I'll take this road for now.
Check it out – Microsoft Certification Exam 74-409: Server Virtualization with Windows Server Hyper-v and System Center. This guide is sponsored by Veeam Software.
Free Exam Voucher – Claim a free voucher for the 74-409 exam. Link