There is a new free tool available from Paragon Software.
If you played already with Partition Magic in the past or Acronis Disk director, you know that those tools are not free… But this one is. At least for first 5000 downloads… 👿
Linux/DOS bootable environment that contains fully functional Partition Manager 10 Professional. It's optimized to work with virtual disks of any virtualization software vendor – backup/restore virtualized systems, re-partition and clone virtual disks, fix boot problems, optimize performance of NTFS and FAT file systems.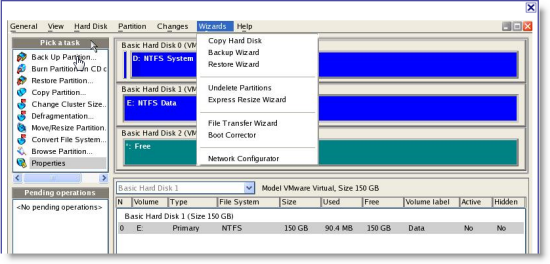 Supported File Systems
NTFS (v1.2, v3.0, v3.1)
FAT16
FAT32
Linux Ext2FS
Linux Ext3FS
Linux Ext4FS
Linux Swap
Apple HFS+
Other file systems (in the sector-by-sector mode)
Minimal System Requirements (virtual machine's configuration)
After the download
you must register to be able to get your product key and serial number.
What the users says:
Partition Manager can redistribute free space from one partition to another without data loss. It's also able to merge and hide/unhide partitions, and convert a partition between different types (primary or logical) and file systems (such as FAT32 and NTFS).Paragon has bundled a simple backup wizard to image your data prior to making major changes. This is ideal if you're upgrading a hard drive and don't want to mess around with reinstalling anything. We liked the fact you can run the program from CD within Windows, so you don't need to clutter up your system be installing it."
Source: Paragon Software