If you administering VMware Horizon View solutions or architecting them, then you might welcome this very cool poster of network ports used by VMware Horizon View 5.2 which has been published by VMware KB guys.
It's a great way to visualize all opened port at the different parts of the infrastructure (External, DMZ or Internal) and on every component of View architecture:
View connection server
View composer
View Security Server
View client
HTML Blast client
Transfer server
View Agent
vCenter and ESXi host
AD Domain controler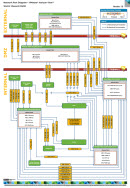 Go to this page Network port diagram for Horizon View for the v 1.0 of the document. You can also subscribe for latest updates so you'll get informed when new version comes out.
VMware Horizon View 5.3 has been recently announced with new features like:
3D High performance Graphics with vDGA
Multimedia redirection for Windows 7 desktops
New storage datastore overcommit policy
VCAI support for Hitachi NAS
Windows 8.1 support
VSAN Tech Preview
Windows 2008 as a desktop
View agent direct connection plugin
HTML Access for Chromebooks and better performance
New iOS 7 client
Completely new Windows based client
Do you have a lab? When the 5.0 came out, I've deployed Horizon View 5 in my lab (previously just called VMware View), you can check it out.
The series of 2-3 articles starts here: How to do a simple lab setup.
There is also another cool video I've done: Horizon View 5.2 HTML 5 Access by using VMware Blast.
Get all VMware poster's links from my Free Tools page.
The article was published first at ESX Virtualization website. Feel free to subscribe via RSS or by e-mail to get the latest news to be delivered via weekly newsletter. The latest 200 articles of daily updates can be found on our daily archives page.
Enjoy..