VMware View Setup in my Home lab.
I thought that the time is good to show some more lab setup I was playing with recently. I think that the VDI is really picking up recently. I do have some real interest from the client's side as well so everything seems really that 2012 will be the year of the VDI and VMware View 5. Did not someone said that already this year…? Anyway I think it's time to show you some stuff from my lab about VMware View.
If you're completely new to VMware View and VDI, how it works or how to do a simple lab setup, you might want to read on. If you're already more advanced with View in general, than you might want to go and visit other VDI gurus …. -:).
I'm gonna try to do a series of articles which shows you the basics you'll need to deploy in your home lab in order to test VMware View 5. But in any case it's not the unique guide and The one and the only one possible setup. You might do it differently at the client's side, where there are other (hardware, network) requirements. I'm just showing what works for me in my home lab and what's the easiest way to test the software suite.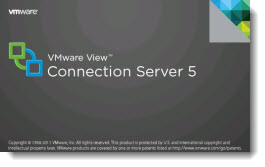 I'll try to show you the easy way the joy of VDI with VMware View and the whole setup you'll need to do to make the installation to work. I think that the linked clone feature of VMware View is like a "Holy Grail" of the technology. I remember when I first created my VMware View pool of desktops and I swapped to my VI client and saw the magic happening (cloning desktops, reconfiguring, renaming, adding to the Active directory) – all automatically with one click of a button, I though that this is really cool stuff and I though I must share that….
If you're just playing with the setup in your home lab, you can get the 60 days trial/download access with all the necessary licenses for VMware View 5. If you already have setup the VMware vSphere environment for your homelab, than you'll need just to install the VMware View Components in addition to this.
And that's on what I'm gonna focus. You can also keep this VMware PDF where you can have a look during your installation process too: "VMware View Installation Guide for View 5.0.
The components used in my setup of VMware View 5:
vCenter for VMware View (VM 2008R2 ) – The VMware View 5 cluster is managed by VMware vCenter for View.  Technically it's the same vCenter as you would use for Server Virtualization, but in the case of use for VDI, this vCenter will only manage the virtual desktops and servers which are necessary to run VMware View – View Connection server, View transfer server… AD/DNS and the vCenter server VM (if not physical system). But this is only from the licensing side, technically it's the same vCenter.  I'm skipping this setup now since I suppose that you have done it already. Or I might do it later (tell me in the comments if you'd prefer that I should).
VMware View Composer – This is not a VM, It's a software component which gets installed on vCenter Server and this little guy does the magic stuff, when it comes to do the linked cloning stuff… -:).
View Connection Server – (VM 2008R2 in my case) – This VM has the role of the "the broker".  This machine will  will manage the desktops, pools of desktops, Terminal servers etc….. This is the machine where the nice web interface running Flex is running. (or more likely where the webserver runs and who provides the access to this web interface).
Win 7 VM Golden Image – This will be a base VM, with a system installed, patched and optimized. The golden Image VM is a VM which is basically XP or Win 7 VM optimized for VDI. It means that there is some certain number of services which do not need to run, there is some other optimization done on certain number of tweaks (like disabling the hiberfile, screen-saver…..) There are many guides on the INTERNET which you can find around and also an excellent free tool from Quest software called vWorkspace Destkop Optimizer which lays on my Free Tools page and which does the VDI optimization through few clicks.
VMware View Agent – The agent gets installed in the Golden Image VM, and First Snapshot is made. The view agent get's detected by the View connection server when the pool creation process is invoked and through the assistant you are prompted to navigate to choose that snapshot. From there the cloning process starts.
 VMware View Client – This component is installed on your client device – laptop or PC running Mac OS, Linux, iPad, Windows…… It can also be a ZeroClient, or Thin Client device with PCoIP support. And it's exactly this component which enables you to make the connection to the Virtual Desktop which runs at your datacenter.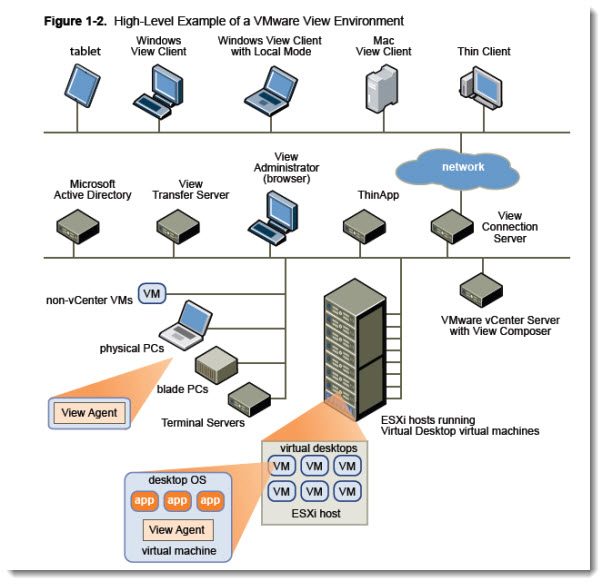 Please note that the image was kindly borrowed from this VMware Document: VMware View Architecture Planning.
And as you can see on the image above, there are quite many components present if you want to activate all features which VMware View provides you. There is a possibility to install the VMware view agent also on physical desktop for example, which gives you a remote access to this desktop. Or, you can make use of VMware View Transfer Server, which is usefull when you have laptop users which connects remotely and work on places where there is no internet connection. The "Offline Desktop" lays on the laptop (it' a VM actually) and when they come back to the office and reconnects their laptop to the LAN, all changes between the "offline desktop" and the desktop which is running in the datacenter, are automatically synchronized through the VMware View Transfer Server.
So at first, I think I'll show you just the basic setup which will guide you on how to setup VMware View 5, create an automated pool of desktops, and initiate the first connection.
Stay tuned via RSS, because this serie of articles just started ….
The full serie – VMware View 5 Install, configure – How-to in my lab :
VMware View 5 Install, configure – How to do a simple lab setup – this post