A major update of Horizon Workspace has been released today and it's available to download as a trial or buy – VMware Released Horizon Workspace 1.5. For those of you who don't follow VMware desktop products I'd like to quickly remind what's Horizon Workspace is good for and how it fit within the whole Horizon Suite. While the Horizon View manages virtual desktops, the Horizon Workspace manages access to application and files from mobile devices like tablets and smartphones. The admin has a possibility to assign applications which can be installed on those devices and stay in control for controlling access to corporate files and applications, by using policies.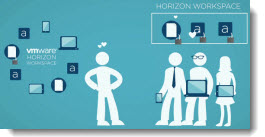 The whole Horizon Workspace 1.5 product suite is delivered as single very large (5Gb) download OVF file, which contains several VMs (I believe there is 5 VMs). It's get deployed as a vApp. You can read my detailed overview article about the whole architecture of Horizon Workspace when it was initially released few months back, in my article – VMware Horizon Workspace Details. The Horizon Workspace integrates technologies which were known as Project Octopus or Project Horizon. 

What's new in VMware Horizon Workspace 1.5?
Large support of mobile devices running Android like Samsung Galaxy S3, S4 and the Droid Razr HD from Motorola
New UI for Android devices and other components of the workspace with the integration of VMware Horizon Mobile™
Admins can entitle Mobile apps – Support for mobile applications to allow admins to entitle and manage applications.
Policy Management – There is a new Policy management engine to consolidate, model, and rationalize policies across all components
Oracle DB support – Support for the Oracle database
New revisited iOS Apps – There are now two separate applications for iOS. One for files and the second one for applications.
Internationalization – Localization in French, German, Japanese and simplified Chinese.
Performance enhancements – Performance improvements and fixes.
Below you'll find two videos showing the integration and what's needed for the VMware Horizon View 5.2 and Horizon Workspace 1.5 integration. What needs to be done so those two products can sync together. In fact, you'll be able to use the Horizon Workspace portal as a main portal to access the management of applications and desktop pools. The same desktop pools which were only available through the view connection server portal before the integration. The integration is done at the view connection server by providing SAML authentication.
Video 1 – Integrating Horizon View and Horizon Workspace, Part One
Video 2 – Configuring Horizon Workspace to integrate with Horizon View, Part Two
Resources and Links:
Source:  VMware End User Computing Blog