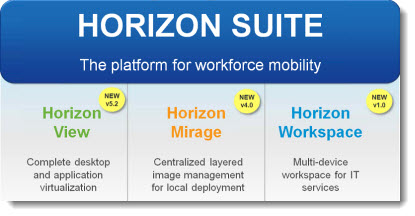 VMware Horizon Suite has been announced by VMware. This product integrates VMware View, Horizon Mirage, and Horizon Workspace.
In this article I'll concentrate on Horizon Workspace, but since the integration between products (and the collaborative orientation) I'll be talking about other products touching the suite. The whole suite, which integrates products that you are already familiar with, but now has been updated is called Horizon Suite:
VMware View
Horizon Mirage
Horizon Workspace
Inside of Horizon Workspace you'll find technologies like Horizon DATA (formerly called Project Octopus – read my post about Octopus here), or Horizon Applications (remember that I was installing and testing Horizon in my lab... -:), and also VMware Blast as a cool technology that is also integrated into the Horizon Suite. (this technology is also called AppBlast – see the video in my post here).
Why Horizon Workspace?
The BYOD concept with the PCs growth stays mainly stable, the Smartphone and tablet market continues to explode. With an explosion of tablets, smartphones and new apps there is more and more demand for an IT to provide access for new devices, new platforms and new applications. Users like having their devices, which can be used at the same time for their personal needs and also for enterprise applications and access data in a secure manner.
Users are asking to get access from everywhere
Users are using consumer technologies (like Dropbox) in the enterprise, which isn't secure.
Almost 80% of users in the enterprise are using those consumer technologies due the lack of business alternatives provided by the IT department.
You can have a look at the global schema of VMware Horizon Workspace presenting the Application catalog , Desktop access (View), Data access (Octopus). End users will be able to access their virtual desktops, files or applications from any device with any OS (mostly Android or iOS).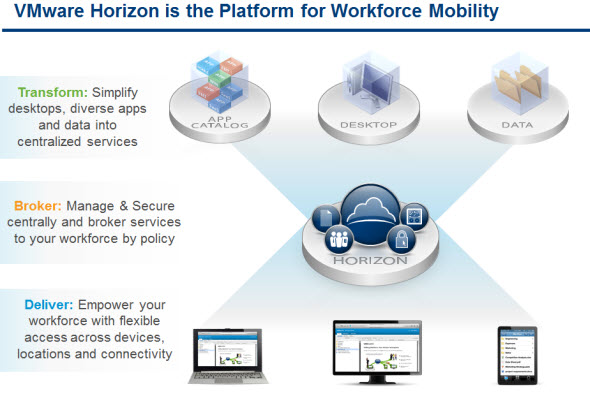 All this will gets integrated into single vApp which is called Horizon Workspace. The Horizon Workspace vApp will be managed through vSphere from the resources point of view, and through web browser concerning  the user entitlements (based on AD)/datas/applications/desktops – all this from Single Web Portal. The admin will get single pane of glass to manage users and the application which are entitled to them.
The Horizon Workspace vApp Architecture – from the Administrator's point of view
The Horizon Workspace is composed from 5 core components:
Configurator Virtual appliance (VA) – wizard to configure the setup (configure all the modules, Gateways, certificates…)
Connector VA – user authentication, does the integration with AD (Master – slave relationship), sync View pools ant Thinapp
Proxy VA – reverse proxy, enables single user-facing domain, routes requests to correct node
Management VA – Admin UI, App catalog, Manage users and entitlements, Workspace groups, reports
Data VA – store files, file sharing policies for internal and external users, manages file preview server, serves end user UI
The principal architecture of Horizon Workspace vApp. Single vAPP with multiple VMs – easy deployment, because all is prepackaged.

Continue reading about the Admin's View and possibilities on next page –>