Remote work that was about just one of the least prioritized tasks before pandemic. However now, the demand is surging. Every single company that can allow any kind od remote work to be done within their organization, is working on an implementation of remote workspace and access to the remote desktops for their employees.
Desktop-as-a-service (DaaS) has been increasing allowing organizations to distribute hardware to their employees so they can connect to cloud desktops from anywhere. Hardware used are usually laptops/tablets and phones with preconfigured and customized software to connect to enterprise cloud applications and remote desktops.
When using remote desktop that are managed, the desktops are fully patched and secured on regular basis to keep the integrity and security of the company's data. DesktopReady is fully managed cloud desktop platform where everything is taken care of, including 24/7 support desk.
Many businesses have also introduced zero-based budgeting during the pandemic to accommodate for falling sales and revenue.
DaaS can benefit from it as the offers are usually "pay-as-you" go formulas. DaaS offers are paid for via a monthly subscription that helps to reduce capital and operational expenditure.
DaaS is easily scalable and you can add or remove cloud desktop from your contract with a few clicks and flexibly adapt to the number of remote workers you have at the moment. You can migrate your existing desktops to the cloud, as well as your data which are usually stored on a file server.
Security, authentication, and access to shared resources are usually managed by Microsoft Active Directory (AD). DesktopReady cloud desktops runs in Microsoft Azure cloud infrastructure and are connected to your on-premises environment via Azure Active Directory (AAD) allowing secure authentication for your remote workers. No need to re-create all your users as the copy of the AD that is in the cloud is a perfect replica of your local environment with an additional domain controller (DC) authentication server which is part of the overall solution.
DesktopReady is fully managed offering includes real time monitoring and alerts and includes support in case problems with fast response time.
Three ways that your business can accelerate with DesktopReady
Managed service takes care of continuation – if you have a business that is impacted during the pandemic by restricting your employees to come to work, the only way to ensure the continuity is via remote desktops.
Usually the lack of competencies does not allow you personally to make the transition with your existing IT infrastructure and data. In this case the easiest way is to leave the job to the specialists like Anunta which is in this business since over a decade. They take care of the configuration of the service and the data transition as well as the maintenance and support.
The 24/7 support takes care of connection problems (if any) and also other requests in case of problems.
Whenever you need more/less desktops for a certain period you can simply adjust the number within your account and you'll be billed accordingly.
Pay-As-you-go service – the subscription-based model of DesktopReady is very flexible. You can add or remove desktops or request configuration change any time. There is an automated desktop provisioning engine which takes care of your order immediately and you are charged for the upcoming month. If there is any new desktop addition/deletion it is considered as a new order in your account and will be added to the existing subscription.
Monthly billing allows you to plan spending and with a long-term subscription (12 month minimum) you get an additional 10% discount.
If you have already your own software licenses for let's stay Microsoft O365 or Microsoft Office desktop, you can easily bring them over as DesktopReady environment supports Bring Your Own License (BYOL).
Support for variety of devices for connection – Your employees might already have their own equipment and they agree to use their own PC/Mac to connect to the enterprise remote desktop. They might have a desktop while working at home and a tablet or laptop while on-the-go. This implies multiple devices support.
DesktopReady supports many devices from which you can connect, not only a Windows Operating system. Anunta DesktopReady supports Android devices, Mac devices, iPhone, and chrome books. If you need an optional Windows Virtual Desktop Access (VDA) license, this can be purchased with an additional cost.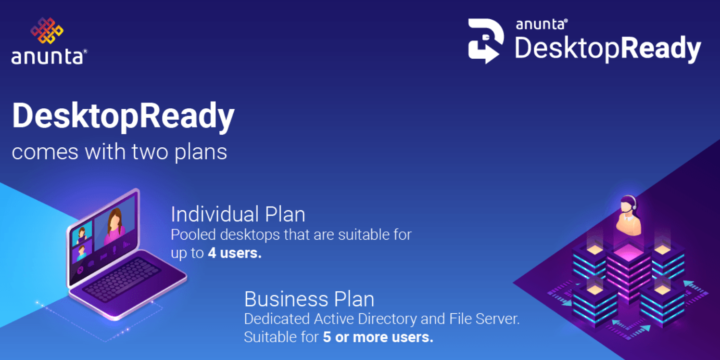 This is important because some DaaS providers only support Windows devices or do not provide a possibility with such a large choice of hardware and software support.
Different kind of desktops – If your company has a variety of people with different working tasks, there is a possibility to choose from different kind of desktops suited for basic office tasks or for more demanding designer or scientific tasks.
Pooled desktops use Microsoft Windows Virtual Desktop's (WVD) new Windows 10 multi-session OS that allows the Windows 10 environment to be used by several users at the same time. Each user that connects to the same virtual machine (VM) has a separate profile and desktop icons. Personal desktops by DesktopReady platform provide single session Windows 10 desktops to bring costs down even more, but without scarifying performance.
Multimedia desktops can be interesting for graphics designers, 3D model makers, CAD/CAM, machine learning researchers etc. Those virtual desktops are configured with 4 virtual CPUs (vCPU) and 16Gb of RAM. In this category there is also a possibility to configure Power desktops that are best suited for content creators and allowing you to use intensive workloads applications such as Zoom, Webex and Teams.
Final thoughts
Desktop-as-a-Service (DaaS) solution from Anunta are designed for small and mid-sized businesses.  Organizations that are looking for fully managed desktops that are ease to deploy and use, secure and cost efficient can benefit from professional services and the overall project management including migration and onboarding. A 24/7 support desk helps with any problems of connection or other demands.
Compared to VDI which needs you to buy the hardware, buy and install virtualization software that requires skills, manage and maintain upgrades and updates, weekly or monthly security patching. You see there is a lot to do when you have in house VDI infrastructure. With DaaS it's less expensive and less demanding.
Go and test Anunta DaaS via Scheduled Demo.