Some words about how the project started. During the past several days/weeks I've been thinking of upgrading my home lab. It's something that can be costly, especially when you start from zero. I started last year with one multi usage box running VMware Workstation and running ESXi as a VM, with adding some SSD drives to it for speeding up, but already in that time I had in my mind the necessary evolution. Mainly because running nested VMs from within VMware Workstation is great way to start, but the speed is just isn't there. And also you can run only 32bit nested VMs… So I needed more…
So the next logical step was the transformation of that one multi usage box into a single Whitebox and running one ESXi 4.1 on it. This was the case and the box was running just fine with 12 Gigs of RAM, Intel i7 920 Nehalem CPU, local SATA storage and 2 of my SSDs. No shared storage only storage appliances like Openfiler were used as an iSCSI target for my Virtual ESX 4 lab. The next big step is buying (building) another whitebox and buying a NAS unit as a shared storage for running VMs on it.
So I was looking around on the internet for some possible NAS boxes with 4 bay drives. I found the Synology or Qnap out there as the most performance in this sector, and I already spotted some great articles about the home lab building on other blogs but I was still hesitating to pay so much money for NAS box.
And then during my vacations at France Continental I saw an article in one printed magazine about building a home NAS with Freenas for much less price than a dedicated NAS device. After searching around a bit for some performance tests, I have found an article on Smallnet builder website, where they were using Ubuntu server with mdadm as a linux software raid. Their solution has been twice as faster in writings than the Freenas… So I might test both solutions and pick up the one which fits my needs better afterwards.
I said to myself. Let's experiment a bit, let's DIY (do it yourself). And that's how the project started. So I was starting to look around for the components I'll need for building such a NAS. First of all, I needed a case, where I would be able to fit at least four SATA drives in Raid 5 configuration.
And I don't really need a NAS box being VMware Certified for my home lab… -:). At the end I said to myself, I got nothing to loose by trying to build such a device. If the NAS is not performing well for my VMware Lab I can still use it as a backup device or as a Storage/archiving for other stuff.
So what's are the components I found and how much I paid for that? I must precise that I live at Reunion Island (Fr) so the shipping costs won't say anything to you, so I won't include the shipping costs. And I'm sure you can find cheaper if you're living in Europe (continental), because not every Online shop is shipping here and is reliable enough. Materiel.net is one of them. But they're not the cheapest ones.
Mini Box Lian-Li PC-Q8B – 110.90€
PowerSupply Antec HCG 400 – 55.95€
Motherboard Mini-ITX Asus AT5NM10-I with CPU double core Atom D525 1.80 GHz – 81,99€
SATA PCI Card – Promise SATA x4 – 79,99€ (it's because the Asus has got only 2 SATA present on the Mobo.)
Four Hard Drives Seagate Barracuda SATA, 7200.12 1Tb – 48.69€/pièce
One DDR2 1GB – 15€/piece
So if you add all this you'll get the final price at 538.59€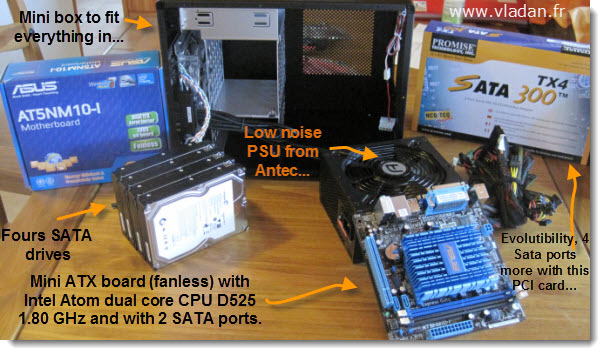 Read the rest of the article on next page